February 7th, 2017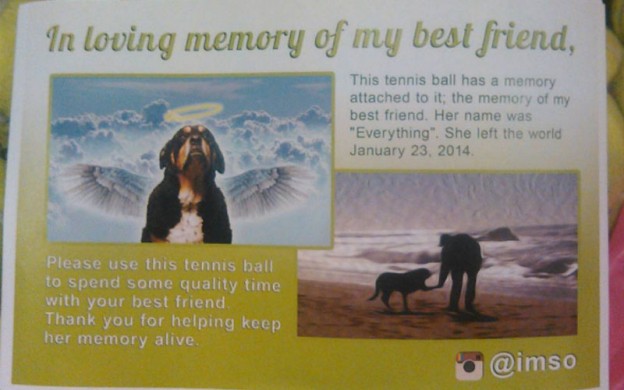 One man's generous gift is helping change the lives of dogs in shelter and forever homes. 
After Chris Sontag-Ratti's dog, named Everything, died in January 2014, he  created an Instagram page to celebrates their memories and other dogs. But one post in particular went viral.
A year on from her death, Mr Sontag-Ratti announced a plan to send 100 tennis balls to other beloved dogs in Everything's memory.
Dan's Dog Walking and Pet Sitting has decided to join in the tributes and act of kindness through a campaign titled 'Tennis Balls For Everything'.
The company announced it would send a bag of tennis balls to a number of animal shelters to raise awareness for the 3.9 million dogs who enter US shelters each year.
You can watch the video here https://www.youtube.com/watch?v=UiZQCbrpk8o
Make sure your furry friend is always looked after at our
DOGSLife Directory