October 31st, 2015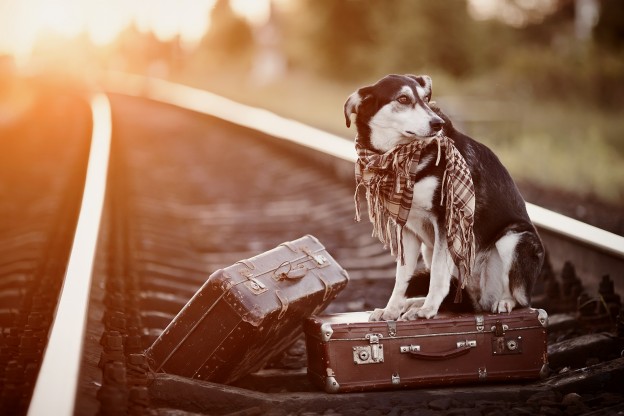 There are multiple reasons why you may find yourself seriously considering the possibility of moving: an attractive job offer interstate, a change of air or pursuing a postgraduate course. Regardless of why, undergoing any moving process is not easy and there are plenty of things you need to take into consideration before making the final call.
When moving with pets, especially dogs, you need to pay attention to their wellbeing and look out for signs of anxiety. Interstate moves can be particularly stressing and it is not strange at all for your dog to feel uneasy or more nervous or anxious than usual. That said, knowing what to be aware of before, during and after moving can be help you keep everything under control.
Getting ready for an move
You are responsible for your dog's comfort throughout the moving process from one home to another. You didn't ask for their approval or opinion about starting a new life in a new home so you need to make them feel as comfortable as possible, even before you start packing everything away in baskets and boxes.
Take care of your own stress. If the whole moving process gets on your nerves, things will be even more difficult for your pet. Dogs are especially sensitive to their owners and they will quickly notice your change of mood.
Read and understand the laws and regulations related to dogs that you need to comply with in your new home. Each state and territory has its own regulations surrounding animals, including dogs and other pets.
If you're moving into an apartment, make sure your pet is allowed to join before you move in. Bear in mind that some dog breeds that have a record of being aggressive may not be allowed or may need additional permits or certificates in order to be accepted.
Make an appointment with the vet and ask for a complete checkup. Let them know you will be moving and ask about any health records or documents you will need to take with you. Don't forget to tell them about any concerns you may have with your pet, especially during the moving process. It's important to note that senior dogs can be particularly sensitive and may require a heart check and nervous dogs (or those who are not used to travelling) may benefit from mild sedation. It is also a great idea to ask your vet for a recommendation of a vet or an animal hospital in your new home.
Keep your pet's routine as regular as possible.
Make sure your pets are registered and have their ID tags or chips updated. If your pet gets lost or runs away, you need to make sure that they have all the correct information on them.
Pick the right sized carrier for your dog so they have a comfortable journey to their new home.
Planning the trip with your pet
Whether you decide to travel interstate via plane or to the other side of the city via car, there are certain things you need to consider.
Airlines have specific regulations you need to stick to regarding pet travel. You may be asked to provide a specific carrier, a pet insurance policy or pay additional transportation charges. There is a limited amount of space available for transporting pets on an aircraft so make your reservations well ahead of time.
If you're planning on driving interstate, you'll need to make sure your dog is comfortable with car travel. Start by taking them on short trips to get them used to it and teach them their travel manners. Have your dog's nails clipped before travelling to prevent scratches and damage to the upholstery of the car. Don't forget to plan regular stops so your pooch can do his business, grab some water and a treat and go for a short walk to stretch his legs.
It's moving day!
Pack some of your dog's favourite treats and lots of drinking water, a dish and their favourite blanket. Bringing things that are familiar to them will help calm their nerves. Avoid giving your dog large meals just before travelling. Over feeding will only make dogs feel uneasy and uncomfortable.
Try to keep your dog as quiet as possible as you pack away your final belongings. If there are handymen helping you carry things to the moving van, leave your dog alone in an empty room surrounded by their favourite things to avoid them becoming nervous.
Settling your dog in your new home
Once you've reached your new home, surround your dog with their favourite toys, familiar blankets and bowels from the old house.
Ensure that there's enough food and water and that your dog is comfortable. Keep an eye on them so they don't get lost.
Let your dog have access to the new house one or two rooms at a time. Make sure he feels secure before introducing them to new areas.
Try to keep your dog's normal feeding and exercise schedule.
Moving house with pets – An infographic with tips for moving to a new home with pets and minimising anxiety
Want more articles like this? Subscribe to Dogs Life Magazine
Here are just a few things that can make life with your dog a bit easier - see them now on our
DOGSLife Directory