December 19th, 2013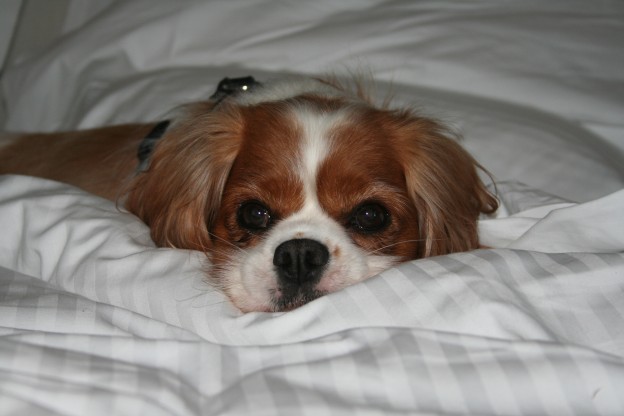 What if you could stay in five-star comfort, dine right on the water and take in the sights of the city all with your pooch? Well now you can! Kylie Baracz road tests a luxury stay at the Sebel Pier One with her husband Tim and canine companion Rusty.
Leaving my dog at home while I enjoy the city's nightlife, sip champagne by the water and sleep in luxury is not my favourite thing to do. The guilt always sets in and I end up worrying how my little fur-baby is doing without me (even if I do like the uninterrupted sleep!).
So I jumped at the chance of staying at an amazing five-star hotel with my husband and my crazy canine Rusty, overlooking the gorgeous Sydney Harbour.
Checking in
Walking through the doors of the Sebel Pier One with an excited pooch was definitely an awkward experience. Rusty lapped up all the attention, while I was making sure he didn't pee in the foyer.
We got some strange looks from hotel guests while checking in and the reception clerk couldn't mistake us for anyone else, saying, "Oh you must be the couple with the dog". Well at least our check-in was quick.
After walking to a separate section behind large silver doors, we found our room. I was surprised at how lavish it was, definitely a world away from floral bed sheets and peeling wallpaper.
Rusty was also well catered for with a large water bowl and trampoline bed for him to sleep on next to our soft king-size bed. However, he quickly turned his nose up at the dog bed, jumped onto ours as soon as we put down our bags and claimed ours as his own for the night.
A fridge was available in the room, which was handy to keep Rusty's insulin and medication cool (he is diabetic). A kettle, tea and coffee, and other small amenities were also on hand for that morning pick-me-up.
Dining out (or should I say in?)
As it was cold outside, we chose not to eat on the pier, although the bar did have some delectable food. Our other options were to walk through the Rocks and find a pub or restaurant with outdoor heating, or to order room service.
After a long stroll (which Rusty loved it was his third walk of the day!) we retired to the hotel and decided room service was the go. Trying to balance a tray on the bed while an excited canine tried to stick his head in the food was a challenge, but the meals were worth it.
For hungry dogs, they have doggy in-room dining, which includes dishes such as Queeny's Favourite (poached salmon with green beans), Jackson's Treat (beef burger with chunky vegetables), Leo's Selection (T-bone steak with chunky vegetables) and Mr Smart Recommends (mince chicken with steamed potatoes).
All dishes are $20 each and are free from all those forbidden foods like onion, garlic and acid.
Sleeping arrangements
As mentioned, if Rusty sees an empty bed, he will be in it in less than a second. The big king bed was perfect for all three of us, however, and we all had a fabulous night's sleep.
Rusty did wake up during the night wondering where he was at one stage, but after a few soothing pats, he was straight back to doggy dreamland.
I would suggest cleaning your dog's paws after a walk outside as the sheets are beautifully white and the carpet is lovely and clean. I didn't want the housekeepers to see dirty paw prints all over the bed linen!
Toilet breaks
The hotel room had direct access straight out onto the pier, which was handy for a morning toilet break for Rusty. At the beginning of the pier there was also some fake grass and doggy bags for dogs' much-needed relief.
If the grass doesn't take your canine's fancy there were also several trees that make perfect pit-stops, although Rusty had a hard time choosing between them.
If real grass is preferable, there was also a beautiful, serene park across the road, right under the Harbour Bridge. Who doesn't like a view when you are doing your business?
As this is not an off-leash area, it is safer to make sure your dog is always on lead, whether it be inside the hotel, at the park or out on the pavement.
Morning mealtime
Buffet breakfast out on the pier was definitely an interesting experience. There was nowhere to hide and so many curious onlookers popped their heads up to see 'the ones with the dog', from hotel guests to people running by.
Many were very friendly and stopped to give Rusty a pat but some stayed away in the comfort of the indoors. I definitely felt a little like I was in a zoo exhibit but I understood that not everyone enjoys sharing their hotel stay with a furry creature.
After breakfast, we walked around the Rocks markets where Rusty felt a little more at home, as there were other dogs happily trotting around the stalls and behind their owners.
Heading home
After an exciting night away from home and his own bed, Rusty was exhausted and was soon ready to go home. So we said goodbye to the Sebel Pier One, loaded up the car (when you have a diabetic dog that has an auto-immune disease there is a lot of stuff to pack!) and started making our way home.
Rusty slept the rest of the afternoon snuggled in his own bed in the sunshine. It might not be five-star luxury but to him it's perfect.
Hotel rules for dogs
As with any place you go, the Sebel Pier One has certain restrictions for their canine guests.
• At anytime your pet is in a public area of the hotel, please ensure they are on a lead for safety
• Please do not enter the Front Restaurant and Bar or the hotel gym
• Please refrain your pets from sitting on the couch or chair areas of the hotel
• Pets must enter and exit the hotel via the pier doors
• Do not leave your dog in the hotel room unattended there is a pet-sitting service if needed
• Dogs must be taken outside to the toilet
For more information and to book visit:
Sebel Pier One Sydney
(02) 8298 9999
www.sebelpierone.com.au
Make sure your furry friend is always looked after at our
DOGSLife Directory