October 5th, 2015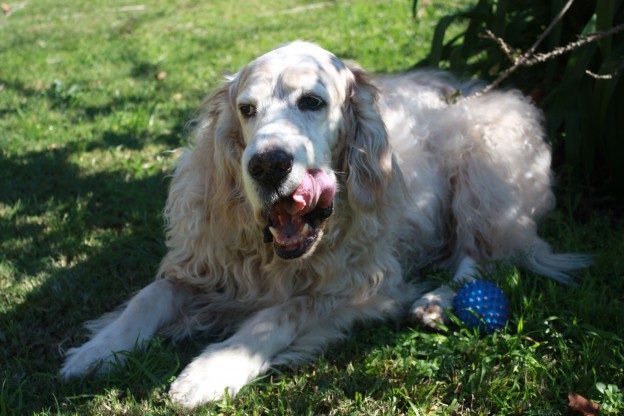 In his early years, Riley the English Setter suffered neglect and a life-threatening illness, but he has beaten the odds and is now 'living life large'. All thanks to the love and commitment of his proud owner Neralyn.
With his playful personality, handsome looks and all round love of life, Riley the English Setter steals the hearts of all who meet him. Little do people know Riley has been through so much.
Riley was just four years old when he was found emaciated and flea ridden in bushland outside Goulburn NSW where it is thought he had been for up to six weeks. The Goulburn Pound took Riley into their care and contacted the owner listed on his microchip. But unfortunately, the former owner said that Riley had been rehomed long ago and they were no longer responsible for his welfare.
The English Setter Rescue Society found out about Riley soon after and agreed to find him a new home. Things were about to get better for this strong-hearted pup.
It was perfect timing for Neralyn Jordan too, an avid dog lover from Sydney, who had been seeking a companion for her Red Setter, Reyne.
Neralyn viewed photographs of Riley and was soon on the road to Goulburn to pick him up. For six months Riley remained nervous, shy and took little interest in the world around him. 'The poor little guy was wondering where he might go next', said Neralyn. But then he began to show his true colours.
Riley became cheeky and energetic and began to enjoy family life. 'He's just such a charismatic boy,' Neralyn said. 'He is good looking too, and turns it on to the max. He's just delightful and he and Reyne are the best of friends.'
Two years down the track Neralyn and husband Col noticed some changes in Riley and began to worry. 'He was eating a lot of grass. Col also noticed that he was slow on his walks and was struggling to exercise. So we took him in for a vet check.'
The veterinary examination revealed that Riley had cancer. A large tumour around 8-10 inches in diameter was discovered in his chest. 'The tumour couldn't be seen from the outside because English Setters are such big chested dogs,' Neralyn said. 'I was devastated. I thought, 'Oh my god, he's had such a hard life, and now this'.'
Neralyn knows firsthand how expensive dogs can be and what it feels like to be faced with costly vet bills. 'I had other dogs before Riley that have been hit by cars and fallen ill and I have had to pay gigantic bills for their veterinary care. But this time around we were prepared and had pet insurance, and it has certainly paid off.'
There was never any doubt that Neralyn and Col would try to save Riley and for the next six months he was treated with chemotherapy and radiation to cure his cancer. It was a tough journey for them all.
'The poor little boy. There were times when he was so unwell that we would have to carry him in. It was heart wrenching,' said Neralyn.
But with his best friend Reyne by his side, Riley got through the toughest of treatments.
At first, he was given a 50 percent chance of survival. 'They weren't fantastic odds, said Neralyn, 'but we knew we had to try for him.'
Riley's health has continued to improve and he has now been in remission for two years. He is as happy as ever and has quarterly checkups just to make sure he stays healthy.
'There was never any doubt in our minds that we would do our best for Riley and we are so glad he has pulled through. He's as happy as Larry these days and as outrageous as ever.'
Neralyn praises the veterinary staff who she says were fantastic. 'They were so lovely and welcoming', she said, 'they did everything they could to make him feel safe and comfortable. It means everything to me to have been able to give Riley the best chance at life.'
Many people don't know about the huge range of modern treatments available for canine illnesses including cancer or about the big costs involved.
Some people may also think that pet insurance is an additional expense that they can't afford. But in truth, it is a small price to pay for the help it provides when you need it most. There are many types of Pet Insurance products with varying levels of cover. For example Real Insurance offers Premium, Standard and Accident cover as well as Routine Care Benefit. There is a range of packages to suit all budgets.
Thanks to his bright spirit and the unconditional love and support of Neralyn, this beautiful dog has beaten the odds and is well and truly 'living the life of Riley'.
Make sure your furry friend is always looked after at our
DOGSLife Directory