August 29th, 2013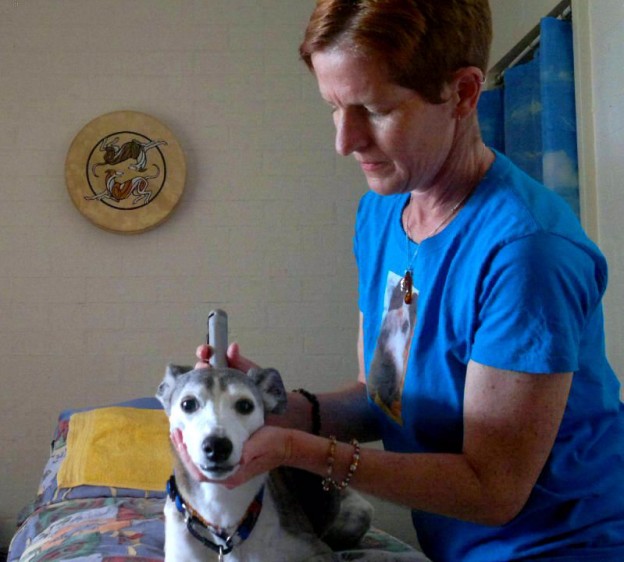 Dog groomer, animal intuitive communicator, holistic healer and Whippet mum — Mariana Davis is the juggler of many hats. She chats to Mamta Bhatt about her healing hands and heroic heart working for dogs.
How long have you been working with dogs and how did you get started?
My family has always had dogs – not just one, but two or three with a few cats and horses thrown in. I started my career at Lane Cove Veterinary Hospital in Sydney in the mid 90s. That is where my eyes really opened up to how special dogs were to people. I wanted to learn as much as I could so I could show people how to look after these beautiful, loving companions.
What does your work involve?
After working in a vet for a few years, I got into grooming and then started my own small dog grooming business: Cheeky Monkey Small Dog Grooming. It has been operating for about five years now. At the start of my new career I started to hear weird things and I also noticed that dogs were projecting thoughts and feelings while I was grooming. That started me on a quest to know whether I was: A. crazy and B. if there were alternative health measures that applied to humans that could also help dogs. So here I am now, telling people that our animals are desperate to communicate with us; that there are alternatives, which can help your pet to heal; and that they are far more intelligent and sensitive than we believe. Cheeky Monkey has now evolved into The Healing Monkey where people come to connect to their dogs, to understand them better, to heal with them.
What inspires you to do your job?
I do this because I believe dogs are our mirrors. They reflect back to us who and what we are. I say bad dog, bad owner. They give us the unconditional love that we should not only give back to them but also to our human brothers and sisters. They have a lot to teach and we have a lot to learn. A dog teaches me something new every day and I'm addicted to it!
What is the worst part of your job?
The passing of a furry friend. People don't realise how hard it is when you lose a dog through death or just by moving away. Coping with the loss of your own is difficult, but when I lose a client I lose a little buddy as well. Last year, just through old age or accidents, I lost about 20 dogs. I still shed tears for many of them and I'll never forget their funny faces.
While working with dogs has benefits, it's the emotional and financial side that knocks us animal workers about. One of the reasons I left veterinary was the constant euthanising of healthy, unwanted dogs, particularly greyhounds. I feel that the general public is not educated enough about owning an animal. You might think that having a grooming studio you would see pampered, spoilt pets. Well yes you do, but you would be surprised at the number of little dogs who have never been groomed — one big matte from head to tail, restricting every move they make, covered in fleas and sores, with infected eyes, because the owner couldn't be bothered — that walk through my door.
What is the best thing about working with dogs?
When you see the same dog regularly your bond becomes deeper with both animal and owner: you become a part of the family. The best bit is when they jump out of the car and come running down the driveway, leaping into your arms giving you the best cuddle. How many humans do that?
Here are just a few things that can make life with your dog a bit easier - see them now on our
DOGSLife Directory