March 19th, 2017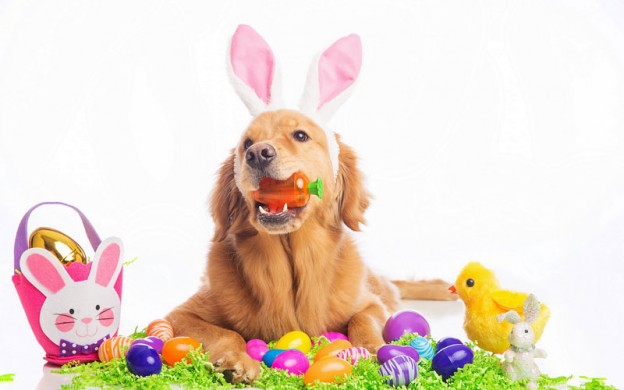 We all know chocolate isn't good for dogs but that doesn't mean they can't celebrate Easter with us! Here are some fun Easter activities you can enjoy with your dog:
Plan a dog-friendly Easter egg hunt
Hide some of your dog's favourite treats around the yard and the house for his very own Easter egg hunt. It might be difficult to hide the treats while he's around. We suggest getting someone to take him out for a walk so you can hide them before he gets back. Every dog loves coming home to a delicious surprise!
Give him something special
Make your pooch a special treat he can enjoy at Easter lunch. Whether it's an egg-shaped dog-friendly treat or you've picked him up something special at the butcher, your dog will appreciate it nonetheless.
Make your dog an Easter basket
Easter baskets are a long-standing tradition when it comes to gift giving at Easter. Make your dog his own special basket, filled with dog-friendly food and treats, toys and anything else you can think of that will pamper him.
Take him on an Easter picnic
Autumn is a great time of year – the weather is not too hot, not too cold and the parks have began to bounce back following a very hot summer. Bring your pooch along for a picnic over the long weekend. You'll get bonus points for picking somewhere along the water (unless of course your dog doesn't like the water, in which case avoid it all together)!
Here are just a few things that can make life with your dog a bit easier - see them now on our
DOGSLife Directory