October 15th, 2013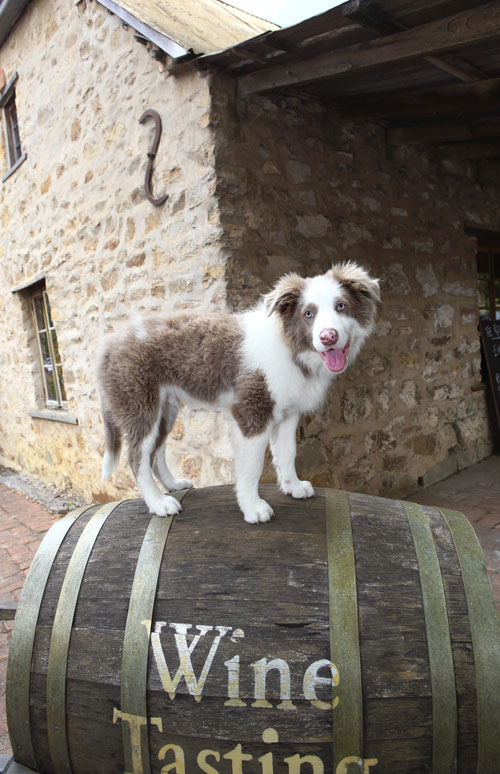 Dogs are as ever-present as drinkers in wineries around Australia. Kylie Baracz investigates these establishments' enduring love affair with wine dogs and meets some of their canine customers.
Head to the Hunter Valley or the Barossa for a weekend and scattered about the vineyards you'll find the rough and tumble winemakers' dogs. Each is unique and plays a special part in the creation of a good drop.
Craig McGill, photographer and creator of the Wine Dogs series of books, says although these dogs provide company to those working in the vineyard, they also have an important job to do.
"Most dogs in a winery will have a job, even if it's only to keep the winemaker company, but they'll also keep unwanted intruders out of the vineyard and scare birds away from the fruit during harvest," says McGill. "Some even know the exact moment to pick from the sugar content in the grapes, although we highly advise against your dog eating grapes as it can be very dangerous and even fatal to some breeds."
The tradition of keeping dogs on vineyards has been around for about as long as working dogs have been on farms. The tradition and love affair between winemakers and their trusty sidekicks inspired McGill and partner Susan Elliot to start their Wine Dogs series.
"Winemakers have always had dogs. It's farming after all, and all farms need a dog or two. My partner, co-creator and co-publisher Susan and I were travelling through the Barossa many years ago and noticed that every winery had a dog. We thought a book on the subject was a good idea and we now publish Wine Dogs books all around the world and try to release a new book every year," says McGill.
Looking through the wineries, there are a lot of different breeds that call the vineyards home. The best part about life in the vineyard is that it suits all dogs.
"If the winery has a tasting room that is open to the public, the dog better be friendly. That's pretty much the only criteria," McGill says.
"We are very fond of Reg from Rymill Coonawarra and also Booph from the Hunter Valley. Booph used to work at Brokenwood but now just wanders around the Hunter like a drunken sailor!"
McGill and Elliot have now published 11 Wine Dogs books over the past 10 years. They also publish a range of Wine Dogs calendars and other merchandise.
For all their products and more info, please visit www.winedogs.com
Reg from Rymill Coonawarra, SA
A Blue Heeler from South Australia, Reg is a feisty companion to John Rymill. His naughtiest deed is unpublishable and his favourite pastime is riding on the truck during vintage. Reg's obsession is fishing in the cellar door goldfish pond and his favourite food is anything that has been dead for over a week. His pet hates are possums, cats and three-tonne grape bins (if they land on his tail!).
Booph from Brokenwood Wines, Pokolbin, NSW
Booph, the Red Cattle Dog from New South Wales, roamed the Hunter Valley with his known accomplices Manu, Puku and Sienna. His pet hate was having to get lifted into the back of the ute and his favourite foods were Bistecca and Pinot. His obsessions were going to the pub and chasing cows, while his favourite toys were Puku the cat and a rugby ball. Booph's favourite pasttime was watching all the Super Rugby games and his naughtiest deed was deleting Masterchef from the hard drive to fit more Super Rugby on it.
"It has been tough around the Charteris household with the farewell of our ever-present red haired canine shadow, Booph. He slowed up a lot in the past six months and we could not put him through another winter in his condition. Thirteen years for a cattle dog is a good innings. Booph left us in a familar and happy environment after dining on T-bone steaks," said PJ, Booph's loving owner.
Here are just a few things that can make life with your dog a bit easier - see them now on our
DOGSLife Directory