October 17th, 2017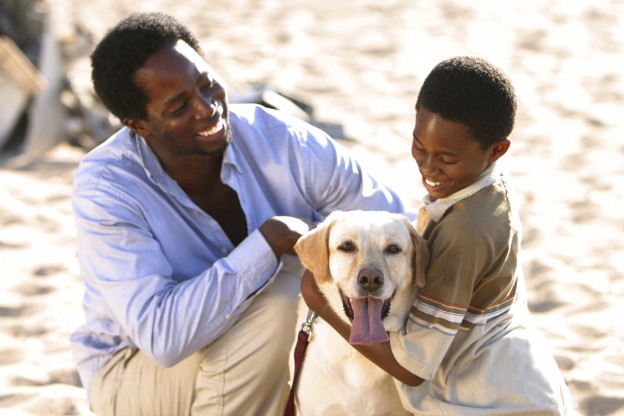 Forget Lassie and Rin Tin Tin — plenty of other adorable pooches have stolen the TV limelight over the years. Tim Falk looks at some of the best TV dog stars.
Rex, Inspector Rex
From Skippy to Flipper, the small screen has featured some pretty remarkable animals over the years, but none of them come close to this crime-fighting canine. Just like plenty of real-life police dogs, Rex uses his intelligence, cunning and powerful nose to teach all manner of criminals that crime doesn't pay. But the ever-resourceful Rex has a pretty long list of talents, whether he's sniffing out narcotics or firearms, hunting down wanted fugitives or single-handedly (should that be pawedly?) foiling major heists. And once any criminal that dares invade Rex's turf has felt the firm paw of justice, this brave German Shepherd loves nothing better than tucking into a ham roll or three.
Rex is my hero
Watch this YouTube tribute to Inspector Rex: http://www.youtube.com/watch?v=0bhJBVfTNzw
Brian, Family Guy
"Whose leg do you have to hump to get a dry martini around here?" — one look at that line will tell you Brian Griffin is not exactly your average family pet. Not only can this eight-year-old pooch talk, he also usually walks on his hind legs, has opposable thumbs and even drives a Toyota Prius. Known for his razor-sharp wit and cultured background, Brian nonetheless has a weakness for tennis balls and a fear of the vacuum cleaner. To top it all off, Brian has stuck by his best friend Peter's side through some bizarre and hilarious adventures, but their bond remains as strong as ever.
Eddie, Frasier
No list of canine TV stars would be complete without Eddie, Dr Frasier Crane's charismatic Jack Russell. With his mischievous personality and uncannily perfect comic timing, Eddie stole many a scene from the show's titular star. Moose, the dog who played Eddie, ended up with dog trainer Mathilde DeCagny after his owners could no longer cope with his boisterous and destructive antics. DeCagny saved Moose from the pound and set about teaching the many skills that would make Moose a sitcom star, such as lifting his leg on cue and fixing Frasier with a piercing stare. As if any confirmation was needed of Moose's importance to the long-running TV series, actor Kelsey Grammer paid tribute to Moose when accepting the 1994 Emmy for Best Actor in a Comedy Series: "Most importantly, Moose, this is for you," he said, before later admitting that he thanked Moose because "he's the funniest thing on the show".
Bouncer, Neighbours
Everybody needs good neighbours — and neighbours don't come much better than a boisterous and beautiful Labrador named Bouncer. Perhaps Australia's most famous canine soap star — and some may argue one of the finest actors to ever grace a Neighbours set — Bouncer is still remembered fondly by all Neighbours fans. This remarkable Lab survived being hit by a car and getting lost, plus he even saved Erinsborough stalwart Madge from a house fire. And who could forget Bouncer's dream sequence as he fantasised about marrying the love of his life, a Sheepdog named Rosie? Sadly, a few short months after shooting his final scenes, Bouncer passed away from cancer.
Bouncer
Check out this tribute to Bouncer to see this lovable Lab in action: http://www.youtube.com/watch?v=tM4ahY4Bo_4
Dag Dog, Home & Away
Along with Bouncer, Dag Dog forms part of Australian soap opera canine royalty. This unfortunately-named pooch was the much-loved companion of a young Sally Fletcher, and would accompany Sally and her imaginary friend Milco on all their adventures. Track down some early Home & Away episodes on Youtube and you can check out some of Dag Dog's finest acting performances.
Wishbone, Wishbone
There's something about Jack Russells that just makes the camera love them. Following in the footsteps of Eddie from Frasier, Wishbone is another Jack Russell with some impressive acting chops. Known as "a little dog with a big imagination", Wishbone's daydreams saw him tackle all sorts of exciting adventures. Always quick to note similarities between everyday situations and tales from classic literature, this plucky pooch would then imagine himself as the hero in some dangerous escapade — which usually also included donning some sort of adorable costume. Wishbone was played by a seasoned doggy actor named Soccer, who was chosen ahead of more than 100 other dogs who auditioned for the role.
Stella, Modern Family
If ever there was a dog breed just perfect for hamming it up in front of the camera, it'd have to be the adorable French Bulldog. The Frenchie is known as the "philosopher clown" of the dog world, and the gorgeous Stella certainly brings plenty of gravitas and humour to her role. With a wonderfully expressive face and a lovable personality, Stella was quick to win over the entire Pritchett-Delgado family, including tough guy Jay. Stella was, however, at the centre of controversy in mid-2012. During the period when the Modern Family cast were embroiled in a contract dispute, Brigitte, the pooch who played Stella, was let go by her Hollywood animal talent agency. Beatrice, another French Bulldog, was re-cast in her place.
Snowy, The Adventures of Tintin
Every adventurer needs a faithful companion, and trusty sidekicks don't come much better than tenacious terrier Snowy. This white Fox Terrier has accompanied his master all over the world, solving mysteries and bringing villains to justice. With amazing bravery and courage that belie his small stature, Snowy is never one to back away from a scrap — though the prospect of a juicy bone or a roast chicken can sometimes be a tempting distraction. Wherever Tintin goes, so does Snowy — these two best friends are truly inseparable.
Comet, Full House
San Francisco-based sitcom Full House not only made stars of the Olsen twins but also gorgeous Golden Retriever Comet. When a runaway pooch named Minnie ran away from her home in Ohio, she somehow ended up in the Tanner family's backyard. Pregnant Minnie eventually gave birth to a litter of pups on Jessie's bed, and one of those pups was named Comet and became the family pet. Comet was played by a canine actor named Buddy, who was also the star of the heart-warming film, Air Bud.
Vincent, Lost
When Oceanic Flight 815 went down on a mysterious island, several lucky souls survived the violent crash. But there was only one non-human survivor of the crash — a beautiful yellow Lab named Vincent. From his touching friendship with youngster Walt to his uncanny ability to uncover intriguing clues to the island's secrets, Vincent was an enduring presence on Lost. Vincent was one of the first things Jack saw when he awoke in the jungle after the crash and, in the show's final episode, Vincent lay down beside Jack and comforted his two-legged companion as he took his final breath. Like all dogs, Vincent was loyal right to the very end.
Who's your favourite TV pooch?
Here are just a few things that can make life with your dog a bit easier - see them now on our
DOGSLife Directory