July 31st, 2014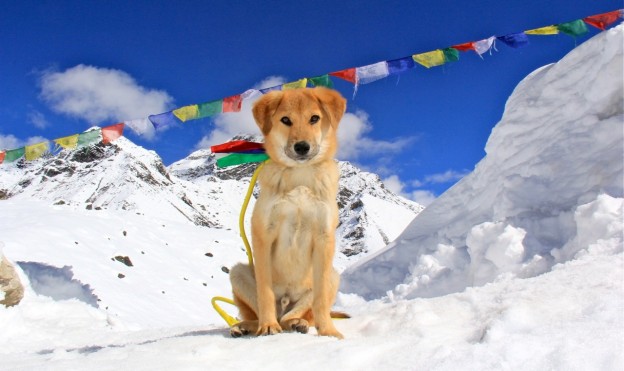 After losing her best friend and travel buddy Oscar, Joanne Lefson thought she would never adopt another pooch pal, let alone ascend the world's highest mountain. Kylie Baracz explores the story of the dog that climbed Mount Everest and his lucky owner.
From swimming in the Trevi fountain to walking the Great Wall of China, former golf champion Joanne Lefson and her furry companion Oscar were inseparable travel buddies.
For nine months the pair travelled an astonishing 36 countries, covering over 250,000 kilometres, to raise awareness of pet homelessness.
The cause is something very close to Lefson's heart as she adopted her furry friend a day before he was going to be euthanised at a Cape Town shelter.
"I adopted Oscar from Cape of Good Hope SPCA in Cape Town. I had just moved back from the States and I was looking for a new best buddy. Having always had dogs in my life, I decided to adopt from the SPCA.
"When I adopted Oscar, we became best buddies overnight. We went everywhere together, we had coffee together, we would go on weekends together — we totally were a team and he really was incredible."
Lefson knew Oscar was a special dog, and found that everyone was asking her where they could find a dog like him. What she didn't realise was that people were shocked to know they could get a great dog at a rescue shelter.
"Oscar looked really strange," Lefson says. "He was a very funny-looking dog, a very entertaining-looking dog, and he was very well behaved, so everywhere I went, people would stop me. Twenty times a day, people would stop and say 'Oh my gosh, what is that dog, what is he, where can I get a dog like that from?' I was even stopped on a freeway once when he had his head out of the car — I was stopped all over the place.
"Every time I would say, 'Well you go to an animal shelter and adopt a great dog' people wouldn't believe that such a great dog was available in a shelter and it was so frustrating because the reality was, Oscar was one day away from being euthanised and yet everybody wanted Oscar."
The World Woof Tour
After realising how influential Oscar was becoming, Lefson had an idea. She started planning the World Woof Tour, an adventure to visit the world's shelters and promote shelter dogs just like Oscar.
"It was a case of sitting down with Oscar one Sunday and saying to him, 'Right, you are just the greatest ambassador here and you are a gem in this sad situation of pet homelessness. How can we team up and do something?' I've always travelled, I'm a writer of a golf column as my background is golf, so it was a case of let's do a story that would draw public interest, and through that story Oscar's tale will come out that he is a shelter dog and really prove that shelter dogs are cool, great, adjusted, amazing animals," recalls Lefson.
In 2009, with Oscar by her side, Lefson undertook the World Woof Tour — a nine-month trip that visited over 70 shelters to raise awareness. They travelled down the Amazon, got married in Vegas, sailed above Rio, kissed the Sphinx at sunset, swam the Trevi fountain and walked the Great Wall of China (Oscar lifted a leg on it!); and that was just a glimpse of their amazing journey.
"It was an absolute dream come true, and there wasn't a day in that whole trip where I didn't feel like I was the luckiest person alive to be able to do this with my best friend," says Lefson. "To travel the world with your best buddy, see all these places — I felt totally privileged and honoured and lucky to be doing it with such a great being. It was just unbelievable."
Although the trip was a huge success, due to some countries' laws the pair couldn't visit every place they planned to.
"Oscar's welfare was always the most important," says Lefson. "I was never going to put his life at risk. I was never going to put him through quarantine so some countries we definitely wanted to go to, but he couldn't do them because of quarantine laws. Australia is an obvious one and Japan had 30 days' quarantine — so we had to take them out of the whole tour.
"We snuck over into Malaysia from Thailand because they don't check that much so we took a risk with that one as Malaysia had a week quarantine, but we managed to get through OK. The reality is, only less than 10 per cent of the world's countries has quarantine. So when you travel with your dog, yes there is a lot of paperwork — you have to get an export permit from a country where you are leaving and an import [permit] into where you are going and obviously there is a cost involved with doing that — but the reality is, you can definitely travel with your dog. It just needs more time and finance and hassle — it depends what your priority is."
Positive awareness
Through the tour, Lefson was able to create a worldwide buzz about shelter dogs and Oscar's tale. She penned a book Ahound the World: My Travels with Oscar and created a website and Facebook page to keep people informed on what the pair was up to.
"Oscar was a fine example of what a shelter dog is and can be when given a second chance. It is as simple as that. No one had to ask questions or figure anything out. They looked at Oscar and got it," says Lefson.
"I understand what people say – they don't want to go to a shelter as it is so sad, but it is one of those things where I say, 'Yes it is going to be sad, but just think you can still make the world of difference to one of those sad animals. By actually not going, you've made no difference at all. The sadness of going is far exceeded by the fact that you actually made a difference in that process.' So to me that is a no-brainer."
Lefson felt that she could show the positive side of getting a shelter dog through the project. She wanted to tell people that the best of the best dogs are chosen to be available for adoption, and that even if you were looking for a particular breed it was possible to find one.
"If people were more conscious and educated in this area, there is no way we would have euthanasia in our society. If people knew that you could find pure-breed dogs in shelters, and that you can get well-adjusted dogs, and that you can get puppies, and you can get anything you want, people will then always go to a shelter and choose adoption," she says.
Sadly on 11 January, 2013, after nine crazy years together, Oscar passed away after a tragic accident in California. This left a deep void in Lefson's life, but it didn't stop her from telling his tale.
"Losing Oscar was like … basically it felt like I died at that point and woke up the next day and everything was different," recalls Lefson. "I can't put it into words. My life ended and a new life started and it's like a fork in the road and I was stabbed and I had to go in a new direction. Now it is about finding some peace in it and doing these things that will keep Oscar's memory alive."
The brave little stray
Still grieving the recent loss of Oscar, Lefson was working in the Himalayas when she met a starving stray pup.
"I wasn't looking for another dog. I was in the Himalayas because I have a donkey sanctuary in the area and we were doing an interview on the dump site where we collected the first donkeys for the sanctuary five years earlier," says Lefson. "All the animals on a dump site, they're thin, they're starved and they look like they are going to die any minute. They generally clear off when people come, but when I was sitting there being interviewed, this dog came over, stumbled and collapsed right next to me.
"Now I don't just take dogs from around the world to adopt; I know it is a mission to get them back — firstly they don't have any vet records or anything so it is not viable and it is costly. So in that moment I thought now I don't know what to do. I have this dog that is about to die. To just ignore it and get up and leave is totally against everything I've ever stood for. So I thought OK, I'm going to take it in, I'm going to feed him as much as he can eat and drink in the next four days that I'm here and then I'm going to give him to my donkey sanctuary manager, a very simple Tibetan man who has a dog and probably the best dog in that area."
Her sanctuary manager agreed to take the starving pup in, but it wasn't until Lefson was on a flight back to South Africa that it dawned on her that this dog might be a sign from Oscar.
"My final journey with Oscar was going to be to climb to the top of the world and to ask the gods to finally bestow loving homes to all the homeless dogs below. So I thought maybe this was a sign from Oscar to still proceed with that journey, and who better else than a Himalayan dog to do it! And who better than one of Oscar's buddies whom he was trying to promote to do it! I always believed that a cause needs an ambassador of the same species, so who better to champion adoption than a dog. So I went back, got him and after a long mission, we got him to Kathmandu and did the base camp trek."
Climbing Mt Everest
The climb created a huge media storm — with many reporting the dog made it to the top. Although this was incorrect, Rupee (as Lefson named him) did become the first dog to climb to the mountain's base camp.
"It was quite a surprise the way that the story took off. I really did it to honour Oscar and the prayer flags ended up being a meaning to him as well. I think the story and the headline that 'he was the first dog to climb Everest' obviously implied that we went to the top, which we didn't, but the headline is statistically correct, because he was the first dog documented to climb Mt Everest, he just didn't get to the top. So who cares, at the end of the day it was just awareness of the cause," says Lefson.
Climbing to base camp was a challenge, but something the little Himalayan dog and his new owner took in their stride. It was only on the last day that they started to struggle.
"Rupee got tired on the last day and so we got the extra porter to carry him in his basket. The air is very thin and I think we were both really slow with our final steps to base camp because of the altitude. Other than that, Rupee is a Himalayan dog and I was on a mission 'for Oscar' so we both took it in our stride. Keeping warm was my biggest issue. Rupee has a fur coat of note living in these high cold regions; I'm an 'African' so even the thickest of coats didn't stop me from shivering every night.
"Actually the biggest mission was at ground level – getting Rupee's paperwork in place from Kathmandu to Cape Town; we were delayed an extra five days trying to fly out based on minor complications and a load of paperwork!" says Lefson.
Lefson believes that by doing the trek in honour of Oscar, it helped her with the grieving process.
"It wasn't an easy decision — honouring Oscar's legacy and story. It is the reason for staying alive at this point and will continue to be my lifetime ambition. I will never replace Oscar, but I will never stop adopting Oscar's friends and doing things that will create this awareness and so adopting Rupee and doing that trek was for Oscar.
"Bringing Rupee back home [with me] was because of Oscar, not to replace him, and Rupee will have a great life – whether he becomes a travelling guy or not, it doesn't really matter because it was never about trying to replace Oscar or trying to find another travelling guy. I do think there will be many adoptions in the future and they will all have a unique story. I have started the Oscar's Ark Foundation [soon to be launched] and it is going to be in the Western Cape and we are going to create interesting adoption stories from around the world, and those dogs will end up at Oscar's Ark in Cape Town so that original dream and legacy continues."
Here are just a few things that can make life with your dog a bit easier - see them now on our
DOGSLife Directory