October 25th, 2013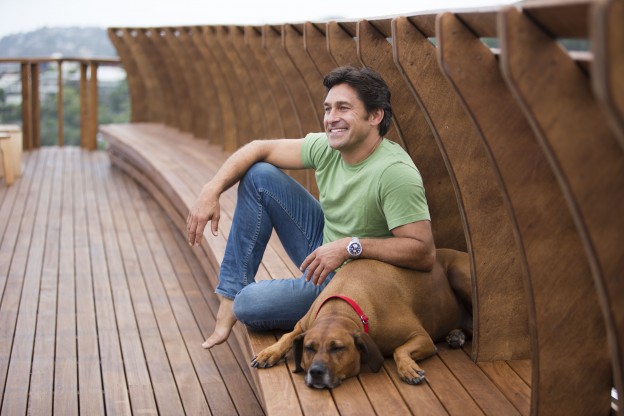 He has graced our screens, created our furniture and featured in more than a few top publications (including his own — The Outdoor Room) but Jamie Durie is just as happy at home with his dog, a Rhodesian Ridgeback named Bodhi.
Starting his career as a horticulturalist, Jamie Durie has always felt very close to nature.
Over the years, he has written best-selling garden design books such as 100 Gardens, Jamie Durie's The Outdoor Room, Outside, The Source Book, Inspired, Outdoor Kids, The Outdoor Room, and Patio, is founder and editorial director of The Outdoor Room magazine, has starred on Oprah, and is a successful television host and producer.
However, throughout his wildly successful career, animals and their welfare have always been close to his heart. As an avid supporter for Animal Welfare League (AWL), RSPCA and other well-known animal welfare charities, Durie feels he should be a voice for all the animals that don't have one.
"I think everyone loves animals, but unfortunately there are cases where animals are really badly treated and very inhumanely, and the problem is they just don't have a voice. So whenever I can, I try to be their voice," says Durie.
Durie was ambassador for Parched March this year, an event raising money for the AWL throughout the month. He felt the event was successful as it combined raising awareness of an important cause with the relaxed social atmosphere of Australia. "I love Parched March because everyone loves to get out and have a beer, so the idea of turning something social into something that raises funds is a great initiative, I think."
One particular animal that gets all Durie's attention is his Rhodesian Ridgeback Bodhi. "She's amazing. She just had her seventh birthday actually! I bought her with my girlfriend at the time seven years ago from a breeder on the Central Coast and we are just so over the moon with her. She's really fantastic."
As many dog-lovers know, there are always a few quirks that make living with a furry friend interesting. Bodhi is no exception. "Unfortunately I just can't get her out of my bed!" says Durie. "I recently redesigned my house and I even designed her a little dog daybed at the end of my bed so she could still feel like she was near me but not necessarily in the bed. She starts there, but when I wake up she's in bed with me. And Bodhi is not a little dog, she's like a horse!"
When Durie is travelling within Australia, his trusty canine companion is by his side. "She gets to travel wherever I go in Australia but I try and not fly her too much. She doesn't like getting on a plane. Usually by road she travels with me, and she quite likes coming on the road with me," says Durie. "She's an amazing dog. She's very intuitive, she's very human and if she's lying next to me on the couch, she will put her paw on my leg, you know, like she's got to have that human contact all the time."
Durie is no stranger to the dog world. When he was young, his family owned a Basanji, a hunting dog that doesn't bark. "I had a Basenji when I was growing up, which is an Egyptian dog I believe, and her name was Cheri."
His love for dogs extends to the social media world, where he posts pictures of his beloved Bodhi frequently and welcomes anyone to send him images of their dogs, too. "I love seeing pictures of other people's dogs so please follow me on social media."
So what's next for dog-loving Durie? Will we see any pet furniture on the horizon to add to his successful Patio range in Big W and Italian Riva 1920 interior furniture? "Oh yeah, why not? Absolutely," says Durie.
Looks like Durie is not ready to put down his tools yet.
Follow Jamie Durie
Facebook: jamieduriefb
Twitter: @jamiedurietweet
Instagram: jamiedurie1
Pinterest: jamieduriepin
Here are just a few things that can make life with your dog a bit easier - see them now on our
DOGSLife Directory