June 30th, 2014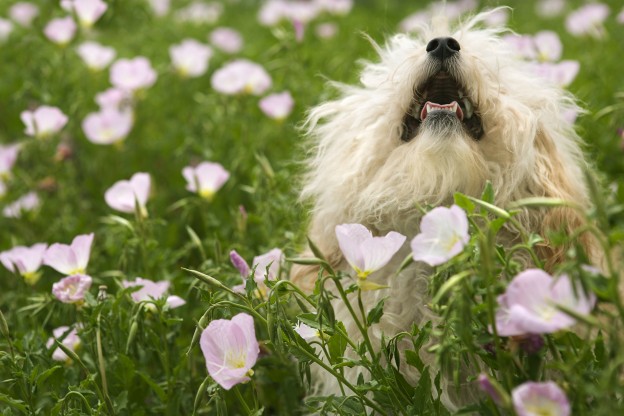 Becoming sustainable is the way of the future to reduce emissions and essentially 'save the planet', but did you know you can also reduce your dog's eco paw print? Kylie Baracz reports.
Words such as "climate change", "carbon footprint" and "global warming" are popping up in newspapers and television programs around the world — but what do these terms mean when it comes to our loveable pooches? Every day, dogs all over the country eat, drink and "do their business" without even thinking about it, but these innocent acts might also be contributing to the harming of our planet. Not-for-profit environmental organisation, Planet Ark, has some great tips on minimising your pooch's impact on the earth.
Nutrition
Your dog's daily food can be the end result of a lot of carbon-intensive production and shipping, especially if it is from overseas. So how can we choose food for our animals that doesn't cost the earth? Brad Gray, head of campaigns for Planet Ark, says to keep an eye out for products with minimal packaging, or those that are fully recyclable, and make responsible choices about the contents as well. "With a small amount of research into recipes, and a butcher nearby, you'll be able to make healthy, delicious and well-balanced meals for your pooch of next to nothing, particularly using cut-offs or leftovers," he says.
Bedding
Gray says choosing an eco-friendly bed doesn't have to be an expensive exercise. "Reuse old pillows and pillow covers, or perhaps a pre-loved beanbag, to create a cosy bed. These days, you can even get pet beds made with natural materials like cotton or even recycled PET bottles."
Treats
"One of our favourites for summer is freezing treats and/or pieces of meat in a container," says Gray. "When you pull it out of the mould and put it down in front of your dog, it provides a cooling, lick-able treat that will entertain for as long as it takes to melt — potentially hours depending on the size. Another excellent idea is to smear vegemite or peanut butter inside an empty cardboard roll (toilet roll or kitchen towel roll is perfect). It will engage your dog's skill and concentration to get their tongue inside to finish the treat. Making a few small openings in an old ball and filling them with treats is also a great way to save money and go green."
Toys
DIY toys are super easy and kind on the environment. Gray says one of the Planet Ark team's favourites is a pre-loved sock with an old tennis ball pushed inside, down to the section where your toes would be. "This is great for throwing and is softer on your dog's teeth than hard plastics. Other choices could include old ropes with knots tied at different points or recycling some old kitchen tea towels into toys by plaiting them into one strong, fabric toy."
Pet waste creates a sustainable garden
The Yard Art Pet Poo Composter is a composting system from Tumbleweed, perfect for an eco-friendly dog owner. Brooke Summerville from Eco Parents (ecoparents.info) road tested this new product to see if it meets the sustainability test.
Tumbleweed is an Australian-owned company with a vision to make a significant contribution to our earth's environmental sustainability by designing and manufacturing innovative products that encourage consumers of all ages to reduce, re-use and recycle organic waste. The Yard Art Pet Poo Composter is the new player in their range. It is the first pet poo composter of its kind and when I spotted one in my local Bunnings, I was excited. We had been using our buried bucket system for well over a year and were pleased to find an easier way. The picture of the dog using the composter on the box says it all. I think it describes the product perfectly in a snapshot.
The product is pitched at the green thumb and outlines the benefits for the garden. Personally, my focus is more on reducing landfill (think about each time you do "poo patrol" and how many plastic bags are used!). My aim is to reduce what goes in my wheelie bin as much as possible and poo is no exception. The unit is very sturdy and the assembly was pretty easy. You'll need to get your own worms (2000 is recommended on the box) and you can order these online through Tumbleweed. I liked the flexibility of being able to position the Pet Poo Composter in the shade or sun. My tip is to position it close enough to a tap that keeping it moist is easy.
We prepared the bedding block by soaking it in a large bucket, then dug a hole. We sprinkled a good handful of Tumbleweed Worm Farm & Compost Conditioner in the bottom of the hole and positioned the composter so the flange sat just below ground level but high enough so the pedal operates properly. Once in place, we split the prepared bedding block, put half of it inside and scattered the rest around the outside of the base. This gave the worms a nice home and encouraged them to move in and out of the composter through the holes.
Worm time! We put our worms in and made sure they were nice and moist. We then left it for a week so the worms could adjust to their new home. Once the week was up, we added kitchen scraps and then eventually the dog waste. Slowly we reduced the amount of kitchen scraps until we were just adding dog waste. It takes about a month to establish the system. Once the unit is established, it has some basic maintenance to keep the system happy.
Keeping things moist makes it easier for the worms to digest the pet waste. You should also sprinkle worm conditioner in there once a week or so — you've got to think of the worms as your pets. But, just like a goldfish, (you can't play with them either!) you still need to make sure it has a happy environment to live in. You can relocate the unit if you decide you want to improve your soil elsewhere but we plan on leaving our unit in place for a while.
The verdict
Composts your pet droppings fast
Is free organic fertiliser to enrich your soil
Creates and encourages fantastic plant growth
Is perfect for backyards and gardens
Is no mess, no fuss and has no odour
Is a piece of art for your backyard
Has a full instruction manual included
Worms are natural recyclers. By putting worms to work you will be converting pet waste into rich organic fertiliser that the worms will disperse throughout your garden naturally. The Pet Poo Composter is another way you can reduce landfill and greenhouse gases by recycling.
The Tumbleweed Yard Art Pet Poo Composter is available to purchase from Bunnings Warehouse.
National Recycling Week
Planet Ark's National Recycling Week 2014 will be held from Monday 10th to Sunday 16th November. Don't forget to mark it on the calendar!
Here are just a few things that can make life with your dog a bit easier - see them now on our
DOGSLife Directory