August 10th, 2008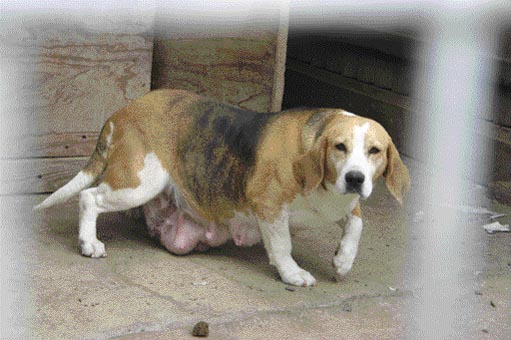 The term "puppy farm" conjures up a lot of negative feelings. Caroline Zambrano investigates these farms with some very interesting findings.
NOTE: Some information in this story may upset some readers
For animal welfare organisations and supporters, the words puppy farm bring to mind breeding facilities housing hundreds of dogs in dirty conditions and horrific scenes that would make any animal lover cry. Learmonth Puppy Farm in Victoria shut down in July for these reasons.
However, puppy farmers feel angry that farms that have been shut down for violating animal welfare laws give professional and honest ones a bad name, portraying them as the "devil in disguise".
Dogs Life interviewed breeders, animal welfare representatives, dog trainers, veterinarians, pet business owners and government officials about the controversy. Animal rights groups say many other farms are operating in violation of animal welfare laws around the country, but the councils find it too expensive to take action. Government officials argue some of these puppy farms have passed regular inspections and can legally operate.
The issue over puppy farming has also weaved itself into the debate of banning the sale of animals in pet shops. Animal welfare groups argue that shutting down puppy farms will cut the supply of pups into pet shops. However, puppy farmers say pet shops do not pay enough to cover business expenses so they sell directly to the general public.
Australia puppy farms shut down
In June, ABC Victoria, news website, reported the Victorian Parliament is now considering making amendments to toughen up laws relating to puppy farming and also the sale of pets from pet shops. In the meantime, a Victorian court ordered a Curlwaa couple to pay $80,000 and restricted dog ownership to 20 animals for not adequately caring for all 120 dogs found on their farm late last year. A Victorian council report revealed yet another puppy farm operating in the state, with 100 dogs "unfit for breeding", Debra said.
According to the full veterinarian report, 17 dogs had to be euthanised and the remaining dogs were suffering from various ailments, which included extreme flea infestation, shot jaw, teeth missing, head lesions, light weight, rapid breathing, ear infections and more. Debra Tranter said the council has enough evidence to prosecute under the Prevention of Cruelty to Animals Act, but refuses to prosecute or confiscate the dogs as they deemed this to be too "expensive for council".
"What good is the legislation if no one enforces it?" asked Debra. "What hope do the dogs have? Its very hard to fight an industry that views dogs as mere profit machines, but after all the licks, wags and love they have given me, I owe them this fight. Their lives depend on it."
To date, ALV has shut down two puppy farms in Victoria; one was nine years ago in Lang Lang, housing about 50 caged dogs which the owner confessed to not being able to care for. The other was the largest puppy farm in the country, the Learmonth Puppy Farm (also known as Eurovision Pty Ltd) near Ballarat, which shut down on July 31 following the last of 40 ALV raids on the property.
ALVs campaign to raise public awareness about puppy farms began in the early 1990s when they discovered the "horrible conditions of dogs" at this farm owned by Dr Ron Wells, said Debra. Dr Wells was supplying hundreds of puppies to the Asian market and his own pet shop, Beautiful Puppies. The farm at one stage housed more than 1000 crossbred dogs, although the Ballarat council permit only allowed for 540.
Debra Tranter spoke to two former employees who worked on the property for two years and witnessed the manager hitting the dogs on the head with a hammer and swinging them up against a fence post to kill them. They reported that feeding and watering days were three times a week and one dog was left in a cage with a broken leg for three weeks with no veterinary attention under orders from Dr Wells. Debra said the evidence was presented to the Victorian Veterinary Registration Board, which simply gave Dr Wells a caution.
Debra spoke to Dogs Life about her July meeting with Dr Wells to discuss the surrendering of his dogs. He handed over only 16 dogs; the rest were to be placed on another puppy farm to continue breeding.
"Ron has told me that he will not be surrendering his genetic pool to me. He stated that his dogs were the best in Australia and they deserve to be bred," she said. "I am devastated that I was not able to secure the release of the 200 remaining dogs. I know where they are and I will continue to campaign for them."
Debra believes if the Ballarat council and RSPCA acted on this and enforced the law, Dr Wells would not be able to continue breeding. ALV is bringing out a DVD on puppy farms titled, The Truth Cannot Be Changed Until It Can Be Seen. For more information, contact ALV via email debra@alv.org.au or phone 0417 536 539.
The RSPCA
RSPCA Vic Media Officer Ray Lord stated in a February RSPCA newsletter (RSPCA Newsletter 5/1 — 2005) that the RSPCA opposes puppy farms and is attempting to pursue a number of breaches of the Prevention of Cruelty to Animals Act 1986 in the Learmonth Puppy Farm case. He said the RSPCA is working with the Ballarat council (which has responsibility for enforcing the Domestic Feral and Nuisance Animals Act) and the Department of Primary Industries (which has responsibility for enforcing the relevant Codes of Practice).
The RSPCA finds it troubling that puppy farms are supplying hundreds of puppies to pet shops or the Asian market as the bitch lives simply as a "breeding device", Ray Lord said. "The RSPCA feels strongly that puppy farms cannot be justified given that many thousands of healthy dogs and puppies are euthanised every year as surplus unwanted animals," he said.
Puppy farm perspective
As Dogs Life found out, there are both sides to a story, whether they are justified or not. One South Australian puppy farm that has received bad media publicity for breeding thousands of designer dogs is Freedom Kennels, owned by Peter Cornford. Peter spoke to Dogs Life about his 30 years experience in the pet industry and how puppy farms have been operating underground for a very long time.
"I decided many years ago to change this philosophy," he said. "Have a guess why we have been hammered once by the animal do-gooders, then constantly by Channel 7 (in S.A) and pedigree breeders of this state. They can't handle good, healthy competition." He said if his business was so bad, it would not have grown 35 percent per year for the past five years.
Today, Freedom Kennels, located near Lameroo, breeds 30 pups a week and deals with second-generation buyers and referrals by the thousands. They receive about 200 visiting families a year to their kennels.
"We do intend to grow more as we are not able to breed enough from certain lines that we breed and we are also looking at other lines for the future," he said. "There is a crying need for the breeding world to come out of the closet and be recognised as being here to stay to meet this market demand. Dairy farms in NSW are closing and some of these are now breeding dogs for the pet industry."
Peter started off as a backyard breeder in Adelaide 11 years ago selling directly to the public from the newspaper and when they shifted to the country to expand, it was nearly impossible to sell privately. So he started supplying pet shops, but soon realised his business would not survive with the low prices they paid. Peter said it costs more than $350 per pup to breed them with all associated expenses. In the last 12 months he has spent in excess of $100,000 on breeding stock.
He said the RSPCA inspects the kennels regularly and has footage of the facility. Freedom Kennels does not have any issue with consumer affairs, he said.
"Being professional in this industry means your head is out there for all to have a go at chopping it off," Peter said.
Government official perspective
This year, for the first time, Freedom Kennels held its annual Doggy Day Out for their dogs, owners and friends and had a successful turnout with representatives from the states RSPCA and government officials on the guest list. Dr Deborah Kelly, Manager of Animal Welfare within the South Australia Department For Environment and Heritage, attended the event, also representing the Dog and Cat Management Board as Executive Officer. Kelly told Dogs Life that puppy farms in South Australia are subject to exactly the same laws as any other state, referring to the Prevention of Cruelty to Animals Act 1985, which requires the owner of an animal to provide it with adequate and appropriate food, water exercise and shelter.
Kelly told Dogs Life that Freedom Kennels has been one of two puppy farms in South Australia subject to complaints in the past. The RSPCA has inspected both on several occasions and found no breaches of the Act.
"I have personally visited Freedom Kennels and the dogs were all in very good condition," Kelly said. "Some time ago one of the TV stations did a report on Freedom Kennels and we got a few complaints then. The film was taken in winter so the place was looking at its worst. Speaking to the purchasers of the pups, they seem entirely satisfied and there is a lot of repeat business and referrals."
Cornford complained about laws that require breeding facilities to provide housing on concrete, four square metres of living space, a roof over half that area and the kennel to be washed out every day. "This fits a boarding kennel or RSPCA for housing a dog short term as these dogs are not sociable with other dogs and will fight and possibly kill each other," he said. "For breeding kennels all through Vic and NSW this is basically the same."
He said Freedom Kennels is totally different, adding that the business name suggests dogs are "free" to run and play, dig holes and chew up trees with other dogs. He also expressed his concern over "line breeding" (when the sire and the dam are distantly related) or "in breeding" (breeding very close relatives for generations in order to create a clone).
Freedom Kennels breeds 35 cross and purebred lines and their philosophy is to "simply breed healthy dogs with a great temperament". Of the more than 4500 dogs bred at Freedom Kennels since its establishment, Cornford said they have never had a temperament issue and have thousands of happy customers.
"We are the best priced and breeding complex in this country with the best reputation to go with it," he said. "Purebred dogs or crossbred mutts, who cares? They are all dogs after all. And in a family situation a dog is a dog, not a fashion statement."
Cornford also spoke about the controversy over banning the sale of animals in pet shops. "Where there is a pet shop, there is a need for pups," he said, and there are hundreds of breeders small and large to supply thousands of pups a week. If pet shops are banned from selling pups, then "the true backyard breeders out there will have a field day", he said.
Thousands of dogs are advertised in papers all over the country and now people are using the Internet to source their next dog from anywhere, he added. "It isn't only the animal rights (organisations) against people buying from a pet shop. It is also the pedigree world of very self-righteous breeders," Cornford added.
Puppy farms in the US
The problem in the USA is a lot worse than here in Australia. For more information on how to help stop this trend overseas check out www.nowisconsinpuppymills.com.
"The fact is, the sight of dozens of puppies in cages, outdoors, may upset some people. But it's not against the law. Disgusting as the conditions are at this place, despite several fires and many, many complaints to the authorities, police and humane investigators in America have not been able to close it down.
Due to vague laws that use but do not define terms such as adequate and sufficient in terms of food, water, housing, etc, by the letter of the law he isn't doing anything illegal. He also is outside of United States Department of Agriculture (USDA) jurisdiction because the Animal Welfare Act regulations only apply to people who raise dogs for wholesale distribution. Since this person does not sell to pet stores or brokers, but only directly to the public, he is exempt from federal regulation" says Michelle Crean from Wisconsin Puppy Mill Project, Inc. Dedicated to Ending the Suffering in Wisconsin Puppy Mills Through Public Education.
Say no to animals in pet shops
One animal welfare organisation that is campaigning heavily all over Australia to ban the sale of all animals in pet shops is Say No To Animals In Pet Shops. Many of their celebrity supporters include Bryan Adams, Daniel Johns from Silverchair and Krista Vendy.
Founding member of the organisation and also former director of Animal Liberation NSW, June Bird said one way to help shut down puppy farms is not to buy animals from a pet shop. She advises buying your pups from shelters or pounds, where thousands of animals are in desperate need of a good home.
With Christmas around the corner, Bird stressed the importance of saying no to animals in pet shops. At Christmas time, so many more animals are dumped and every pound and shelter is flooded with unwanted animals that were given as presents or were a result of impulse buys from pet shops, she said.
"The more we raise public awareness, the more people will walk past pet shops and there wont be a demand for puppies," Bird said. "Ninety percent of people have no idea about puppy mills. We've got to get tough and avoid buying animals from pet shops."
She said many pet shops get their pups from unregistered backyard breeders and puppy farms, which breed thousands of dogs. Meanwhile, more than 200,000 animals each year in Australia are euthanised in pounds and shelters, she added.
"Its a supply demand issue. If people don't buy from pet shops, then pet shops wont buy from backyard breeders and puppy farms, then those breeders wont breed any more dogs because they can't sell them," she said.
Say No To Animals In Pet Shops will continue to campaign for federal laws to ban the sale of animals from pet shops. Pet shops should only be allowed to sell food and accessories, Bird said. To contact Say No To Animals In Pet Shops, check out www.saynotoanimalsinpetshops.com.
Animal welfare organisations may also need to educate companies that give advice to people interested in opening up a pet shop. The Entrepreneur Business Centre (EBC) provides assistance to people starting up a small business and states on its website (www.ebc.com.au) about pet shops: "The scenario is simple: Someone will walk by, fall in love with an animal and buy it. These sorts of impulse sales can add dramatically to your profits. First-time browsers in a pet shop will not necessarily jump at the thought of spending $50 to $500 to bring a dog home or to set up an aquarium. However, if your shop is accessible and your sales and service ability is convincing, it will not be long before you convert walk-in traffic into buying customers. The trick is to find a great location for walk-in traffic "
RSPCA vet perspective on pet shops
Statement on pet shops, howe'ver RSPCA NSW Chief Veterinarian, and President Of The Australian Veterinary Association NSW, Dr Mark Lawrie, admitted pet shops have improved a lot in the last decade.
Pet shops used to be horrendous," Dr Lawrie said. "This is my general impression based on the number of prosecutions that we have done specifically on pet shop issues. There has been a code implemented and a more pro-active self-regulatory approach taken by the industry itself. Certainly the quality of facilities has improved but also the way in which animals have been cared for seems to have improved."
However, Dr Lawrie still finds it problematic that pet shops have not shown more responsibility in incorporating the sale of pre-sale desexed animals at least on an optional basis.
"It could certainly be seen as a value-adding option," he said. Besides state regulations, the Australian Veterinary Association also has guidelines for pet shops to care for the puppies during their stay at the shop.
Dr Matthew Miles, small animal veterinarian with the Australian Small Animal Veterinary Association, checks puppies for sale at pet shops on a regular basis and identifies the pups he finds in less than optimum health as well as the breeder from which they came from.
"As veterinarians, we all share the concern about so called puppy farms," Miles said. "Like many things they are often given a bad reputation by certain individual breeders." He said many of the breeders used by pet shops would benefit from breeding healthy, fit and well-adjusted puppies, as these will be the ones that go quickly to good homes.
"The system is less than perfect and could do with some improving to weed out the bad breeders more quickly and effectively," he said. Having worked as a vet for 13 years, Miles said vet checks consist of a thorough clinical exam as per Veterinary Surgeons Board recommendations to check for subtle abnormalities that may lead to disease later on in life. However, many diseases/abnormalities do not show until maturity. He said some vets follow a protocol for a regular examination.
Regulation in Australia
David Mitchell, Senior Policy Officer Animal Welfare from the Australian Government Department of Agriculture, Fisheries and Forestry, said legislative responsibility for animal welfare within Australia, including regulation of pet shops and pet breeding and sales, rests with the individual States and Territories.
One senator who is trying to "shine a spotlight" on the issue of puppy farming at a federal level is Queensland Senator Andrew Bartlett. Currently Deputy Leader and Party Whip of the Australian Democrats, Senator Bartlett spoke to Dogs Life from his Canberra office about a Private Members Bill (National Animal Welfare Bill 2003) he introduced to establish Australia's first national and enforceable animal welfare standards and is currently submitting an updated version.
"Animal welfare issues are not regulated at a federal level and are not an interest in the federal government. The logic of it is so undeniable," he said. "Animal welfare issues are important because the way we treat animals is so entrenched in our daily life in Australia."
Former President of Animal Liberation Victoria and current supporter of Say No To Animals in Pet Shops, Senator Bartlett encourages people to continue campaigning at local and state levels to push for change in banning pet shops from selling animals.
"You usually can't and often shouldn't force people to change their behaviour, but making them aware of an issue or a new viewpoint is an essential step in generating positive, lasting change," he said. "In the next 10 years, I am confident we will see a significant improvement, whether through mechanisms like those I'm proposing or through actions taken on a state level. If the same goal can be achieved by improving state regulations, then that's great."
Pet store perspective
Dogs Life spoke with one pet shop manager who answers every question, provides complete information and is totally against impulse buying.
David Herman, managing director of Pets at Home Australia in Melbourne, said the company has taken its home country in England by storm with its more than 160 stores and different approach to selling animals. He hopes to see more stores open around Australia in the future.
"Selling puppies is not our primary goal. Information and education of purebred ownership is," Herman said. He acknowledges the plight of animal welfare organisations, however, he said "we support the sale of animals in pet shops provided the process is carried out in a highly professional and humane manner. Whilst I don't support the concept of puppies in glass boxes being displayed at the front of pet stores, I don't believe a militant approach is the right way to go about trying to stop pet shops from selling animals."
Pets at Home acts as a consignment agent to breeders and sells purebred registered dogs in order to provide customers with peace of mind, said Herman, who is the brainchild of the idea. "Our (Breeders Consignment Program) aims to answer the questions people most have when they buy a puppy, such as guessing how large the animal is going to be, how healthy its going to be. Our business is based on delivering quality and this should extend to the sale of puppies."
Canine councils in Australia have conditions of membership that effectively prohibit the sale of their pups to a pet shop. However, Pets at Home is a unique agency for the breeder, creating an advantage for them in the breeding industry.
Herman explained that some breeders live in the country or outer suburbs, making it difficult to market to a wider number of potential shoppers. Some breeders also don't like their homes being intruded. Pets at Home gives these breeders an alternative, convenient and quality place to display their puppies, he said.
Pets at Home does not take puppies unless they are registered with the Canine Association, which means the shop sometimes does not have pups available for sale. The superstore aims to take pups at 10 weeks of age and only on the provision of their vaccination certificates, registered papers and vet checks.
The open enclosures that have the capacity to create a seven metre run for two litters of pups is "designed for the animals, not the public," Herman said. The enclosure provides viewing areas but is partially solid panelled to prevent the pups feeling constantly on display and is raised up 1.4 metres high to ensure pups can't be touched. There is also a large kennel to enable the pups to get out of the public view from time to time.
Herman emphasises that Pets at Home staff follow every direction from the breeder, from offering specific toys to feeding a specific diet. "Care of puppies is part of our daily routine," he said. "All staff are trained to care for dogs."
Whats more, the display includes breed information along with a Victorian Canine Association brochure and photo of the paren'ts. If a potential customer is not satisfied, he can meet and talk with the breeder during the Breeder Showcase held regularly at the store.
As for impulse buying of pups, Herman said they make it difficult for people to buy pups from the shop. Customers must complete a Purchase Application Form, which shows the difference between mere window shoppers and those really interested. The breeder has the absolute say about who gets the pups and also sets the price and receives the price on the sale of puppies.
"We are helping the breeder community," Herman said. "We don't make a lot of money on this. We understand some pet stores put large retail margins on puppies. We charge a holding fee and commission."
Pets at Home also provides care sheets on puppy care to the public free of charge, whether they buy a dog or not.
Pet industry perspective
Peter Nobbs, Executive Officer and Industry Liaison for the Pet Industry Association of Australia (PIAA), hopes to see a uniformity of federal regulations on animal welfare laws one day. However, he rejects the idea that the commercial pet industry is the reason why animals get dumped.
"The pet industry is more responsible today," Nobbs said. "There are people who are bad pet shop owners, just like there are bad vets and even bad shelters. Animal welfare organisations have no right to criticise all pet shops."
Established in 1979 as PIJAC Australia, the organisation became PIAA in 2004 and acts as a support group for the commercial pet industry. PIAA is member owned and member driven with currently 500 companies from all over Australia. Nobbs said there are more than 1000 pet shops in Australia and more than 200 of them are members of PIAA. Before joining, all membership applicants must sign compliance to PIAAs National Code of Practice, part of which includes agreeing to comply with state laws, he said.
"I have had 30 years in the pet industry and I couldn't tell you the name of a puppy mill — never dealt with one," Nobbs said. "PIAA members don't sell enough pups to ever need one (puppy mill). Pet shop owners are 99.9 percent animal lovers just like the volunteers in animal welfare shelters. We as an industry home animals every day and just like the charities in the companion animal industry, we make money out of it."
He said banning pet shops from selling dogs would create "unregulated, uncontrolled backyard trading with no scrutiny by inspectorates or the public".
Nobbs also questioned what makes up a puppy farm. He said a canine council-registered breeder of small or toy dog breeds with a kennel prefix and six "brood bitches" would not constitute a puppy mill. "If the same scenario exists minus the membership of a dog club, therefore no kennel prefix, does that constitute a puppy farm?" he asked. "Do dog owners that offer a modern pet shop and a litter of healthy cross breeds raised in a nurturing environment deserve condemnation or need further education?"
Good questions. But what about placing the "poor puppies" at the pet shop window to lure in the customers?
"We are not inducing impulse purchasing," Nobbs said. "This doesn't happen in professional pet shops anyway. How often do people actually make a $500 purchase on impulse? Rarely."
PIAA recently made a written statement to the ministerial advisers on every Animal Welfare Advisory Committee (AWAC) in Australia that PIAA is totally opposed to the sale of any companion animal at itinerant market stalls. Nobbs said of the eight AWACs that were advised of PIAAs stance on the issue, one thanked the PIAA for the letter and one other said they don't have the power to change the law. PIAA pet shops get on very well with many good registered dog breeders, Nobbs said.
"Its a pity that some canine councils in Australia have conditions of membership that effectively prohibits the sale of pups registered by them to a pet shop, thus preventing many caring families that visit pet shops access to the registered purebreeds that wont ever win a dog show," he said.
Nobbs announced that the Royal New South Wales Canine Council (RNSWCC) amended its code of ethics this year, permitting the sale of pedigree pups (with limited registration) to any PIAA Accredited Member should the RNSWCC registered breeder choose to do so. The PIAA is thankful for RNSWCCs foresight and generous gesture of goodwill towards the PIAA, he said.
The RNSWCC code of ethics may by found under Regulations area 13 on its website www.rnswcc.org.au.
The Canine Control Council of Queensland (CCCQ) also has no issues with limited registration puppies going to suitable pet retail outlets, Nobbs said.
For a listing of accredited PIAA members check out www.piaa.net.au.
Trainer perspective on pet shops
Many pet shops that sell animals may be following the laws and regulations, but they still do not provide a suitable environment for animals, believes one Queensland dog trainer who strongly advocates against buying dogs from pet shops. Accredited by the Delta Society in behaviour training and a member of the Association of Pet Dog Trainers of Australia, Ms Bishop has been training dogs for 10 years and runs Yvonne's Dog and Puppy School in Banksia Beach.
Some trainers argue that you can train your dog to do anything, regardless of whether they come from a registered breeder, puppy farm, pet shop or the pound. But according to Ms Bishop, many of her clients who have puppies from pet shops tend to have problems with toilet training.
"In pet shops, the pups stay in a small space where they eat, sleep and do poo, 24/7," she said. "They get bad habits. Education comes from the mother as they move the pups away from the nest box to do their business."
From a behavioural point of view, pet shops do damage to dogs behaviour, Ms Bishop said. "Hours after I went past a pet shop I could still hear the pups crying. I find that very distressing. They are getting no human contact," she said.
Her biggest concern is that the pups are kept in pet shops until they find a new home and that can take a long time. "They are pack animals and need human interaction," she said.
Ms Bishop explained the disadvantages of buying from a pet shop. Buyers must check the pup for a nervous disposition and if they bite when they are fearful, she said. "You need to see mum and dad if you want to see the temperament of your dog. At a (registered and qualified) breeder, you can see the mum and dad. With pet shops, you have no idea where the pups come from. That's a worry," she said.
Pet shops also do not tell buyers where their pups come from and do not interview the buyers, she said.
"If the breeder does not interview you, leave. They are only interested in the money. They don't care where the puppies are going," she said.
Ms Bishop said many of her clients had had bad experiences when purchasing their dog from a pet shop. They acquired dogs with health and hereditary problems, leaving the owners with hundreds of dollars in vet bills. One of her clients purchased a Golden Retriever from a pet shop for $800 and soon realised the dog was lame in its hind leg. The pet shop refused to take the dog back. Ms Bishop said her client could have bought a Golden Retriever from a registered and qualified breeder for a lot less and not have had such problems.
Another experienced dog trainer from NSW has a different opinion. "I don't want people to tell me where, when or how I can buy my pets," said Steve Austin, training director of Hanrob Pet Care Centre in Heathcote. With 25 years experience under his belt, Austin is also national trainer of the Australian Quarantine Inspection Service, Detector Dog Unit. He said pet shops are just an easy mark.
"Selling dogs through newspapers is more of a problem as the dogs are normally sold under eight weeks, are not wormed and not vaccinated," he said.
According to Austin, dogs sold through newspapers are not regulated, unlike pet shops that are members of the Pet Industry Association of Australia and follow federal, state and local rules and regulations.
"People who are campaigning against us owning animals are the real concern, not professionals like breeders and pet shops owners, selling us pets to own and to enjoy," he said.
Austin believes these organisations are trying to stop people from owning animals. They should campaign against real issues — cruelty, animals being sold in papers and in market stalls — and not criticising and damaging people trying to make an honest and fair living, he said.
As for pet shops that do not provide information about where their pups come from, Austin said "real pet shops will give it to you".
"The person selling you the pup (be it a professional breeder, a part-time breeder or a pet shop) must give you the full history, full vaccination details and complete backup service, including training information as the dog matures. If people are running an ethical business they will gladly give it to you. And if they don't, go elsewhere," he said. "Where you buy your animal from is up to you but once you get it, look after it, do all the correct things with the animal for the rest of its life."
Animal lover Tanzi Lewis from Tasmania asked her local pet shop where the puppies come from. A supporter of Say No To Animals In Pet Shops and Liaison Officer with Parks and Wildlife Services within the Department of Tourism, Parks, Heritage and the Arts, Lewis used to be a long-term client of Flynn's Pet Shop in Hobart before it was sold. When the new owner introduced kittens and puppies, she stopped buying from there and visited the shop many times to request breeder information about the pups for sale. She said they refused each time.
"Dogs are bred for different reasons — hunting, herding, guarding, companions — and these traits do come out in their behaviour. Its important to know this to avoid certain situations and manage behaviour," Lewis said.
A member of the RSPCA and Hobart's Dogs Home volunteer, Lewis said she spoke to the Tasmanian Canine Council about the issue and was told the problem is that "a lot of people lack patience".
"They decide they want a particular breed after seeing it on Burke's Backyard and want it now," she said. "Reputable breeders don't have puppies on tap because they don't breed all the time."
Lewis said she cannot understand peoples impatience when buying a dog. "Its like deciding to have a baby. One has to wait at least nine months. However, the impulse buyers aren't prepared to wait," she said.
Tell us what you think!
Dogs Life would like to hear from any of our readers regarding this matter. Please write to Dogs Life Barkback / Puppy Farm Comments, Private Bag 154, North Ryde NSW 2113.
Here are just a few things that can make life with your dog a bit easier - see them now on our
DOGSLife Directory