December 18th, 2015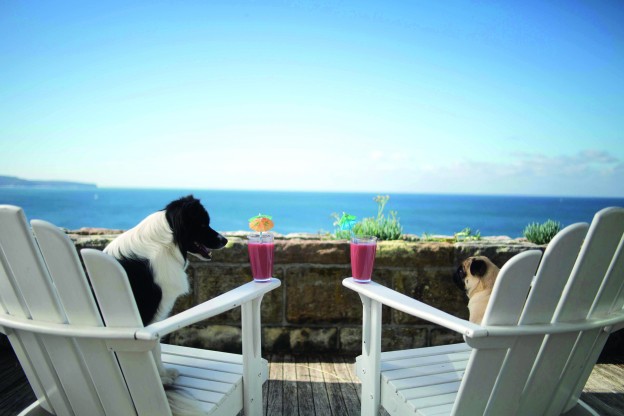 Are you keen to hit the open road with your furry friend over the summer break? Kristie Bradfield takes a trip around the country to sniff out a selection of the best pet-friendly hideaways.
If you've ever headed off on holiday without your dog, you'll know how horrible it feels to leave them behind. The great news is that the number of pet-friendly hotels and hideaways across Australia is growing, and it is becoming easier to find options catering for the whole family. Here's just a handful.
Western Australia
An oceanfront escape in Busselton
The beautiful seaside city of Busselton is just two-and-a-half hours south of Perth and sits on picturesque Geographe Bay. Busselton is the perfect place to set up your holiday base camp as it's close to the Margaret River wine region and hundreds of kilometres of pristine coastline and natural wonders. Our Beach Shack is a stunning double-storey home that overlooks the ocean. It has room for up to 10 people and is very pet friendly, with a kid- and dog-safe backyard. Busselton has several dog-friendly beaches, parks and markets too.
South Australia
Visit wine country in McLaren Vale
Nestled in the renowned McLaren Vale/Willunga wine country, Tynan Farm is just an hour south of Adelaide. Guests stay in dairy accommodation that has been cleverly renovated and updated with all the creature comforts of home. Well-behaved canine companions will find plenty to do at Tynan Farm, including long walks in the fresh air while taking in the views of rolling green farmland and the nearby Kuitpo Forest.
Victoria
Marvellous Mornington at St Andrews Beach
This elevated beach house located at St Andrews Beach, on the ocean beach side of the Mornington Peninsula, is a dog-friendly haven. Dogs are not only welcome at The Little Deckhouse, they are provided for too and receive their own special dog house, toys and bowls provided. The home has an elevated deck — perfect for those lazy summer afternoon barbecues — and breathtaking views of the ocean and nearby St Andrews golf club.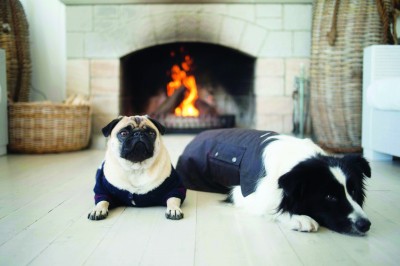 If you can't get away for a few days with your dog, you might want to check out a doggy winery tour instead. Offered by Gourmet Pawprints, the Mornington Peninsula Doggy Wine Tour departs from Port Melbourne and takes in all the sights and tastes of this famed area.
Tasmania
You can never have too many furry friends at Hawley Beach.
Hawley House is indeed a hidden gem. Located on Hawley Beach, about three hours from Hobart, it is a popular holiday spot for those seeking pet-friendly relaxation. The surrounding area is filled with private bushwalking trails and there is a beautiful dog-friendly beach at the bottom of the garden, so your pup will have plenty to do. Pups can also make friends with the three resident dogs, Shadow, Juniper and Wicket, as well as feline friend Ratty.
New South Wales
Whisper-quiet relaxation on the Hawkesbury River
Located on the Hawkesbury River, Singletons Retreat is a colonial cottage with breathtaking views of the surrounding bushland. Set on 40 acres, this true hideaway is a dog's dream. There are plenty of places for both you and your dog to explore. The best part of this stunning home is the wide, sweeping verandah that is a perfect place for your dog to relax during the heat of the day.
Queensland
Puppy pampering at Daisylea Cottages
Daisylea Cottages is just a ten-minute drive from Tamborine Mountain and is owned and operated by Labradoodle breeder Sally Edwards and her family. The cottage is a self-contained unit and features a full fenced acre so dogs can roam free and explore. The best part is that your pup can get pampered if you decide to explore on your own, as Emma offers dog sitting, hydrobathing, pet-minding and dog-walking services.
Northern Territory
A taste of the Territory in Katherine
Take in the tropical Top End with your furry friend and you'll be in for some adventure, Territory style. The Manbulloo Homestead, situated 12 kilometres from Katherine along the banks of the Katherine River, has accommodation of all kinds to suit all budgets. You can choose from cabins, motel rooms and caravan spots, and there are plenty of opportunities to commune with nature.
Australian Capital Territory
Pampered pets in Canberra
The Mercure Canberra knows that our dogs are part of the family – when we go off on holiday, we want to bring them too. With this in mind they've created a special Pampered Pooch Package. Dogs are free to stay with their owners in one of the hotel's superior rooms; guests have access to a private courtyard, special bedding is supplied for your pet and they also get a little gift to take home.
This story was originally published in the October issue of Dogs Life. Subscribe to the magazine here.
Here are just a few things that can make life with your dog a bit easier - see them now on our
DOGSLife Directory