September 22nd, 2014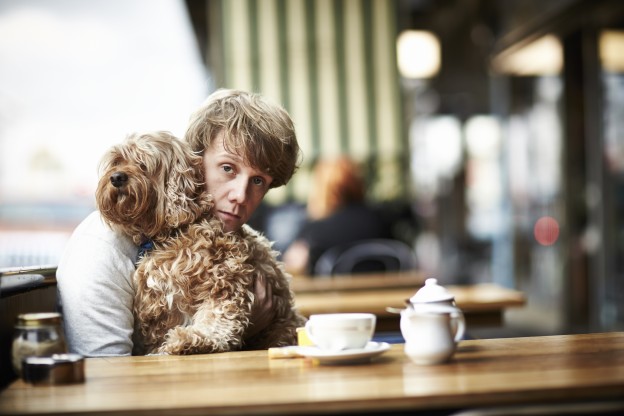 Comedian Josh Thomas speaks to Ben Nour about his show Please Like Me, his plans for the future, and his dog John, the "50 per cent Cavalier King Charles Spaniel, 50 per cent Poodle and 100 per cent 'gangsta'".
Josh Thomas first came to the spotlight in 2005, when at age 17 he became the youngest person ever to win the Melbourne International Comedy Festival's RAW Comedy Award.
A successful stand-up career quickly followed, which saw worldwide tours, including performances at international comedy festivals, and frequent guest roles on Australian television shows, including most notably as Gen-Y captain on Channel Ten's Talkin' Bout Your Generation.
Most recently Josh writes and stars in ABC comedy-drama Please Like Me, the second series of which debuted in August last year to critical acclaim.
And then there's John, Josh's seven year old Cavoodle.
He's only ever had one acting role, playing himself in the show – "not a challenging role for him but one he really nails," says Josh. But don't doubt the extent of this cute canine's influence over Josh, who is quick to note the 'adorability' of his dog and who named his production company Josh and John International.
Dynamic duo
Fans that follow Josh Thomas's Twitter or Instagram will most likely recognise John, who is a frequent focus of Josh's camera. Be it photos of John in the bath, dressed up in bright attire or simply sleeping, Josh's social media is less a timeline of his own life and more of his dog's.
In fact, Josh even tried to have approved John's appearance at the TV Week's Logie Awards, to which he received a reply informing "no animals allowed". In trademark humour, Josh posted to Twitter a photo of John in the microwave, with the caption "He isn't really taking it well!"
Like his owner, John himself is no stranger to the camera, having previously appeared with Josh on lifestyle show The Living Room in an episode featuring popular veterinarian Dr Chris Brown. However, John's starring role arguably came with the debut of series one of Please Like Me.
Comedy, Cavoodles and the celebrity life
Described by the ABC as a comedy-drama about "growing up quickly", Please Like Me stars Josh as a 20-something-year-old university student who lives with his dog John and best friend Tom (Thomas Ward).
A mixture of comedy and drama, along with a line-up of talented actors, has resulted in the show and its cast enjoying great popularity, both in Australia and overseas, where it is aired on American cable TV channel Pivot.
While not a crucial character, John's presence on screen exerts a casual and calm influence perfect for the show's atmosphere.
John can often be seen wandering into a room, or snoozing quietly on a couch — or in the case of one memorable opening sequence from season two, being dressed up in different costumes by Josh and his friends.
This playfulness with John by cast members is not confined just to the scripted scenes, with the pooch regularly enjoying pampering while on set.
"He just loves it [being on set]. Everyone is so nice to him and he lifts everyone's spirits. Every time I look over at him, someone is sneaking him a snack; it's just heaven for him."
And while playing Josh's dog might not seem particularly hard, given that, well, he really is Josh's dog, Josh says that after a day on set he is exhausted. "He really wears himself out; as soon as we get in the car he just collapses," Josh says.
As dog and owner, John and Josh are inseparable and it appears wherever one goes, so will the other — and having conquered the stage and small screen, it seems that could be anywhere. But for now, Josh is committed to Please Like Me, saying, "The show is everything. It's my entire year and it keeps us super busy".
You can catch the dynamic duo on the ABC and online at ABC iview here.
Here are just a few things that can make life with your dog a bit easier - see them now on our
DOGSLife Directory