August 26th, 2013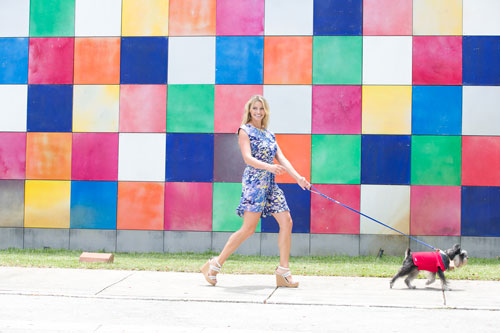 Supermodel Kristy Hinze chats to Mamta Bhatt about her snazzy four-legged family and the launch of her dog fashion range, LEGITIMUTT.
Genetically gifted, Kristy Hinze has had a career spanning 15 years in the fashion industry. From her title as the youngest model to sign a contract with Australian Vogue to her hosting days on Project Runway, it's been an illustrious one. Now, happily married to Texan software billionaire Jim Clark and with her daughter, Dylan, and three Schnauzers in tow, she's turned her hand to design — but with a twist.
Enter LEGITIMUTT, the exclusive brand for dogs created by the supermodel and her long-time manager, and friend, Neal Hamil. Operating in Miami, Florida's Design District with a luxury boutique, LEGITIMUTT provides luxurious and glamorous products that are both stylish and affordable. And the business venture seemed an easy segue given Hinze's fashion background and long-time love for dogs.
"I grew up on a farm so I've always had dogs — we had pet dogs and working dogs," says Hinze. "My first ever dog was a Corgie called Coco, after him we had Rottweilers, and then when I was 14 I got a Boxer named Marni."
Currently, her fur kids are three Schnauzers, and named after some Hollywood heavyweights: Brando (Marlon Brando), Ava (Ava Gardner) and Elwood (also known as Woody, as in the Blues Brother).
"We call them our kids because they are part of the family," says Hinze. "They all have such different personalities. Ava is such a girly girl; she's stuck like glue to Dylan's and my side. Brando is a Daddy's boy, he is Jim's shadow and Woody (Ava's son) is kind of everybody's. He is a little free spirit — quite an individual. They are very boisterous and loving."
Aside from being the perfect fur kids, these snazzy Schnauzers are the inspiration and face of Hinze's brand, with her lifetime of fashion experience also coming into the mix.
"I wanted to make a range that was functional as well as fashionable. I wanted to create something chic, not kitsch," says Hinze. "My background in fashion gave me the knowledge of the difference between them."
Aside from having a striking name — thought up while Hinze was chilling on a boat four years ago — as Hinze had hoped, LEGITIMUTT offers affordable leashes, coats and collars, without compromising on style. Using materials including leather and suede, and with a vision to translate larger trends into a canine range, Hinze is hands-on in the creation of everything from the winter coats, polos and custom-made collars.
Her favourite item from the range varies greatly, but at the moment she's keen on "a raincoat that keeps puppies' underside dry as well as their top". And speaking of the current and future trends in fur friend fashion, Hinze foresees "Houndstooth and Tartan, which are incredibly chic, mixed with patent leather details".
"I love the Gatsby quilted coat for winter. We also do the same coat in denim with neon straps for a bit of colour and fun," she says.
But it's not all about fun and fashion — Hinze and LEGITIMUTT are down with getting charitable too.
"We have started a program where you can help us make an 'illegitimutt', 'legitimutt'," says Hinze. "A percentage of our profits go to local shelters here in Florida. We also host days in our store in Miami where you can come and adopt a dog, and if you do, we give you a little care package."
Though there aren't any current plans to for a LEGITIMUTT flagship store in Australia, for now, the Aussie dog-lovers of her clothing range will have to be content with shopping for the chic range through the website. And Hinze is content with sharing the stage and design space with some of her favourite people.
"Because of this project, I get to work with two of my human best friends, Neal Hamil and Brian Long," says Hinze. "And it has been so much fun working with the dogs and being inspired by them. They are my best friends."
For more information about the range visit www.legitimutt.com.
Here are just a few things that can make life with your dog a bit easier - see them now on our
DOGSLife Directory