June 12th, 2014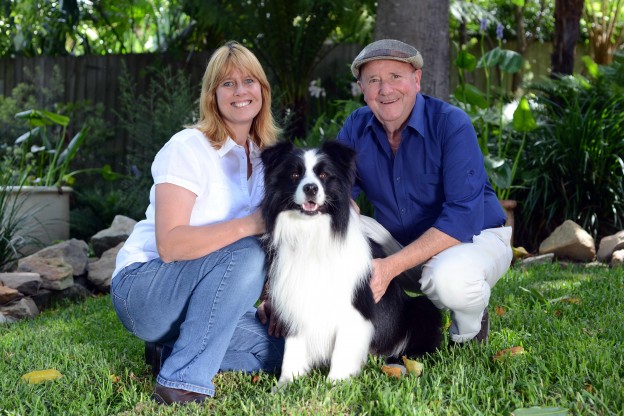 Gracing our screens as Lucky in Channel Seven's drama A Place to Call Home; Chilli, the loveable Border Collie, likes nothing else but spending time with trainer mum Vicki Austin.
Vicki Austin first met Chilli when he was only three weeks of age. She found him at the home of breeder Tina Button from Monlaird Border Collies and it was at that moment she knew he was something special. "Tina had graciously allowed me to handle the litter of puppies; there were three girls and four boys. The puppies were being raised in Tina's home and were being exposed to vacuum cleaners, radio, television and other usual household noises. Chilli simply had the prettiest markings and he slept peacefully in my lap for a good 20 minutes or more — we were bonded! There was no looking back from that point!" says Austin.
Austin believed Chilli's gentle soul and friendly nature, combined with exquisite manners, had everyone falling for him. "As a puppy, he delighted in play with people — a very good sign for his future training and social skills." At 12 weeks of age, Chilli was already starring in his first professional photo shoot, with renowned veterinarian Dr Harry Cooper, for Channel Seven's Better Homes and Gardens. Harry demonstrated with Chilli just how easy it can be to get a puppy to play retrieve in order to manage and reduce puppy nipping and biting. Chilli has been a regular with Dr Harry ever since.
"The use of reward-based training techniques ensured Chilli developed into an 'empowered, can-do' dog. He is willing and eager to try his paw at anything that is asked of him and is highly creative, adding his own touch to any performance." And perform he does with Marta Dusseldorp (who plays Sarah in A Place to Call Home), winning her over with his charm. "Chilli is an absolute charmer with the softest eyes in the business!" says Dusseldorp. "Sarah and Lucky were instant soulmates. Chilli and I also bonded easily, especially as Vicki (Austin) gave me dog treats to keep in my hand before the take!"
Although Dusseldorp describes Chilli as loyal, smart and patient — she says he has his cheeky moments. "There was a scene written where Lucky follows Sarah as she's trying to leave the town of Inverness forever. So she stops her bike and yells at him to go away. Lucky instead creeps closer… so she gets off her bike and throws a rock at him and he does finally go away. Well that never made the cut as it was uncharacteristic of Sarah to throw a hurtful rock at anyone, let alone gorgeous Lucky, but we did shoot it. I was given a foam rock so I wouldn't hurt little Chilli and I threw it at him with all my might. It bounced on the road and Chilli leapt in the air, caught it full bounce and then came running over to me with his tail wagging to show what a clever boy he was! It was very sweet really and made me laugh," says Dusseldorp.
Austin agrees Chilli can be cheeky and says, "When Chilli arrives on location, we, or should I say he, is greeted with smiles and great affection. He systematically, moves from one crew member to another grinning from ear to ear, seeking a pat and a kind word, with his gentle approach and wagging tail. "The caterers have been known to slip him the bacon leftovers from breakfast or sausages from lunch. When he spies his co-stars, Marta and Frankie J Holden (who plays Roy), his eyes light up and he's not happy until they have greeted him. Both Marta and Frankie are 'dog people' and this fact has greatly contributed to Chilli's success in the show."
Chilli is not only a star on the small screen, he also competes in dog obedience with Austin. "Chilli did me proud in the competition obedience arena. I had competed and judged obedience trials many years ago — actually, over 10 years ago — and with next-to-no training Chilli entered three trials and won three first places, each on 196/200 points," says Austin. "I was rather chuffed with the result but Chilli thought it was just another version of our games. He couldn't care less what it is I'm asking of him, so long as it leads to a game of tug. He lives for tug!"
What does Austin think of Chilli's acting?
"Chilli's realistic acting has had an effect on our extended family," says Austin. "On Mother's Day, we had gathered at my sister's home and settled into our seats to watch that week's episode of A Place to Call Home – the episode in the first season where Lucky was hit by Roy's truck when he was trying to follow Sarah on her bike. My mother was sobbing, despite the fact that Chilli was alive and well at her feet. Happy Mother's Day, Mum!"
It's all in the training
As a dog trainer, Vicki Austin educates dogs for a wide variety of applications as well as the media. These include scent detection, assistance dogs and competitive trialling, to name a few, and offers dog training and behavioural consultations. Along with her husband, Steve, Austin offers a dog training course in partnership with TAFE NSW at Ultimo in Sydney.
Here are just a few things that can make life with your dog a bit easier - see them now on our
DOGSLife Directory