June 12th, 2015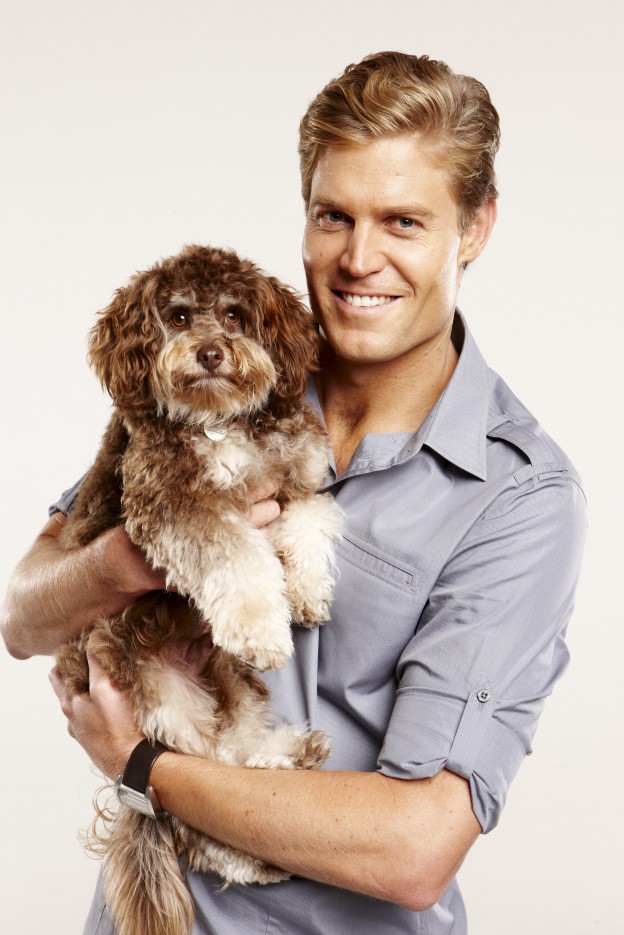 Whether it is taming a tiger or checking out the latest travel hotspots, Dr Chris Brown has won Australia's hearts on both Bondi Vet and The Living Room, writes Ben Nour.
Dr Chris Brown has seemingly done it all.
Not only is the 36-year-old vet the host of his very own TV show, Channel Ten's Bondi Vet, he is also the co-host of popular lifestyle program, The Living Room, and a regular guest panellist on news and talkback show The Project. Oh, and he's authored two books, Tales from a Bondi Vet and The Family Guide to Pets. Did I mention that he once had a pet penguin?
A history of animals
While today, Brown is arguably Australia's best-known (and most-loved) celebrity vet, it might come as a surprise to some that he originally searched for every reason not to become one — all because of a simple case of teenage rebellion.
"I always loved animals but because Dad was a vet, I didn't just want to blindly do what he did so I found every other reason not to," he says. "However, all the while, deep down, I was sure I knew that I was going to be a vet. I was just being a stubborn teenager or, you know, being a boy. I didn't want to do what Dad did."
It was because of his father's profession that from the moment he was born, Brown's life was filled with animals — from horses, sheep and cows to koalas and kangaroos. In fact, his earliest memory is of a salivating family Boxer.
"My first memory is quite seriously being wiped down with a paper towel, and that was because we had a Boxer who used to slobber all over me. I think I was crawling around and the dog used to drag its jowls across me and I would just end up with foamy slobber all over me every day," says Brown.
Not surprisingly, surrounded by so many animals, it was a fascination with biology and a desire to help animals that led to Brown's decision to become a vet.
"My family had a poodle named Claude, who, when he was about seven, developed a heart condition. That was probably the moment when it all crystallised that being a vet was what I wanted to do, simply because I was really fascinated with how his body was not coping with what was happening and I remember seeing Dad talking quite a bit about what was going on and what we could do to help him."
Celebrity vet
After graduating from high school, Brown went on to graduate from Sydney University with First Class Honours in Veterinary Science. Following graduation, he worked in a veterinary clinic and, in 2003, was cast as a presenter on pet-care show, Harry's Practice.
However, it is hit TV series Bondi Vet that Brown is most well-known for. The show follows his work at the Bondi Junction Veterinary Clinic and also stars Dr Lisa Chimes and Dr Andrew Marchevsky of the Small Animal Specialist Hospital, and Tim Faulkner of the Australian Reptile Park.
Anybody that watches the series will know that the vets are often confronted with a variety of unique, interesting and sometimes down-right funny situations — some of which don't make the cut, according to Brown.
"We did have a funny moment when a Labrador that was off its food was brought in, which is quite significant, and an X-ray revealed there was a blockage in the dog's digestive system.
"We decided to operate to remove the blockage and it turned out the dog had a pink G-string in its gut, so we got the couple in to show them what was stuck. The only problem was the wife didn't own the G-string! So it didn't make it to the show for a lot of reasons."
Most of Brown's time is spent divided between Bondi Vet and The Living Room, and with so many commitments, it's no surprise that he finds it hard being away from his pet Kelpie, Reg.
"I hate those moments when you have to leave your pets but I'm fortunate that my parents have a farm so Reg swaps the beach for the farm and he's happy. He gets the best of both worlds," says Brown.
"I really hope he notices and misses me but the look on his face when he gets up on the farm says he's really not losing too much sleep over it."
Matters close to the heart
Brown is also the ambassador for Medibank Pet Insurance, for much the same reason he has undertaken other opportunities — to help animals in any way possible.
"For me, the reason I am a vet in the first place is because I like to be able to help animals no matter the situation and no matter the odds," he says.
"Probably the greatest frustration I have is when people can't ever plan for big events in their pet's lives and they have to make that decision between saving the dog and saving the bank balance.
"It's an awful predicament and no one should be put in that situation so the great thing with pet insurance is that it takes away those awful decisions. It ultimately means that pets are going to be looked after better and it means that everyone is going to be happier and healthier as a result."
Another organisation Brown holds close to his heart is Assistance Dogs Australia, for whom he is also an ambassador.
"After seeing the role that a dog has played in one of my friend's lives, it was really a simple thing to want to help out the charity because I saw that guide dogs get a lot of attention and do an amazing job for people with visual disabilities but there wasn't there wasn't enough being done for people with physical disabilities and that's where assistance dogs can make such a difference to people's lives and really help them out".
Oh and about that pet penguin mentioned earlier: "A penguin washed ashore on the beach and needed to be look after as it wasn't well, so it sort of became my job to care for it for a few months until it was strong enough to go back into the ocean."
For more information about Medibank Pet Insurance, visit the website.
Here are just a few things that can make life with your dog a bit easier - see them now on our
DOGSLife Directory