August 16th, 2013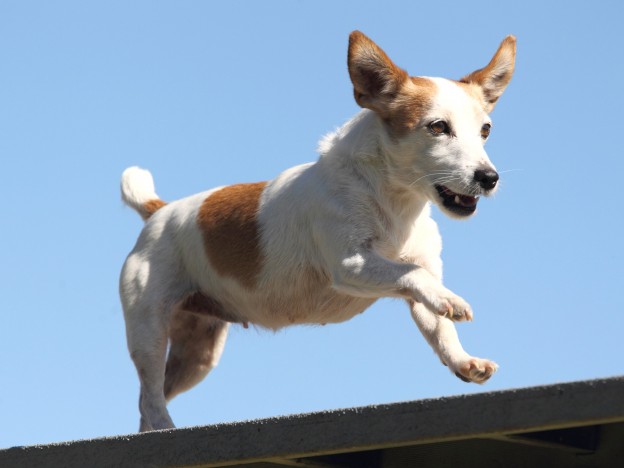 Think your dog has the X-factor? Mel Hearse reveals how to make your faithful Fido a movie star.
Earlier this year, my son's school had a visit from the star of a major Hollywood blockbuster. They all knew his name, and he held their avid attention for his entire visit. But this mega-celeb wasn't Orlando Bloom, Johnny Depp or Brad Pitt — it was Koko, the canine star of the hit movie Red Dog.
While major movie lead roles are admittedly few and far between for our four-legged friends, there's still more than enough work in magazines, on television, in catalogues and the odd movie or two.
What do they want?
What are directors and casting agents looking for in their canine stars? Dogs are chosen for all sorts of reasons, says Fiona Macdonald, owner and manager of Canine Walkers & Animal Extras (www.caninewalkers.com.au), who regularly fields calls from casting agents asking for a particular look.
"It actually doesn't matter how beautiful your dog is, there will be a specific look or breed they have already decided on to represent or accompany their product," she explains.
Macdonald says she was recently asked to provide three Huskies for a music video clip for the band Something for Kate, while RACV once asked for the "ugliest" dog on their books for a television commercial.
"Small, white, fluffy dogs used to be very popular, but the demand has shifted recently to one that focuses more on either humorous characteristics, or stock standard, classic 'dog' looks. French Bulldogs are popular for their funny little expressive faces, whereas Golden Retrievers are often used for standard family dog roles," Macdonald says.
Ann Harris, owner and manager at Animal Talent Time (www.animaltalenttime.com), says requests for purebred dogs are most common.
"Mixed breeds will find work, but we find purebreds are requested because they have a certain look and personality that consumers can readily identify with. For example, [companies] will request a Labrador not only for their looks, but also because consumers identify this breed with being family friendly," says Harris, whose own pets also work in the industry.
Training matters
Looks aside, good manners are a must. The first step is to ensure your dog has basic training skills, which should have started early with puppy school, says Macdonald.
Plenty of exposure to other dogs and people is another key step, says Harris. "A person may have a highly trained dog, but if their dog is nervous around people and uncomfortable with lots of lights and noise, then that dog would not be suitable for media work," she says.
"It is important that, when we send an animal on a shoot, it is able to accomplish the requirements agreed with the client. We look for dogs that are able to perform basic obedience in a noisy and distracting environment. They should be able to sit, stay, drop, down, come when called and stand and stay," says Harris.
Tricks are not essential but are considered advantageous, and higher level obedience, such as "speaking" on command are also advantageous.
Dogs also need to be able to work with different people and be comfortable if their owner is out of sight. Harris says dogs are often not handled by their owners on set.
"[Professional] handlers may know the layout of the set and the requirements of the client, so they will look after your dog on the day," she says. "One trick for getting your dog used to this is to switch handlers at your dog training classes so they learn to respond to others commands as well as yours."
Breaking into the business
You don't necessarily need an agent for your dog, but it certainly widens the playing field. "If an agency is hunting for a dog, they will go to talent agencies to see if they have what they need on the books," says Harris.
"While you can spend time getting to know the agencies that book pets, it is time consuming, especially if you are only looking for jobs for your specific type of dog."
She suggests signing up to talent agencies' Facebook pages so that you can see updates on specific types of dogs they may be hunting for.
It's best to approach an animal talent agency by emailing them at least six good quality photos of your dog, clearly showing their face and body. "Happy snaps" are fine in the first instance, says Macdonald. "Some dog owners have professional photos taken, but this isn't necessary as the advertisers are looking at the qualities of the dog, rather than the quality of the photos," she says.
She recommends owners detail their dog's level of training and any particular skills they have, as well as providing further information like how well socialised they are with other dogs and children.
A day in the life of a dog star
Dogs can be used in many different areas of the media, from TV commercials, feature films, pet food packaging and billboards to magazine articles, fashion catalogues, music video clips and educational films. They can even be hired as "props" at events such as weddings, Macdonald says.
Jobs can vary from a one-hour shoot, to a four- or eight-hour shoot, sometimes two days in a row. Macdonald says a travel allowance and accommodation are occasionally provided if the owner lives a long way from the shoot location.
Depending on the dog's role, the owner is usually required to arrive with a clean, bathed dog. Macdonald often asks owners to postpone their dog's breakfast until they arrive on set, as treats can be used to entice diva dogs to perform as required.
In terms of owners' time requirements, you don't need to be present on shoots, but it is preferred, as dogs are always more relaxed with their "humans" present.
"It makes the dog wranglers' jobs a lot easier as the dogs are far more calm and cooperative," Macdonald says. "Also be aware that shoots can be done at all hours, so you'll need to be fairly flexible with availability in case your dog is chosen for a job at short notice — and you'll at least be able to have your pup available for the talent agency or dog wrangler to pick up from your home."
And, of course, it's just as important for owners to be professional on set. "Allow time for traffic and make sure you arrive on time, be quiet on set, turn your mobile off, provide helpful information to the experienced wrangler who may be handling your dog," says Harris. "Basically, do what you can to facilitate getting the job done as smoothly as possible."
The hot list
Quick tips for those keen on breaking into doggie showbiz:
Put in the effort with basic training.
Ensure your dog is well socialised with other dogs, and can be trusted off-lead to come back when called.
Have your dog work with other people other than just yourself, as in most cases your dog will be handled by an experienced trainer/wrangler when on set.
Dogs should be comfortable around children, so need to spend plenty of time around them.
Keep them in peak physical shape with regular walks, a healthy diet and keep them well groomed.
Here are just a few things that can make life with your dog a bit easier - see them now on our
DOGSLife Directory