August 27th, 2013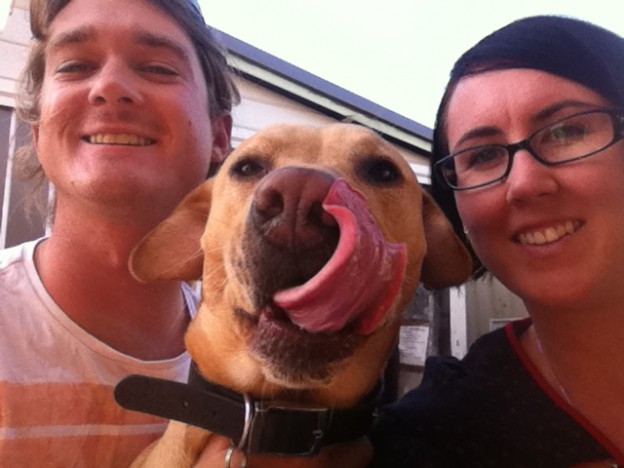 We all know dogs are faithful companions, but your four-legged friend could even help you find your soul mate since love barks when you least expect it, writes Laura Greaves.
Who would have thought the humble pooch could be the ultimate "wingman"? According to research, dogs are a great ice-breaker: people with dogs meet more people and have more friends than those without.
A study by the UK's University of Warwick found that the presence of a dog almost tripled the number of social interactions with casual acquaintances. Dr June McNicholas, who led the study, also found that the number of strangers who spoke to her on the street increased from three when she was alone to 65 when she was walking her dog.
And if your dog helps you to make new friends, there's a chance he could help you meet "The One", too. That's exactly what happened for these two couples…
Bryan and Crissina
For Bryan Littley and his wife, Crissina, a blind date to walk their dogs on Adelaide's Semaphore Beach quickly blossomed into love.
"I met Crissina in November 2006, not long after I had separated from my first wife," says Bryan, a motoring journalist.
"I had met one of Crissina's friends at the pub one Friday night when I dropped in after work for a drink. Her friend had previously tried to set Crissina up on a blind date that hadn't worked out, so when she phoned Crissina to say she wanted to set her up with me, there was a fair bit of hesitation on Crissina's part!
I sent Crissina a text message saying, 'your friend thinks we should meet up some time.' Crissina responded with, 'well, I'm taking my dog to Semaphore Beach tomorrow for the first time and I could meet you there.' It was immediately clear to me that her dog would always come before some random guy! My dogs — Labrador Jenna and Maltese cross Shih Tzu Tommi — love the beach, so I said I'd bring them along, too.
But I almost didn't go to meet Crissina. I realised I couldn't take the dogs in the car I was road testing for work — a BMW Z4 M roadster with lovely leather seats — so I decided instead to visit some friends. Then, with a couple hours before 'dog-walking date' time, I thought 'what the hell' and drove to Semaphore.
It was easy to spot Crissina on the beach with her rescued crossbreed, Beau — she was battling to keep one very excited puppy under control! We plonked ourselves down on the beach with Beau between us. He was still only six months old and very loyal to Crissina. It's hard to remember what we talked about, because Beau barked constantly — mainly at the seagulls, but also to get Crissina's attention back!
After about 10 minutes, Beau slipped his collar and took off down the beach to chase birds. I chased after him and eventually caught him. Crissina has always told me that's what won me a second date, saying, "any guy who bothers to chase down my dog, after the dog was so rude during our date, earned himself a chance."
Jenna and Tommi got their walks on the beach when our dates became more regular, and they were spoilt by Crissina. Jenna certainly appreciated having a new 'Mum' around the place. It was very important to me that Crissina liked dogs as much as me, and had time and love for them. Jenna was a crazy, puppy-natured dog for so long, like most Labs are, but she mellowed a lot in Crissina's company.
Unfortunately, we learnt in a very frightening way that our three dogs could not live together. After about six months, we bought a home and prepared to move in together. Beau had met Jenna and Tommi, with no issues, but when Jenna went into Beau's yard for the first time, he turned on her. He latched onto Jenna's throat and we had to pull him off her. Jenna was badly wounded, with punctures in her neck.
We considered all the options for Beau; he had never been aggressive with other dogs aside from this one time. We eventually re-homed him with a young couple, and he was happy and much loved.
We moved into our new home, got engaged and soon after added our next 'child' to the family: Chaba, a male Cavalier cross Jack Russell named after the Thai resort where Crissina and I first holidayed together.
Chaba came into our lives during a rather hectic and concerning time, but has helped calm us with his funny, caring nature. I'd just had my shoulder reconstructed and was then diagnosed with aggressive skin cancer. I had six weeks of radiation therapy a couple months before our wedding in March 2008. Chaba was good company, and Jenna always seems to be able to sense and respond to sick family members. We got through it, and our pets played an important part in that.
Tommi now lives with Crissina's beloved 83-year-old grandmother. She ended up making her home with Oma after being dog-sat while we were on our honeymoon. Tommi just shone as a companion and we decided she should stay there permanently when her 'visits' kept getting extended. Tommi has now become the dog she was destined to be, rather than a sidekick for Jenna. It's lovely to see.
Crissina and I now have a four-year-old daughter, Mahli. Our dogs are great with Mahli and she adores them. As she gets bigger they respond to her commands, and she helps with their care and always wants to feed Chaba. On our recent holiday in Thailand, Mahli was devastated when we suggested we might be home a day later than planned. 'But I love them,' was her comment. When we got home, she spent the first couple of hours cuddling and talking to the dogs.
We will always have dogs in our family. Jenna is now 12, and she is a beautiful-natured and important member of our family. For now I want a comfortable life for Jenna as she lives out her senior years, and many happy times for all the members of our family — furry ones included."
Sara and Tim
For Sara and Tim Coombes, from Wauchope in northern NSW, a chance meeting at obedience class led to marriage, children, and an integral role in establishing a new breed in Australia.
"We met in 1983 at Port Macquarie Obedience club," recalls Sara, a podiatrist. "I'd had a very big night out the night before and Tim was doing the 'calling' for heel work practice. He took great delight in trying everything at a fast pace once he knew I was feeling under the weather!
"At the time I had a long-haired German Shepherd, who was initially called Agatha, but progressed to being called Baggle over the years. Tim had a German Shepherd called Phoebe, whom he mostly referred to as 'Hey dog!' She was very snotty and only did what I asked under sufferance, with an obvious 'under sufferance' face.
My initial impression of Tim was that he was a nice bloke, but a bit wild. He says his impression of me was that I was very 'green'! I don't remember anyone actually asking for a date. We had mutual friends who were German Shepherd breeders, and we kept meeting up at their place and eventually went out for a drink.
I don't think I would have been attracted to someone who didn't like dogs. I'm originally from the UK and had had dogs living in the house all my life, so anyone who only wanted an outdoor dog would have seemed weird to me.
I hadn't really considered marriage — I was very career-focused at the time and really enjoyed just having one dog to hang out with — but we married a year later, with a German Shepherd Guard of Honour as we left the church!
We have two daughters, Bec and Emma, and have also fostered teenagers, one of whom, Katy, we consider 'ours'. Tim and I changed from German Shepherds to Nova Scotia Duck Tolling Retrievers — better known as Tollers — when Bec wanted to show dogs. We thought a six year old in the show ring with a German Shepherd was a recipe for disaster, and we also thought it would be fun to have a breed that could win a ribbon now and again due to rarity and small class sizes, so we went looking for something that was small enough for her.
We met the first Toller that had been imported to Australia at a local show. We got a pup from the first litter bred in Australia and loved him so much that we decided we'd get another to breed and help establish the breed here.
We wrote to a breeder in the UK to ask, tongue in cheek, for a bitch in whelp if she had one 'spare' and got an urgent reply about two months later saying yes. We had just saved enough money for a new kitchen, but decided to buy the dog instead. We gave all the puppies in our first litter kitchen-related names as a tribute! We ended up breeding Tollers, and three litters later, managed to save enough for new kitchen.
The children loved having the dogs and puppies to play with, and they helped the kids learn about care and responsibility and exercising. We spent many weekends at shows with the whole mob, so they enjoyed making friends all over NSW and Queensland.
I can't imagine not having a dog, though these days we don't breed anymore as I spend too much time travelling to remote communities for work. We have three grandchildren who will all grow up around the dogs. Bec, our eldest, has two German Shepherd crosses of her own — she remembered our old dogs, who she used to hang on to when she first started walking and would dress up and drag around as she got older!"
Renee and Dan
WA's Renee Sinclair met her partner, Dan, when his dog fell head over heels in love with hers.
"A new neighbour moved in back in November, 2011. He popped his head over the fence when I was playing with my Maltese cross Shih Tzu, introduced himself as Dan and advised me that he had a 'yellow dog', a male Labrador cross called Duke," says Renee.
"Then he was gone, but wow, what a cutie! I was impressed: he had shoulder-length golden hair, a cute button nose, golden brown tan and sparkling baby blues. 'What I wouldn't give to know that neighbour a bit better,' I thought.
Two days later while driving to work, I noticed a large yellow dog standing on a corner down the street. It's a busy street and I didn't want him to get hurt, so I stopped the car and opened the door. He graciously accepted the lift, climbed in and sat down. I took him home and put him in the yard with my girl, Fluff. I had a feeling he might be Dan's dog, but I needed to get to work.
Upon driving into the street that evening, I noticed Dan running around the street. I parked in the driveway and he ran over, calling, 'Hey have you seen my yellow…!' There was his yellow dog standing just inside my wire gate. He sprinted over and gave his yellow dog a quick pat, then ran over to me, picked me up and hugged me. Wow!
The next morning at 6am there was a commotion at the gate. There was Duke, trying to get in. Naturally, I let him in — I figured I'd return him in the afternoon and maybe get another hug!
Over the next two weeks, Duke kept finding ways to escape his yard and would come and tap on my bedroom window, asking to be let in to play with Fluffy. Dan and I started seeing more and more of each other, and it turns out we were very compatible. One thing led to another and a relationship blossomed. I also picked up another male: a black and tan crossbreed from the pound. I named him Alby Mangels and he is my dream dog.
When Dan's lease expired last April, he and Duke moved in with us, making two adults, two kids, three dogs, three cats and three foster cats all in my tiny house. We recently added three more foster kittens to our brood, making us a 12-pet household!
Never in my life had I thought I would ever be so happy. With all the life in this house there is never a dull moment — and never enough room on the king-size bed! I never thought I would find a man with a love for animals that matches my own."
Here are just a few things that can make life with your dog a bit easier - see them now on our
DOGSLife Directory