September 18th, 2013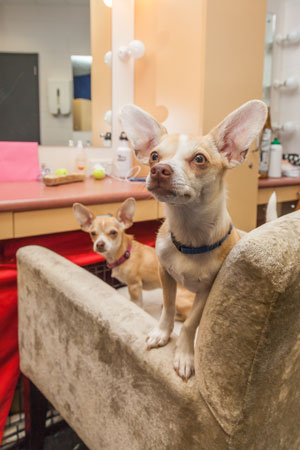 Mamta Bhatt chats to Peta Clarke, the woman behind the two pooches (Sparrow and Quinn) stealing the limelight in Legally Blonde the Musical – Australia, about her life as a dog trainer and their life together on the musical stage.
If any dog lover has ever seen the movie Legally Blonde – the tale of a young girl (Reese Witherspoon) working her way (hilariously) through a law degree in Harvard – you would be hard-pressed to look away from the leading lady's gorgeous Chihuahua, Bruiser. With the recent Aussie adaptation of the film to the musical stage, the case is not much different; the smallest cast members – two Chihuahua crosses, Sparrow and Quinn – have been mesmerising the musical enthusiasts from the first show. And there's one woman to credit for their success: Peta Clarke.
Behind every successful dog …
With over 20 years in training dogs and other animals for TV, movie and stage – including Babe: Pig in the City, Annie the Musical and Wolverine – Clarke is used to picking and training the crème de la crème of dogs for her starring roles. But her search for Bruiser proved challenging from the get-go.
"I was terrified because I always knew Chihuahuas – a reason I wasn't a huge Chihuahua fan before this – can be yappy and nervous little dogs," says Clarke. "When I was originally looking, we always wanted a Chihuahua with maturity behind him. The ones that I would go see – even a small stimulus change, like a stranger in the house, would have them hiding behind the couch and not coming out. There's no way that that dog would be comfortable coming out on stage night after night.
"It was on a whim that I went to see Sparrow and Quinn," Clarke says. "But there they were and I just went, 'Crap, you are it.'"
And so, two stars of the stage were born – or in this case, bred. Plucked from their rescue homes, Sparrow and Quinn joined the cast of Legally Blonde The Musical – Australia, sharing double duty as Elle's (Lucy Durack) trusty sidekick.
"I met them both when they were seven weeks old and something in me said they were going to be perfect working dogs," says Clarke. "The behaviours in the show aren't very difficult. What is the difficulty is doing it in front of the packed audiences, and sometimes-difficult patrons (we've had some audience members calling out to them), and basically knowing that we can do it with the lights and all of the other distractions."
Preparing the Chihuahuas for their starring role is more than being their trainer, though. Clarke considers herself "the voice" for the dogs behind the scenes.
"Not many people get what it is to have a dog on the set or on stage, and with this show – with eight performances every night – stuff happens that you can't prepare for," says Clarke. "One of my Chihuahuas just got trodden on and it was a tiny thing, but because he had to go out the next night and she [the person who trod on him] was wearing the same costume, he would freak out. Moving him through those nerves and reminding him that you've done this a hundred times and this is the first time you've been trodden on is an important thing. There are some times you have to stand up for your animal and say, they don't have a voice, so how can we compromise so that you can get what you want and we can make it comfortable for them."
The unintentional trainer
For someone who has made a career out of giving this voice to her dogs, Clarke admits that she wasn't an avid dog person (despite having pets growing up) and that her career is surprising, even to her. "You've got to shake your head sometimes – it's not a career path I thought I would have at 15 and see it through," she says. But it did seem the ideal career course after having studied child psychology and being presented with a Boxer during her studies.
"I was learning about the behaviour side technically through university and then I was presented with this puppy," Clarke says. "Coincidentally, it was at that time that the dog world was starting to move from the forceful and assertive techniques that had been around for years and more towards positive reinforcement-based stuff. The local trainer I went to was dabbling in it and I was learning all about that in uni and it started making sense to me. Fortuitously, the delivery of that Boxer puppy came at just the right time in the world of dog training where the two worlds met. And I haven't really looked back."
The showbiz side of it was practically by accident, an almost "right place at the right time" scenario, with her big break coming after being called in for Babe: Pig in the City. After 18 months of work as a trainer on that film, Clarke has increased her trainer-celebrity by coupling what she knows with who she knows.
"You meet the right people in the industry," says Clarke. "People work out you're good at your job and you're good to work with. It was one of those jobs where you spend so much time together that if you're good, they ask you back. It's so important not to be egotistical about yourself and to realise that your part is just one part in the machine. It's very much an industry where you have to be able to go with the flow."
The stage life
Going with the flow has sent Clarke in a very different direction, moving gradually from film to stage. Starting with a stint on the Annie musical and now with Legally Blonde, Clarke admits the challenges of stage are vastly different to those of celluloid.
"With film you go in there and sometimes you do it a dozen times or half a dozen times, but then they get the shot and the animal moves on and may never have to be in that situation again," she says. "On the stage, they do it night after night."
On a regular day, Clarke and her Chihuahua charges have a gruelling schedule of eating gourmet doggy treats (incentive to perform their best) and a morning walk, play or training session. They also arrive in the theatre two hours early to get settled and Clarke ensures the dogs have toileted. Overall, the pups have five appearances including the bows in the show, and Clarke is regularly "kept on my toes". But having been on the stage since a young age has helped accustom them to the showbiz life.
"These dogs have been with the cast and crew since August and, as far as I'm concerned, the people they work with are their family as much as the human family they live with when they're not at work," says Clarke. "Because they see the same people every night, you have to come up and interact with them, but we have to also set rules. The rules we've got are if the dogs aren't engaging with you, don't pursue because they have their mind on other things. And no one feeds them except myself and the actors that work with them. They can get as much love and attention, but only the actors that work with them directly are allowed to feed them.
"But they are also very normal," says Clarke. "They bark at postmen and bark at the birds – all that normal stuff."
A new-found appreciation
Clarke, who asserts she is a "Boxer girl through and through", seems pleasantly surprised to find herself so drawn to Sparrow and Quinn. "I can't believe I love them, since they are Chihuahua crosses," she says. But it's not hard to understand why such a deep love has developed, especially when Clarke goes into detail about their eccentricities.
"Sparrow has very mature calmness about him, ridiculously so. He's centred and serious," she says. "His brother, on the other hand … I always say to people if anyone is going to do anything weird-ass, it's going to be Quinn. He has this comic relief thing going on and you never know what's going to come out."
Then there are the unpredictable moments on stage, says Clarke, which reminds her constantly why she loves these dogs so much. With fervour, she describes an incident when Sparrow found a feather stuck to his nose and had the audience in stitches. And there was also the time that he refused to let an audience member exit the theatre.
"There was one night when Sparrow went on and someone in the front row  went to leave his seat and he was just staring him down," says Clarke. "All I could see was the actors who were trying to suppress their laughter and the whole audience was cracking up. The poor guy realised he had to sit back down, and as soon as he did, Sparrow just went back to his thing like, 'Yeah, that's what I thought.' Stuff like that is priceless."
Here are just a few things that can make life with your dog a bit easier - see them now on our
DOGSLife Directory