October 20th, 2014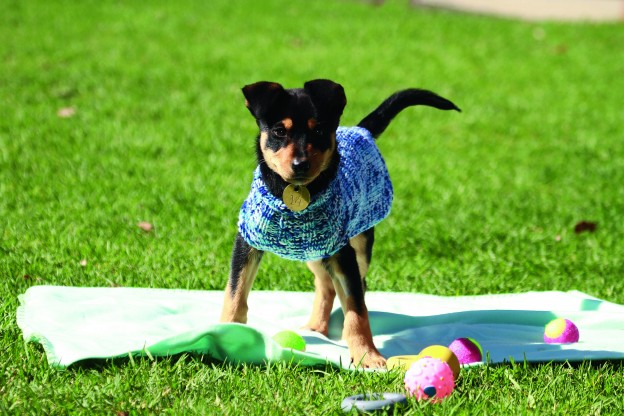 Winter can be a tough time for shelter pets. Katie Cincotta discovers ways of helping shelter pets. 
Anyone who has ever walked the concrete rows of the local pound knows the heartbreak of those sad, pleading eyes behind bars, the desperate yelps for attention from homeless dogs waiting for someone to love them enough to give them a forever home.
While not everyone is in a position to adopt one of these forgotten mutts, there are things that dog lovers can do over winter to help ease the burden of care over those dark, cold months.
For the thousands of pet shelter dogs in limbo, here are ways you can make a difference to their lives, supporting the wonderful charities keeping them alive, trying to give them a second chance at life.
Donations
Kate Hoelter, the general manager of fundraising for the Lost Dogs Home in North Melbourne, says cash donations are one of the most basic, but critical ways in which people can help get lost animals back into a loving home. Those funds allow for many of the important services run by the Lost Dogs Home, which has been taking in lost and abandoned animals since 1910 in Melbourne.
Hoelter says all dogs and cats are desexed, vaccinated, microchipped and wormed before being placed up for adoption. The home spends around $20,000 per month on veterinary care for lost and unwanted dogs and cats.
If an animal comes with a medical problem, the home arranges and pays for that treatment so as not to burden a new owner with the costs.
"Our vets treat more mundane conditions such as flea allergies, ear infections and teeth removal right up to orthopaedic surgery such as slipping patellas and fractured bones. Donations cover all these costs. We don't pass this on to new owners," says Hoelter.
Stafford Sanders, spokesperson for the Animal Welfare League NSW, says people might not realise that pet shelters aren't supported by government finance. The reason they're able to exist to help animals is entirely through the kindness of others.
"We need lots of help over winter. We do not receive any government funding so those kind donations from the public are crucial to keeping our doors open," says Sanders.
Winter warmers
Blankets, coats and heat pads can help shelter pets stay warm and comfortable over winter.
"We rely totally on the kindness of the community for donations of blankets, towels, bedding, coats and knitted jumpers. Every dog and cat we care for receives a warm, cosy bed – in most cases this is a blanket or a pet bed, perhaps re-gifted after a beloved pet has passed away. Our dogs and cats are not fussy and happily accept second-hand bedding – it is often a good excuse to clean out your cupboards of unwanted towels and blankets," says Hoelter.
The Lost Dogs Home's fundraising chief says some people go to the trouble of handmaking special gifts, which shows real compassion for the plight of these creatures.
"Many kind and creative people knit and crochet gorgeous colourful blankets for our dogs and cats. It is wonderful to give these hand-made gifts (with love) to our animals. Some also knit little jumpers and these are much valued during the winter months. Our dog pens are mostly outdoors and while they have underfloor heating, many of our dogs appreciate the extra warmth of a knitted jumper or jacket in cold weather."
If you're looking for ideas of what to give, the Animal Welfare League NSW has a wish list on its website including bedding, toys, bowls and more which helps them keep their pets healthy and happy under difficult circumstances.
On your best behaviour
Some dogs end up in a pet shelter because they were just too much hard work – excessive barking, escaping, and maybe even showing aggression. For those animals to have the best chance of adoption, it's important to correct those behaviours. Many of the shelters run a Behaviour Rehabilitation Program to train and socialise dogs in preparation for adoption.
"Our specially trained staff work with the dogs, teaching them basic obedience and socialise them so they will be better prepared to adapt and settle into a new home. A reasonably well-behaved, calmer dog is much more appealing to potential adopters," explains Hoelter.
Cash donations go towards this important training program to give homeless animals the best chance of being chosen for adoption – like grooming for a job interview and putting your best paw forward.
Volunteer walkers
It's hard enough to get yourself out walking when it's wet and cold, so anyone who does it for an animal is definitely deserving of high praise and plenty of good karma.
Places like The Lost Dogs Home try to get their dogs out of the pen at least once a day.
"Giving them some exercise is important and they do love stretching their legs and having a good sniff around their surrounds. But equally important is some much appreciated attention and TLC. Our volunteer walkers spend time just sitting on the grass or on one of our benches giving them pats and scratches. This interaction is also important for keeping them happy while they wait for a new home," says Hoelter.
Pet shelters admit there are fewer volunteers who make themselves available during the colder weather, so if it's something you've been thinking about, maybe this is the year you can rug up and head out to give a dog a reason to wag their tail.
Andrew Fielder, president of the Australian Animal Protection Society in Keysborough says their volunteers commit to regular blocks of times to walk dogs – around three hours – which gives animals something to look forward to during those dreary months of wind and rain.
The shelter inducts and trains volunteers in dog walking procedures, and requires proof of tetanus inoculation and weekly reliability so it's not a 'walk-in-walk-out situation' for animals that have already suffered abandonment.
Foster care
And if that's still not enough, you can always take a dog in as a foster carer – giving them a cuddle spot on the couch for a time. It's the next best thing you can do if you simply can't keep them for good. Most are grateful for the company while they wait for the right person to come along and become someone to rely on, look up to – a park buddy, a warm body to sidle up to, a confidante for life.
Here are just a few things that can make life with your dog a bit easier - see them now on our
DOGSLife Directory