December 20th, 2015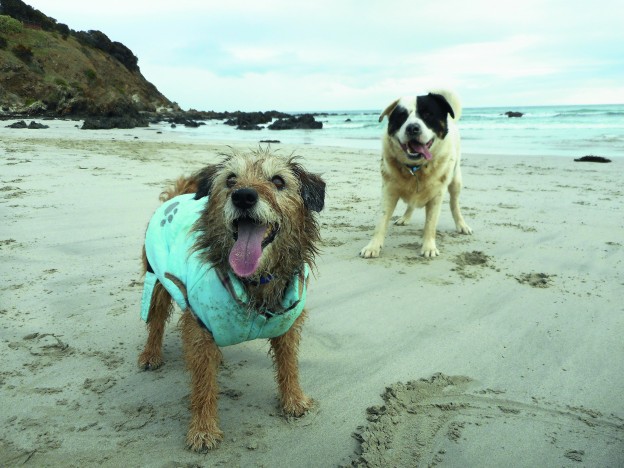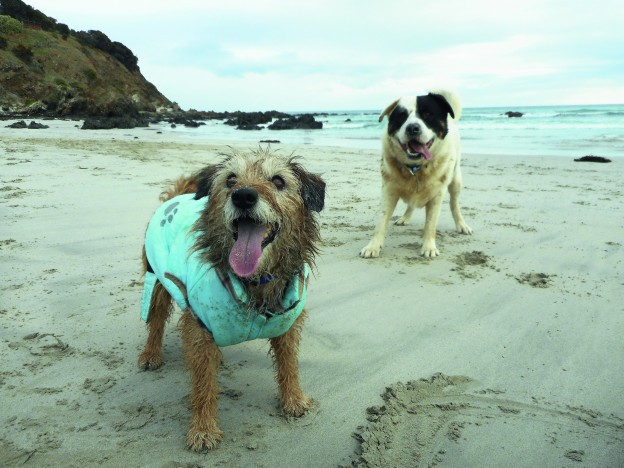 Evette Wolf explores the gorgeous beaches, accommodation and activities that you can share with your furry friend on the stunning Kangaroo Island.
What could be more blissful than taking your dog on long, dreamy walks on deserted beaches, exploring native bushland, or curling up together in front of a blazing fire? South Australia's Kangaroo Island is a unique holiday destination where wildlife, luxury and dogs can all be combined.
Beau, a three-year-old Heeler cross Maremma, and Schnurps, a 10-year-old Terrier cross, recently travelled to Australia's third largest island for a well deserved break. Both dogs had been working hard at home, playing with children, guarding noisy chickens and digging impressive holes, but it was all becoming a bit, well, boring. Beau and Schnurps needed a change of scenery, and by the look of us, they were not alone!
Kangaroo Island is spectacular at any time of the year, but the quieter winter months create a rare opportunity for true peace and seclusion. We were all in need of some really serious solitude, so we decided to travel mid-winter, mid-week and during the school term. Our timing was perfect, and we found ourselves alone on some of Australia's most pristine beaches. The moment we stepped off the ferry onto the island, everyone's body language was instantly more relaxed. (The island will do that to you.)
Country indulgence
During our retreat, the two lucky dogs accompanied us on long bushwalks down to the valley. We followed a meandering creek and if we had known the day of the week, we would have forgotten it. We all felt more relaxed than we had in ages. Time became irrelevant as we explored nearby Snellings Beach, which was deserted every time. Beau and Schnurps splashed through gentle waves, dug in sand and chased a ball until they couldn't run anymore.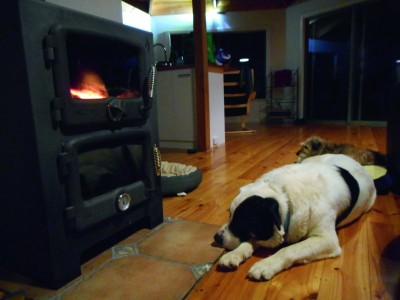 Wildlife
By the time it was dark, the happily exhausted dogs were blissfully asleep by the fire. With the dogs safely inside, we could grab a torch and walk a short distance around the house to explore the night life. Kangaroo Island is free from foxes and rabbits, which allows many native species to thrive in a way that is impossible on the mainland.
Beach bliss
Beau and Schnurps' next retreat destination was Pennington Bay, an active surf beach on the southern side of the island. The sand felt like a cushion and we immediately took our shoes off. This beach was quiet but not deserted; two fishermen patted the dogs, while one lucky surfer had the waves all to herself! The enormous waves demanded everyone's attention.
Escaping the stresses of our fast-paced modern world is easy on Kangaroo Island. Dogs too, are affected by our hurried lifestyles, and can benefit greatly from a little time out. Beau and Schnurps returned home from their island retreat looking happier, healthier, and with eyes that sparkled with life.
Getting there
SeaLink Ferries travel between Cape Jervis and Penneshaw, and dogs travel free! Cape Jervis is 100 kilometres south of Adelaide. Dogs can travel in the upstairs deck and lounge. The journey takes 45 minutes. To avoid seasickness, dogs travel best on an empty stomach.
To book, call 13 13 01 or visit sealink.com.au
Where to stay
Still Windy is a luxury decagon-shaped holiday home for couples and their beloved dogs. Take your dog on bushwalks through 250 acres of private property, or for a romp on nearby Snellings Beach and Western River Cove. Dogs are welcome inside.
To book, visit stayz.com.au and search 'Still Windy, Middle River, Kangaroo Island'.
Allure Beach Retreat is an eco-friendly holiday home nestled into fifty acres of coastal scrub land, just a short walk to Pennington Bay. Dogs can relax on the deck, stay warm inside by the fire, and explore the beach and scrub with their owners.
To book, email allurebeachretreat@bigpond.com, contact Alison on 0409 980 378 or visit allurebeachretreat.com.au.
Visiting dogs
Visitors with dogs must contact the Kangaroo Island Council by phoning (08) 8553 4500 or email kicouncil@kicouncil.sa.gov.au to be placed on the visiting dogs register. Dogs are prohibited from all National and Conservation Parks.
This story was originally published in the October 2015 issue of Dogs Life. Subscribe to the magazine here.
Here are just a few things that can make life with your dog a bit easier - see them now on our
DOGSLife Directory