July 15th, 2015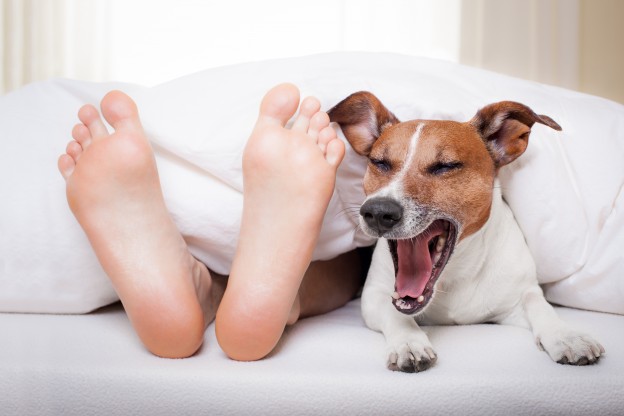 Danielle Chenery investigates co-sleeping and finds out whether snuggling up to your beloved pet at night is detrimental to your health.
Falling asleep knowing your canine best friend is snuggled up next to you is a relaxing way to end the day; however, experts are divided on whether it's the best thing to do for both your health and quality of sleep.
A preliminary study recently reported in the International Society for Anthrozoology quarterly publication Anthrozoos, which drew on a subset of data from the 2012 Sealy Sleep Census, reported that at least 10 per cent of Australians co-sleep with at least one pet.
The results
On the positive side, the study found that there were no significant differences in total self-reported sleep length or feelings of tiredness during the day for those who co-sleep with their pet.
"The continued practise of co-sleeping with pets suggests that there may be some benefits such as social support and interaction, and increased feelings of personal security," says Dr Bradley Smith who co-authored the study with colleagues Dr Kirrilly Thompson, Dr Larissa Clarkson and Professor Drew Dawson from CQUniversity's Appleton Institute in Adelaide.
However, Dr Elise Anderson, veterinarian at Animal Aid, a not-for-profit animal welfare shelter with facilities in Victoria's Coldstream, Bairnsdale and Sale, thinks it's better for all involved if dogs are given their own bed — even if it's in your bedroom.
"On the whole, I think it is safer, healthier and less likely to lead to behavioural issues if a dog has their own bed and understands that that is where they should sleep. For owners who like to be close to their pets at night, a good compromise might be a bed/basket/cushion on the floor somewhere in the bedroom," she says.
Pros and cons
While Dr Anderson says the pros of bed sharing include having access to living hot water bottles, bonding with pets and the fact you're more likely to notice if something goes wrong during the night (for example, your dog becomes ill); the cons are mainly related to hygiene or, more specifically, the risk of zoonotic disease.
"In particular, transmission of parasites such as fleas, mange and intestinal worms are a concern if parasite control is not up to date. As are other zoonotic diseases such as ringworm, gastrointestinal infections etc, all of which can be passed on by close contact with animals. [There is also the] risk of asthma and allergic [reactions] from having hair/dust/dirt on their bed or bedding."
Health aside, Dr Anderson is concerned about behavioural issues. "From a behavioural point of view, I think it can create some problems; dogs that are used to co-sleeping with their owners may suffer from separation anxiety when they are then forced by circumstances to sleep on their own. It could also lead to dominance issues."
Sleep physician David Cunnington has his own views on the canine co-sleeping issue. He believes the main negative aspect to be the disturbing effect of having someone in the bed.
"Sharing a bed with others can be a comforting experience and an important part of family life. For many, having a sleeping companion, human, dog or both, can provide comfort and reassurance, leading to better sleep. In many cultures, co-sleeping, or sharing a bed with other family members and dogs, is seen as the norm.
"However, if you have trouble sleeping, or find that your sleep is constantly disturbed by a companion, human or dog, you may be better keeping your bed to yourself. For those with allergies to dog hair, having a dog in the bed can exacerbate allergies and breathing problems during sleep."
Dog owner Sharna Smith* says she's happy to have her pooch in her bed each night. "He's a rescue dog (two years old). [At first] I wanted him to feel loved and safe. He started on his soft basket at the end of my bed (I'm quite short).
"In the winter, when he gets cold, he snuggles under the covers and sleeps near my feet. Sometimes he wakes me up in the night if he's itchy or hot but it's no more a problem than it is having children.
"I realise that if he got fleas that could be bad. But I keep him clean, wash and groom him regularly and give him preventative flea treatments."
On the other hand, it was circumstance that put an end to co-sleeping for Edward Davidson*, owner of two Shih Tzu cross Maltese Terriers.
"I had to go overseas for a month and I had family coming to stay to look after my dog. They had a small child so decided to put up a child-safety gate at the bottom of the stairs. This meant the dogs couldn't gain access to the bedrooms anymore.
"When I got back, I decided to keep the gate in place because the dogs were apparently fine with the transition. I had wanted to stop co-sleeping with them for a while but thought it would be very difficult. One of the two dogs had started to age so was having a hard time jumping up on my new bed and would wake me during the night if she needed to get off the bed (then back on again!).
"Also, I'm a light sleeper and tend to toss and turn a lot — I would often accidently turn onto one of the dogs who would let out a yelp — waking us both up!
"The other benefit has been that I don't need to clean the carpeted upstairs area of my home as often now that the dogs don't come into this section of the house."
As Cunnington concludes, there's not really a one-size-fits-all answer to the co-sleeping debate. "It's something for each family to sort out for themselves based on the sleeping habits, characteristics and needs of all family members."
*names changed to protect identities
Further study
As a result of the study published in Anthrozoos, honours student Peta Hazelton is now developing a more detailed study into human-animal co-sleeping patterns.
As Hazelton explains, "[The study] also aims to understand what may or may not influence co-sleeping behaviours, such as whether certain dog-owner interactions influence co-sleeping practises.
"It will also identify whether attachment issues, such as security and separation anxiety, are present in those who co-sleep. The project also aims to identify if specific personality traits, of both owners and dogs, are common amongst co-sleepers.
"I want to determine whether these factors differ between co-sleepers and non co-sleepers, not only to determine what may influence the practise but so later down the track, further research can be done into whether these differences (if any are found), particularly the attachment and relationship aspects, may be enhanced by the co-sleeping relationship."
Here at Dogs Life, we look forward to seeing the results — watch this space for an update.
Here are just a few things that can make life with your dog a bit easier - see them now on our
DOGSLife Directory