October 16th, 2013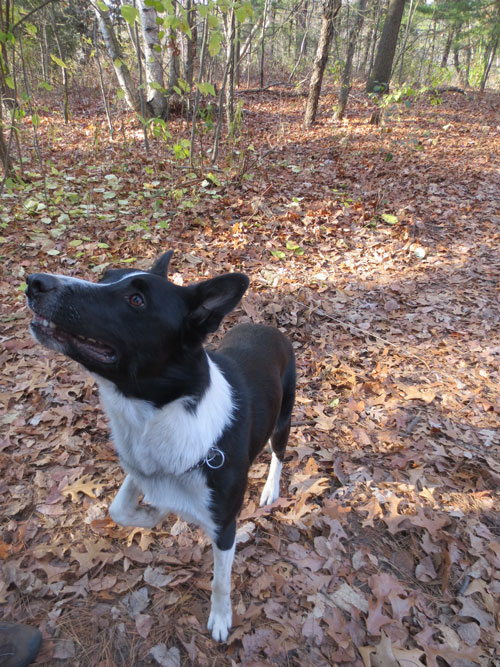 Home for a dog doesn't always mean a kennel out the back or a bed in the living room. Laura Greaves meets some four-legged friends whose dog house is a little unusual.
I live… in a children's hospital
Four-year-old Labrador Frankie isn't just an adored pet — she has a very important job to do. Frankie is an Assistance Dog who lives at Bear Cottage, a children's hospice at Manly on Sydney's northern beaches.
"Frankie has been at Bear Cottage since April 2011. She replaced our much-loved black Labrador, Scooter, who had been at Bear Cottage for over 10 years and had recently retired," says Bronwen Simmons, Bear Cottage's Community Relations Officer.
"She was trained by detainees from the Frank Baxter Juvenile Detention Centre as part of the 'Justice Pups' Assistance Dogs program. It took two years for her to be fully trained at a cost of $25,000. She is very valuable, in more ways than one."
Frankie is arguably the most popular staff member at Bear Cottage. Her role involves providing company and affection for terminally ill children, as well as their parents and siblings.
She can perform more than 20 tricks, including shaking hands and switching on the hospice's electric train, and can also "speak" on command.
"Frankie accompanies families to the beaches and on walks. For some of our children who are almost totally immobile, she will visit and stay with them to provide company and affection," Simmons explains.
"Frankie also has a more serious purpose. Many of our families are here during the most stressful and sad time of their lives. She is able to provide support in the way that only a dog can. She seems to be able to sense when she is needed for a cuddle and somehow knows when a child is close to death."
Frankie lives at the cottage full time, with her own bed in a play therapy room. "This is her own space that she can go to when she's 'off duty'," says Simmons.
"Frankie very much wants to be part of everything that goes on at Bear Cottage. The staff has a meeting every morning to catch up on what's going on — Frankie always knows when it's time for the meeting to start and always attends. Sometimes we actually think she is smiling."
Like her predecessor, Scooter, it is hoped Frankie will continue to live at Bear Cottage for about 10 years before going to live with a volunteer for a "wonderful, relaxing retirement."
More information:
Bear Cottage — www.bearcottage.chw.edu.au
Assistance Dogs Australia — www.assistancedogs.org.au
I live… on the streets
According to the Australian Bureau of Statistics, there are more than 105,000 homeless people in Australia. But while life may be uncertain for people with no place to call home, there is one thing they can always count on: the love of their dogs.
Many homeless people have animal companions, commonly dogs. In New South Wales, the RSPCA's Living Ruff program aims to help keep homeless people and their pets together.
"Often these people are socially isolated — they don't have family or friends, so their pet is literally everything to them. They're always desperate to keep their pets with them," says Karen Thorne, RSPCA NSW's Programs Development Manager.
The program has been running for almost two years and has assisted more than 200 people with everything from veterinary care to providing temporary accommodation for their beloved animals. RSPCA NSW also works in conjunction with the Exodus Foundation's free soup kitchens to provide meals for pets.
"Living Ruff is aimed at helping people who are homeless, or in imminent danger of becoming homeless, for a whole range of reasons. It could be due to financial hardship or they're not able to find accommodation that will allow pets, through to people who are actually living on the streets," Thorne explains.
"Sometimes people may have mental health issues and may have some difficulty in knowing how to care for their pets, so education is another part of what we do."
Program staff are also working to persuade human welfare agencies to allow homeless dog owners to keep their canine companions with them. Most shelters and other emergency housing options do not allow pets.
"We would like to see shelters allowing people to bring their pets. We understand why they don't — it's another thing for them to deal with and they need extra funding to make sure pets can be accommodated safely — but we do think this can be worked on," she says.
Living Ruff has received complaints from members of the public who believe it's irresponsible for a homeless person to have a dog, but Thorne urges people not to be too quick to judge.
"To many people, it is a problem — they think 'this animal is not being looked after'. But homeless people will often feed their pet before they feed themselves. It's certainly not our view that, just because someone doesn't have a permanent address, they're not capable of looking after a pet," she says.
"We do have people tell us that their pets are the only thing they have to live for, and they're quite serious. We'll talk to whoever we can about the importance of that human-animal bond."
More information:
www.rspcansw.org.au/programs/living_ruff
I live… in a small apartment
Many Aussie pooches are lucky enough to live in big houses with even bigger backyards and a dog park or beach just a few minutes away. But in other parts of the world, freestanding homes are unusual and high-rise apartment living is the norm.
In Toronto, Canada, Darrel Nantais shares his one-bedroom, 45-square-metre apartment with his energetic four-year-old Border Collie cross Catahoula Leopard Dog, Maya.
He says providing Maya with plenty of mental and physical exercise is the key to her living happily in a small space.
"Maya is able to come to my office some days — it's very dog friendly and almost all of my colleagues have dogs of different sizes and breeds. When she comes to work, she runs alongside my bike on my seven kilometre each-way commute, which enables her to get some energy out," he explains.
On days when Maya stays home alone, Nantais keeps her occupied with treat-dispending toys and even a closed peanut butter jar, which she'll happily spend hours trying to open.
"Recently my building superintendent has also come over to walk her occasionally in the afternoon," he says.
Nantais rescued Maya from an animal shelter after she was surrendered by her previous owner, an animal hoarder who had more than 60 other animals. He has also shared his home with two large foster dogs — Champ, a Border Collie cross German Shepherd, and Panda, a Labrador cross Rottweiler — and says Maya's exemplary apartment-living skills were invaluable.
"Maya's hyper-socialised history makes her a good 'therapist' for dogs with some aggressive behaviour. I credit her nature in a pack situation to her upbringing. She's calm and concerted and slightly alpha," he explains.
Maya is taken outside to toilet at least three times a day and enjoys hikes of up to six hours three times a week. "She has also done puppy school and some agility training, though she's never happier than when she's chasing a squirrel," Nantais says.
"Dogs are common in apartments in Canada, but people still have this notion that you need a yard to have an active pet. Regardless of whether you have a yard, the dog needs to be walked and socialised regularly."
Aradhna Srivastava also shares her rented Toronto apartment with an energetic canine companion, one-year-old Miniature Goldendoodle, Joey.
"I was definitely worried about space. I'm a renter and my place is carpeted, so I was concerned about accidents," Srivastava says. "I'd wanted a dog for a long time, but I waited until I moved into this building because it's close to work and I can come home at lunchtime to walk Joey."
She ensures Joey gets at least 90 minutes of exercise every day and provides plenty of mental stimulation in the form of games and enrichment toys.
"Housetraining him was definitely a challenge. Puppies need to be taken outside every couple of hours, morning and night. Because I live in an apartment, that means I have to actually accompany my dog outside, instead of just putting him into the backyard to do his business," she explains.
"Cleanliness was also an issue, so we have a routine where he gets his feet wiped before coming inside. He's a non-shedding breed, so that's a plus, but I have also invested in a good vacuum cleaner."
Srivastava's top tips for harmonious apartment living with a pooch? "Make sure you choose the right breed, as not all breeds are suited to living in a small space," she says.
"If you can't come home during the day, I think hiring a dog walker is key. Some sort of obedience training is also important."
Here are just a few things that can make life with your dog a bit easier - see them now on our
DOGSLife Directory