September 17th, 2013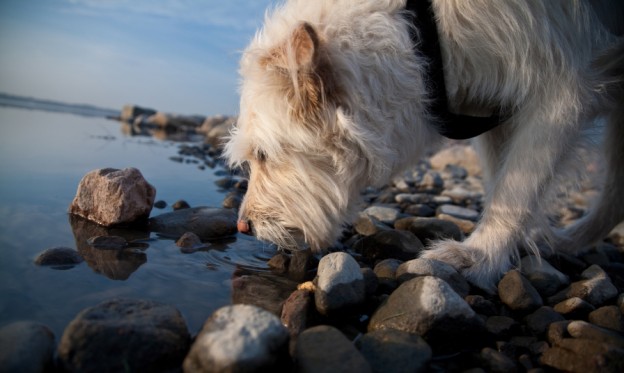 Yatu Widders Hunt finds out how to be an eco-friendly dog owner and reduce your carbon paw print.
In a society that is increasingly becoming more eco-friendly, environmentally conscious and all-round sustainable, there are a million tips, tricks and trends out there to reduce your carbon footprint. One area that is often overlooked in the green scene is pet ownership and reducing the environmental paw print of our furry friends. Far from having to make drastic lifestyle changes, as a dog owner there are a number of everyday things you can do to become more environmentally aware.
Environmental impacts
Owning a dog has famously been compared to owning a large vehicle, so in order to make positive changes it's important to understand exactly how our pets are affecting the world around us.
There are a whole range of areas in which we are being encouraged to consider our environmental impact, including through the use of plastic bags and other plastic household items, consumer food choices and the use of our vehicles. These everyday habits also apply to dog ownership – for example, when thinking about how the use of non-biodegradable waste bags and plastic pet toys are contributing to the bigger problem.
Just like regular household items, dog grooming and care products contain a large amount of chemicals, which get washed down our waterways. Millions of tonnes of personal care products are being flushed down our drains each year, with some of the irreversible damage to our ecosystems due to many of the synthetic chemicals found in flea treatments, shampoos and other care products. Pet faeces can also be a major threat to our waterways, and, if not disposed of properly, can even lead to serious water contamination. This is something with the potential to impact on marine life, when you consider that in some cities up to 4 per cent of landfill is made up of waste from our pooches.
Apart from some of these more obvious impacts, former environmental reporter and author of bestselling book The Divinity of Dogs, Jennifer Skiff, says wanting to "spoil" our dogs by purchasing what she terms "luxury pet items" is considered a huge part of the environmental problem.
"We are spending money on air-conditioned dog houses, electric toothbrushes and electric heating pads for our dogs," she says. "Some of us are also leaving the TV, radio and lights on for our dogs when we go out."
Food production for dogs is another major consideration. Producing and transporting food can be incredibly carbon-intensive, especially when pet food is imported from overseas, meaning that it uses more energy and has a bigger impact on the environment than feeding your dog with locally produced meat and vegetables.
Dogs can also have a devastating impact on native wildlife, particularly if they are not properly trained or are allowed to roam leash-free in bushland areas. As well as being predatory, they have also been linked to disease transmission to other animals.
Many of us are also driving our pets long distances to visit a particular park or leisure spot, or to visit a preferred vet, rather than accessing resources and services in our own local communities.
Canberra-based environmental policy worker and owner of rescue puppy Violet, Anne Garzoli, says the main things she considered – in terms of environmental impacts – were what dog would best suit her lifestyle, where to get her dog from and what resources would be required to care for her dog.
"When thinking about the environmental impacts of our pets, it's really just an extension of how we think about environmental impacts more broadly and comes back to basic principles like recycling, checking product ingredients and thinking about transport," she says.
Getting greener
Making the move to being a more eco-conscious dog owner is often not as daunting as you think. Lauren Shuttleworth, eco blogger and owner of three-year-old Labrador Banjo, suggests making a list of all the products you buy for your pet and coming up with a greener option for each one.
"You don't have to be 100 per cent green all of the time," she says. "If you think about it, even just a few easy switches can really make a huge difference."
One small practical change she has made is to recycle any old, worn clothes by tying them in a knot, soaking them in stock and then freezing them to make chew toys.
Claire Collins, founder of FitDog, which makes eco-friendly dog accessories, says rotating your dog's toy collection is also a good idea. Putting half of them away to bring back out a little later is a great way to reintroduce your dog to a new toy and save all the extra cost and potential waste of having to purchase new ones.
Skiff says one of the surprising things we can do to reduce the cumulative footprints of dogs is getting a rescue dog.
"It's not a pleasant subject, but indiscriminate breeding leads to the 'throwing away' of millions of dogs each year," says Skiff. "The overpopulation crisis of our companion animals is extremely taxing on the environment."
"Think global, eat local" is a mantra that is also applicable to buying food for your pets, so it's best to look for pet food which has been manufactured in Australia, as the production of this food will have been far less carbon-intensive.
Garzoli says she pretty much refuses to drive anywhere to walk her puppy Violet: "I always try to walk my dog close to where I live and access the facilities in my local area."
She also buys Violet organic food, which she says is a bit more expensive, but surprisingly she finds that she doesn't need as much. Garzoli uses a second-hand kennel donated by her neighbour, and encourages Violet to play with sticks, old tennis balls, bones and rope instead of plastic toys.
Becoming a greener pet owner is often as easy as making a few small changes to your habits. Despite there being a large number of areas in our life where we are encouraged to consider the environment, it's equally important to recognise that our pets also have a part to play in creating a greener, cleaner planet.
Top eco-friendly pet ownership tips
Decrease unnecessary food packaging and buy bulk when you can.
Add more vegetables to a high-protein meat diet.
Use stainless steel bowls instead of plastic.
Make a conscious decision to purchase environmentally friendly toys.
Recycle pet food tins and bags.
Use biodegradable poo bags, or compost your dog's waste.
Did you know?
One of the most surprising things about the environmental impacts of dogs and their owners is that dog lovers who are happy to spoil their dogs are a big part of the environmental problem. In Australia, the pet care industry is worth $3.6 billion dollars, with people spending huge amounts on unnecessary pet products that, for the most part, are not environmentally friendly.
Here are just a few things that can make life with your dog a bit easier - see them now on our
DOGSLife Directory