May 18th, 2015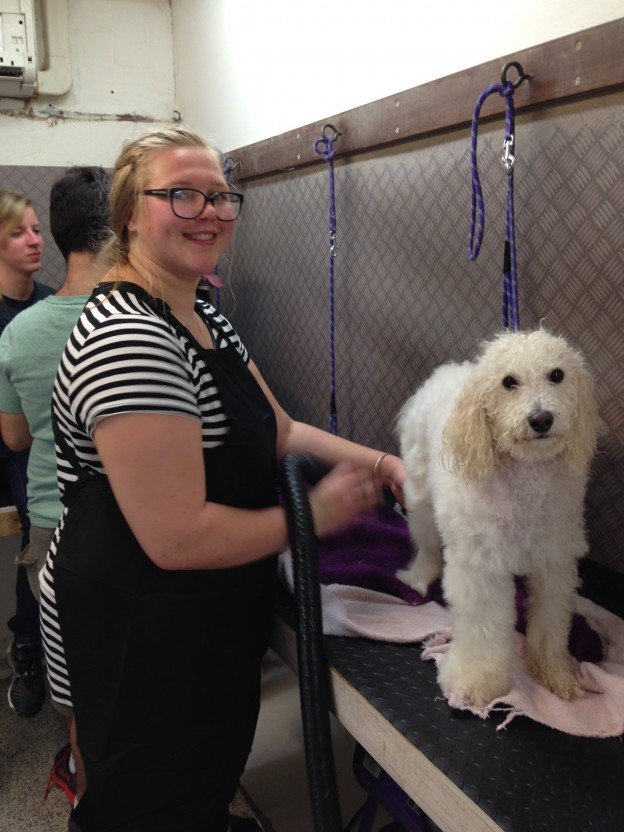 Ever wanted to be a dog groomer? An exciting new program has been developed that gives unemployed youth an opportunity to enter the industry, writes Kristie Bradfield.
Early last year, Queensland teenager Sophie Meyer was at a career crossroads. After studying to be a beauty therapist and working in a day spa, she found herself in a job that gave her no enjoyment. Sophie has ADHD, which has led to learning difficulties, and despite her best efforts beauty therapy wasn't a good fit for her.
It was by chance that Sophie came across a course run by Pet Stylist Academy that offered people with no pet industry knowledge a foot in the door. She applied, took the four-week course and the rest is history.
"At the beginning of 2014 I never thought I would be where I am now, and the future I have in front of me is extremely exciting," Meyer says.
An introduction to the pet industry
In early 2014, the Queensland Department of Education and Mission Access approached award-winning International Certified Master Groomer Emily Myatt to develop a course for people who had been unemployed for more than six months. The Animal Styling and Pet Grooming program was created in response and targeted people who had a passion for working with animals and wished to gain employment or admission to further training.
In July, the first four-week intake began and the Pet Stylist Academy became the first grooming school in Australia to run such a program.
What does it take to work with animals?
One of the most important qualities a would-be student should have is something that can't be taught. "We primarily require a student with a passion for animals but also someone who has a realistic understanding that working with animals is not just patting and playing with puppies," says Myatt.
"Many of the tasks required in the pet industry and grooming involve getting wet and dirty. We are able to train many of the basic skills necessary to becoming a groomer, but we can't teach passion and drive — that is something we need students to have."
Grooming as a profession involves a lot more than just giving a dog a bath. It requires confidence and skill to remain in control of an animal that might not enjoy being handled. Different dogs approach handling differently, so it is important for the groomer to have a broad understanding of behavioural cues and know how to settle an animal if it is distressed. The course provides extensive hands-on experience with different dogs in different situations and it is through this exposure that students gain valuable experience.
What skills are learned?
While passion is obviously one of the most important ingredients for a fulfilling career, practical skills – encompassing grooming techniques as well as salon management – are also important.
"The students who complete the groomer technician course receive full training in most aspects of basic salon operation," says Myatt. "This includes a vast range of skills from learning about coat types, bathing, drying and brushing techniques to anatomy, hygiene and zoonotic diseases that can pass from animals to humans."
"In terms of dog grooming, I learnt all about the grooming process and have the skills to efficiently wash, bath, groom and de-moult dogs," says Meyer. "I also learnt how to handle all dog behaviours, which provided the skills necessary for my employment as a team leader in a dog daycare facility."
Mentoring and work experience
After the course is completed, Myatt makes it a priority to stay in touch with graduates as they make their way out into the industry. "Our services extend beyond the classroom," she says. "During the program, the students are provided with some work experience opportunities in other pet-related businesses such as pet retail stores, boarding kennels, dog daycares and also mobile grooming. These opportunities help the student find an area of the industry that they are best suited towards."
It is through work experience that graduates of the course have found jobs and Myatt believes this is one of the key successes of the program. "Currently, we have approximately 75 per cent of former students remaining in the industry, with several now running their own mobile businesses," she says.
The difference four weeks makes
Animal Styling and Pet Grooming students don't just learn practical skills that make them job ready — more importantly, they develop a belief in themselves.
"Our training supports the students and gives them the guidance and help to overcome many personal obstacles," says Myatt. The sense of pride that is achieved after completing the course is the catalyst to personal growth that continues well past graduation.
"My confidence has gone through the roof," says graduate Meyer. "Before the course I was rather shy and introverted but during the course I learnt a lot about myself and also built the confidence to work with others. I became more independent and developed a lot of management skills that I never thought I was capable of having."
The future looks bright
The Animal Styling and Pet Grooming course has been so successful that government bodies like the Department of Aboriginal and Torres Straight Islander and Multicultural Affairs are applying for the course to be run in several areas across Australia. As the only program of its kind, it offers students a unique opportunity to up-skill and re-enter the workforce with a new career path and new goals.
For Meyer, it was just good to get a second chance to find a job she loves. "This course was a great opportunity to gain a qualification and get an opportunity to work in the pet industry," she says. "But even more importantly, I was able to learn from the very best in Australia and have Emily as a mentor and teacher.
"I would definitely recommend the course to anyone who wants to get into the pet industry," Meyer continues. "This course has allowed me to follow my dreams. With the Pet Stylists' support and help, I've learnt new things despite my learning difficulties. This has helped me to become a valued employee with a new and exciting career path."
Get involved
Can you see yourself working with animals? Pet Stylist Academy offers a range of courses, including the Animal Styling and Pet Grooming program that will help get your foot in the door. Head to their website to find out more.
Here are just a few things that can make life with your dog a bit easier - see them now on our
DOGSLife Directory