February 11th, 2014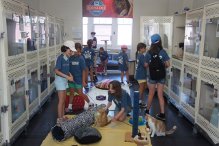 Does your child yearn to become a vet when they grow up? Future Vet Kids Camp may be the perfect place for them to start. Kylie Baracz discovers.
Future Vet Kids Camp is run at the beginning of every year at Waverley College in Sydney. It provides children from ages nine to 16 a chance to discover what it is like to be a veterinary surgeon and just what it takes to work with animals every day.
The safe environment of the camp nurtures the bond between children and their animal patients, under the supervision of highly qualified, enthusiastic instructors and specialised animal handlers.
Run by Canadian veterinarian Dr Scott Bainbridge, the camp promotes responsible pet ownership, gives an insight into the profession of veterinary medicine and encourages the children to love and appreciate all kinds of animals.
"We set the camp up because I wanted to promote responsible pet ownership to children. Too many children ask their parents for pets and then end up not looking after them, so the work falls on the parents. Inevitably, the parents find the work too much and the pet ends up being re-homed or sent to a shelter," says Dr Bainbridge.
The camp is split into three separate programs catering for different ages: Wombats (nine–11 year olds), Kookaburras (12–14 year olds) and the Junior Vet program (14–16 year olds).
More than 20 partners provide the camp's activities and offer years of animal experience and professionalism.
"The partners benefit from the camp as they have a willing audience to hear their messages. These children are not attending the camp because they have to, but because they want to be at camp," says Dr Bainbridge. "As a result, they pay attention to the points that the partners are trying to get across. Whether the RSPCA is talking to them about the benefits of desexing or whether they are touring a private veterinary clinic, all the children are there to learn because they have a genuine interest in veterinary medicine and a love for animals."
Guided tours are provided for the children around facilities such as Camden Veterinary Teaching Hospital, Agnes Banks Equine Clinic, Calmsley Hill Farm and Featherdale Wildlife Park. The camp schedule is packed with interesting and educational talks by veterinarians, behaviourists and animal rescue staff, reptile, small animal and canine sports groups.
"The children benefit in several ways from the camp experience. Firstly, the younger children learn about responsible pet ownership and how to care for a wide variety of pets," says Dr Bainbridge. "I truly believe that children who learn to love and respect animals and their wide range of diversity will go on to be more loving and respectful adults in society.
"The older kids benefit by getting a very real look at the career of veterinary medicine. For most, it validates their career choice but for a few, they may decide that veterinary medicine is not for them after all. I feel that completing the program is great for any child that is thinking of starting up any pet-related business (dog walking, pet sitting) and would get noticed on any university application."
The camp is not all serious surgeries and informative workshops. Sometimes they have sing-a-longs, too! "As you can imagine, there are a lot of funny and unexpected things that can happen when we are working with animals. However, probably my favourite story occurred on the bus ride home from SASH (Small Animal Specialist Hospital) one afternoon. It was the final day of camp and, being Canadian, I asked the children around me what their favourite song was. Immediately, this turned into an entire bus load of kids singing 'Advance Australia Fair' in perfect unison. Unfortunately, I was then forced to sing 'O Canada' solo… I can assure you, it was nowhere near as impressive," adds Dr Bainbridge.
So what do the kids think?
Sydney teenager Joshua Kasparian's favourite lesson at the camp was learning to suture and draw blood.
"I was surprised that I was actually able to sit in on a surgery. It was a great experience. I was also amazed to hear Scott talk about his work with stem cell research and how it is increasingly being used in vet science. I was also amazed to learn about the different diseases in dogs and cats," says Joshua. "Attending the camp has confirmed my passion for studying vet science and will help me when I apply for university."
Thirteen-year-old Sam Springer attended the camp three times and says it definitely has reaffirmed his dream to have a career in the animal industry.
"Vet camps are awesome! You get to meet lots of kids who love animals, the teachers are really nice, the excursions are so interesting and you learn so much about animals," says Sam. "I was surprised that I learned how to surgically stitch so quickly. We practiced on a banana peel and my grandfather, who is a doctor, gave me a suturing kit."
Sam's mum, Debbie, agrees that the camp is perfect for children that love animals and she is happy for Sam to go every year. "As a teacher myself, I know how much work and effort they put into making their program of activities and tasks so successful and enjoyable. They are very professional and everything they do is with a smile," she says.
Di Fitzgerald, mother of camp-goers Zoe and Sophia, says it is "certainly worth the money". Sophia loved going to the Cat Protection Society and learning pet first aid, while Zoe's favourite lesson was learning how to do CPR on a dog as well as how to bandage a dog when it's bleeding.
"I think that vet camp has inspired me to stick to my dream about being a vet and to teach others about what a difference vets make," says Zoe. "The camp has also inspired me to volunteer at a vet clinic when I'm older."
Is the camp suitable for your child?
"I would recommend the camp to any of the younger children who have a genuine love for animals," says Dr Bainbridge. "The programs designed for the older kids (12-16) may require those that are more dedicated as they may be exposed to real surgeries and unexpected situations as they tour the various veterinary clinics and university.
"Either way, if a child has an interest in veterinary medicine as a profession, then the camp would be an ideal way to see if this career choice would be appropriate for them."
Future Vet Kids Camp
For a full description, daily schedule of the programs, and to register, please visit www.futurevetkidscamp.com.au or phone (02) 9804 6100.
Here are just a few things that can make life with your dog a bit easier - see them now on our
DOGSLife Directory