April 18th, 2016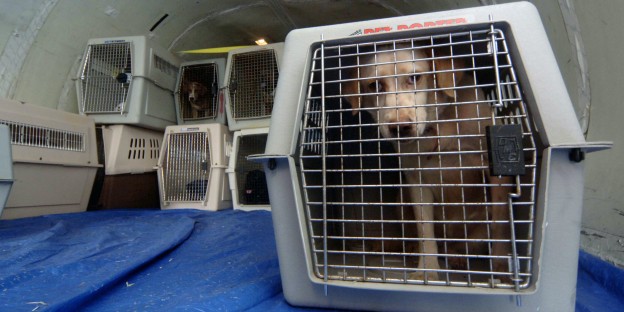 Enjoying a well-deserved holiday is something we all look forward to, especially when we can bring along our four-legged friends. Whether you're moving interstate, overseas or simply getting away, flying your dog can be a problem.
Unlike us, your pet doesn't understand the concept of flying so there are multiple things that need to be considered to make sure that the trip is enjoyable for your four-legged friend.
Flying your dog is considered safe but the truth is that there are multiple aspects that need to be taken into consideration.
If you are flying with your pet dog for the first time, consider this guide before you book your dog a ticket.
Before Getting To The Airport
Airline companies will ask you to make a reservation for your pet dog for an additional fee. The size of your dog will determine where it will travel. If it is small enough, it will be allowed to travel with you in the passenger area in a soft carrier that needs to be placed under the seat in front of you during landing and takeoff. If it is larger, it will fly in the cargo section of the plane in an airline-approved carrier with solid sides.
In this case, the carrier must be properly labelled with your name, final destination and your pet's name The carrier needs to be big enough to allow your pet to stand up without hitting its body and turn around in. You'll also need to attach two plastic dishes to the inside of the carrier with some food and water. You can also put some doggy pad inside the crate to make it more comfortable. You might also want to consider including a portable fan, attached to the front door of the carrier.
Take your dog to the vet well before your flight.
You'll need to have a recent health certificate so that your dog can be accepted on the plane. Discuss with your vet any medications or precautions you need to take before the flight. Every dog is different.
Train your dog for the flight.
Carries, especially solid ones, can be new and unfamiliar for most dogs so make sure you allow your dog enough time to get used to it. Once your pooch feels safe and comfortable in it, the flight will be a lot less stressful. Try to simulate the experience of a carrier being moved and of course of the noise of the airport.
Don't feed your dog on the day of the flight.
Just give him some food the night before or the morning before if you're travelling by night.
Always book the most direct route.
It will make the trip shorter, more comfortable and easier to handle for you and your pooch.
Identification
Make sure your dog is wearing a collar and a tag so that it is properly identified.
On The Plane
Most airlines only accept a few dogs in the cabin so make sure you book your flight well in advance to make sure you have room for your pet. If your dog is accepted as checked baggage, your dog will fly in the same plane as you do in a pressurized, lighted and heated compartment where fragile items travel. If you want your dog to travel as checked luggage, let the airline company know well in advance as the space available is usually limited.
Some restrictions will apply:
If your dog is too big or if it is flying alone you'll have to make your dog fly as cargo. It's the least convenient option as it is usually the most expensive and the least comfortable one.
Author bio:
Mariana Sarceda is a professional copywriter and dog lover that has had great, not so great, hilarious and disastrous experiences while flying with her dog. She loves travelling and taking her dog with her as a travel mate and she's quite used to hopping on and off planes. She writes for John Mason, a shipping and international removals company relocating worldwide that helps pet lovers relocate anywhere safely with their dogs and whichever other pet they have.
Here are just a few things that can make life with your dog a bit easier - see them now on our
DOGSLife Directory