February 12th, 2008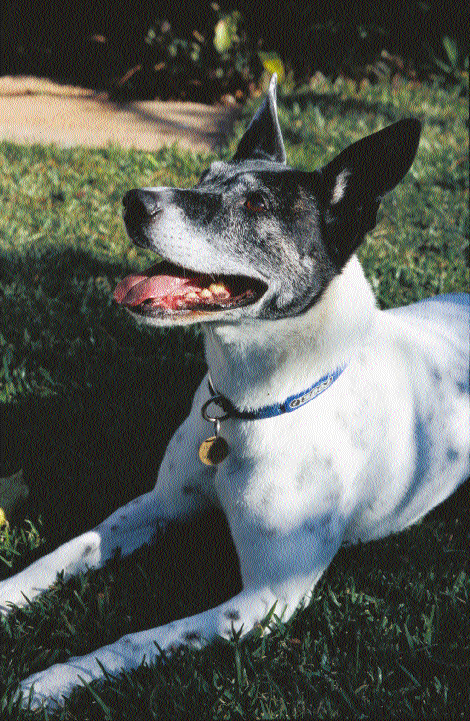 Nadia Crighton sits down with well-known celebrity Amanda Keller to chat about life with her four-legged family member, Ripley.
On a sunny afternoon in Sydney, Dogs Life sat down with well-known celebrity, Amanda Keller, and her adorable family to chat about their furry family member, Ripley. Amanda currently fires up the airwaves with her hilarious humour alongside Jonesy and the Brekkie team in the popular breakfast show on Classic Hits 101.7 WSFM. With a humour that can erase any Monday morning blues, it is no wonder Amanda's family echoes this with their easygoing nature and zest for life.
Ripley was quick to introduce herself at the door when the Dogs Life team arrived, barking and wearing her guard dog hat. But once Harley, Amanda's husband, said the word … it was all licks and wags. Ripley is an adorable Staffy X Cattle Dog who simply adores her human family.
"We discovered an ad in the paper from a family that was trying to give away a puppy Staffy," Amanda explains. "At the time we were living on the Northern Beaches, which is tick central, so we wanted a short-haired dog. We were also looking for a dog that didn't require too much exercise," Harley adds, "so we went to this house and got Ripley as a puppy."
However, it seems the advertisement was a little deceiving. When they arrived, they Harley and Amanda discovered the "purebred" Staffy may not actually be, entirely, purebred.
"The breeders said to us, We just have to tell you that the mother is a Staffy … we've mated her with a Staffy … but we think that maybe she got out around that time," Amanda says with a smile. "And as she got older and older we thought ohhh yes …Cattle Dog. Considering we were looking for a dog that didn't need to much exercise, we ended up with a working dog!" chuckle Amanda and Harley. "She's full of energy."
Long before Ripley appeared on the scene, the couple had always envisioned themselves with a dog, but due to their work commitments on the popular show Beyond 2000, they didn't have the time to give a dog what it deserves and needs. However, when the time was right, they just couldn't resist.
"When I grew up I was desperate for a dog," says Amanda. "My dad grew up on a farm and didn't want a pet-dog as he considered dogs as working dogs. He always said, "when you get our own place you can get a dog."
"I always had dogs when we were growing up," Harley continues, "so I was very concerned that we had suitable place, and that we weren't going to be away six months of the year, before we went looking."
Ripley and the children
Ripley was their first baby, until Amanda and Harley brought Liam into the world. Many of you may remember the day Liam was born. I know thousands of joyful tears were shed in the early hours of the morning while listening to the radio during Amanda and Andrew Denton's morning breakfast show. But I know many of you are wondering, how did Ripley take to the new family member, especially after being an only bubba for so long?
"We were very concerned, so we made sure Ripley's life didn't change after the baby came along," Amanda tells Dogs Life. "I was worried she would associate all of that change with the baby."
Amanda and Harley found that doing the little things and keeping up with training really helped.
"We still made sure she had her daily walks and that her routine didn't change. Actually, I think her life got better as the one thing she didn't like was to be on her own as our neighbours say, she sings when we go out," Amanda says while doing her best impression of Ripley's howl.
"So for once there was someone in the house all the time and there pretty much has been ever since, as if we are not here the nanny is here with the babies etc."
Harley was also quick to point out how important it was to prepare Ripley for the change that a newborn baby can bring.
"We read somewhere that if you bring a baby into the house you should take the baby's blanket or clothing and wipe the smell of the baby around walls and above the level of the dog to help it understand that another member of the pack is arriving."
The couple had also recently moved house and decided to really get serious with Ripley's training before the children came along.
"We were hopeless before and used to let her up on furniture and all those things," Amanda admits. "When we moved house it really helped, as it was the perfect opportunity to say no more up on the furniture and no more whatever. The change in environment seemed an easy way to train her and luckily we took advantage of this, with great results."
It seems the couples hard work and dedication to Ripley paid off. It is quite clear when you see this adorable pooch interacting with the couples two young boys, Liam and Jack, that the change in boundaries was worth it.
manda and Harley are very sensible when it comes to children and dogs. Even though Ripley has proven her trust, they never allow the boys to interact with her when unsupervised.
"We were very weary with Ripley, especially around the children at first, but she is just great with the kids," Amanda relates. " I remember when Jack was a baby and slipped out of view for a second. Then we noticed Ripley sitting very, very still, too scared to move, with Jacks finger … up to the second knuckle … in her eye! She was sitting there waiting for someone to save her."
"She wasn't even growling or anything," Harley adds.
From day one, Ripley has proven her love for the boys, no matter how boisterous they are around her. "Sometimes, when Jack would come lumbering towards her, you could see her looking at us as to say Save me! Save me! Save me! and she has never done anything to harm them. But we are sensible, we never leave them alone," Amanda adds.
The only difference Amanda and Harley have noticed with Ripley since the addition of their two boys is her appearance.
"It was quite funny," Amanda reminiscences. "I was looking at a photo the other day that was taken before the children were born. We've just noticed that when Liam was born, the one half of her face went grey and when Jack was born, the other half did!"
Characters
Its pretty clear that Ripley is an important part of the family. However, Amanda and Harley are quick to point out that it hasn't been easy. Ripley is the consequence of a lot of patience and understanding, and, like all of our dogs, Ripley is not perfect either!
"We love Ripley, but shes not always an easy dog. She doesn't like other dogs and she doesn't walk well on the lead," Amanda confesses. "But its our fault as we haven't been consistent with training and things. You know those dogs that go everywhere with their owners and sit on their laps and stuff … well … Ripley is not that sort of dog; there is a slight manic nature to her," Amanda says, smiling.
At the age of eight, Ripley isn't showing any signs of slowing down. She is a master at the game fetch and repetitively drops, what resembles a tiny twig in my lap, looks at me with a giant Staffy smile and gives you those eyes that make you pick up the twig and toss it again.
"Shell keep chasing that stick until it is a toothpick!" the couple proclaims as she fetches it again and again. According to Amanda, she is also a very talented tennis ball dog.
"Shes so good; perhaps she should be in the New Zealand cricket team, or even perhaps the Australian one!" Amanda giggles.
Ripley, who is still fetching the twig back and forth, is completely unaware of her family's admiration for her. The huge Staffy grin is far more focused on her toothpick stick lying on the grass, rather than on the attention of everyone around the table.
"Ripely is a huge part of the family and the boys just love her," Amanda says adoringly.
"Shes just wonderful, she really is," Harley adds.
Its very apparent that Ripley isn't just a dog, she is a treasured family member who is involved with the day-to-day activities of the house. Even when the household structure changed, Amanda and Harley ensured this would not impact on Ripley's life.
"You hear so many stories about dogs that are surrogate children, and then the real child comes along and the dogs life becomes miserable," Amanda says. "We made sure that Ripley's life did not become this way, and it worked out well."
Here are just a few things that can make life with your dog a bit easier - see them now on our
DOGSLife Directory