July 26th, 2008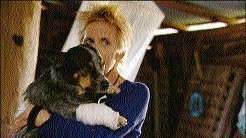 To help raise awareness of the animals which share our planet, Billie Dean and Andrew Einspruch started Laughing Owl Productions and entertain us with life-affirming, warm, witty and often mystical film and television productions. Michelle Minehan reports about dogs on film.
These days, Billie and Andrew focus on making films from their animal sanctuary in rural NSW, where the rescued dogs and horses in permanent care provide inspiration for their films. "We soon realised that rescue was a never-ending problem and in order to provide animals with better lives, we needed to be making people aware of their needs," says Billie. "In my work as an animal communicator, I come across so many people who love their animals but don't understand, for instance, that dogs need daily exercise, preferably in the morning."
Their first film, Finding Joy, was both written and directed by Billie and produced by Laughing Owl Productions. It won Billie an AFTI award for Best Actress. Finding Joy is an uplifting romantic comedy telling the story of 40-something Joy Brown who wants to be a singer. Only catch is, she can't sing! When she says yes to a stray dog that follows her home, her life takes a dramatic turn for the better.
Billie says she was struck by the gifts animals provide to their human companions, not only from their physical presence but also by their extra-sensory powers.
"I was very impressed that when I needed a dog to play Raffi, Raffi the actor literally walked onto our property which is in the middle of nowhere," Billie says with a laugh. "Hed lost his people and no one was looking for him. He was footsore and hungry and the moment I saw him I knew he was perfect, and he was. Raffi hit his mark for the camera for every take. He loves to work and knew what he had to do," she adds. "He can even look depressed on cue!"
Raffi was Billie and Andrews sixth dog and then along came Willow, the white Great Dane/Mastiff cross who was deaf and also appears in the film.
"Being deaf, Willow opened me up to a whole new area of the dog world," Billie tells Dogs Life. "So she is deaf in the film as well. Like us, her human companion in the film treats her like she is normal. Animals are telepathic anyway, so being deaf doesn't impede her much, but she hates being alone or in the dark. Being in a dog-friendly household with other dogs who all live inside was Willows idea of heaven!"
Seven Days with Seven Dogs
Seven Days with Seven Dogs is Billie and Andrews second film and looks at seven rescued dogs going on the trip of a doggy lifetime.
"We decided animal companion needs and their spirituality were going to do more good in the long run. So we took our seven rescued dogs and turned them into film stars, making entertaining films which also say a bit about dog truths!" Billie says with a smile.
The films inspiration came from health concerns surrounding two of the dogs, Kelpie X Suki and German Short-Haired Pointer Louie.
"Suki had a large growth on her neck and we thought her days were numbered," Billie says. "I asked her what her last requests might be and she said she wanted more outings!"
So at her pooch's request, they organised a holiday for her, complete with film crew! "Sukis lump actually disappeared two weeks before the shoot which to me, in her case, demonstrated the power of the emotion of joy and the self-healing of the body. We were thrilled by the number of dog-friendly places which allowed the seven dogs inside and, in fact, catered for them completely," Billie states. "We stayed in everything from four- to five-star cottages to a gypsy horse-drawn wagon in Colac, Victoria, and a caravan park that was so dog friendly they even had a dog agility course!"
The film is extremely fun to watch and shows people where they can go and what they can do with their dogs on holiday. "I think it fills people with joy just to see dogs having fun and being themselves, and I have to say that Andrew, being a former comic, is pretty funny as well!" Billie concludes.
Billie had her heart in her mouth a few times throughout the making of the film, especially when her German Shepherd X, Tala, was attempting to climb the slippery rocks to be with Andrew and their daughter Tasmin.
"She didn't fall but Tony the cameraman did!" Billie laughs. "Another heart-stopping moment was on the boat crossing. We thought it would be spectacular to film the dogs in the boat but we didnt figure that one slip, and they could have all ended up in the ocean."
Seven Days with Seven Dogs is a hilariously funny movie that will touch the hearts of every dog lover. Its time us humans realise that we are not the only ones who need to smell the roses from time to time! The film looks at the different types of places where we can take our pooches for a pampered weekend.
About Billie
Billie began in the film industry as a film critic back in the early 70s and decided to take up acting to improve her dialogue writing. After this she became an accomplished stand-up comic (and met her husband who is also a comic).
"At the same time I was a journalist and studying alternative healing modalities which I wrote about in my work as a freelance photo- Journalist," Billie says. Along with husband Andrew she performed in their show Random Thoughts here and in the USA, has written more than 30 children's books and for children's television, most notable the award-winning show Hi 5. Today, between films, Billie does PR and marketing assignments as well as producing.
"I also work as a telepathic animal communicator and give workshops around the country, teaching people how to listen to the silent world of nature and animals," Billie continues. "Finally, I write. I am currently working on the screenplay for my next feature."
"Billie and I met and fell in love in 1986," says Andrew. "We formed a working partnership in 1987 when I moved to Australia. We formed the company Laughing Owl Productions in 1991 to house the theatrical, writing, film and TV ventures that we were working on."
Doggy acting
These days, dog owners who think their pet can become the next Lassie have a lot more chance than they did years ago. If you're interested in getting your dog a head start, why not look around for your local school or agent?
"Training a dog actor, like any other training, must be done with love and positive feedback," says Andrew "One of the most important things is to engage a dog who is clearly suited to the tasks by temperament and ability."
Billie and Andrew use their own dogs in the films because they know what each individual dog is happy to do, and what they are capable of.
"Raffi, for example, is happy to do take after take and has a fabulous ability to look depressed or concerned on cue," says Andrew. "Cedar, however, is always happy to chase a ball but has much less patience for the whole acting process."
Here are just a few things that can make life with your dog a bit easier - see them now on our
DOGSLife Directory