June 28th, 2008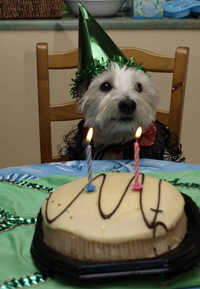 Celebrate your canine's big day by throwing a doggy birthday bash! Dogs Life gives you the best pooch party tips…
When Jessie turned two years old, her family threw her a birthday party where the guests wore party hats, sang Happy Birthday around a special cake with candles and played games, before going home with a party favour each. Not so unusual, you might think, except that Jessie is a dog, the birthday cake was chicken and rice flavour and her happy canine guests went home with liver treats in their lolly baskets.
Welcome to the world of doggy birthday parties!
I always have parties for my animals, says Jessie's owner, Pam Mancell. People usually think I'm a bit nuts, but I figure that pets are family, not just animals. Jessie is a very smart dog who likes to connect with people and other animals. She has good doggy friends that she loves catching up with.
Jessie invited her two best friends to her party: Jack the Golden Retriever/Standard Poodle cross and Jackson the Toy Poodle. Together, they are known as the Black Dogs Club and delight everyone with their cheeky antics. It was only natural that they should celebrate together on Jessie's special day.
I made a cake out of dog food, moulded into a plastic bowl then turned out onto a plate with a candle, says Mancell. We had the party in my friends backyard, sang Happy Birthday, blew out candles, ate cake (well, the dogs did) and then went to the beach for doggy frolicking. The dogs had a ball.
Doggy party tips
The guest list: Make sure you only invite dogs that know each other well and are generally sociable. Remember that while some dogs may be friendly on a one-on-one playdate, they may feel overwhelmed when faced with a large group of excitable dogs in a confined space. Keep something on hand (eg, a bucket of water or garden hose) just in case you need to intervene in any scuffles. Ideally, don't invite more than six to eight dogs or you will risk the party becoming overcrowded and out of control.
Unless the dogs are all very comfortable around children and there will be heavy supervision from a dedicated adult, it is best to leave young children off the guest list. Having toddlers and a pack of excited dogs running around together is probably a recipe for disaster.

Party venue: Its essential to choose a pet-friendly location that is safe for the dogs to roam around in, as well as being secure and escape-proof! If your backyard is large enough, this is often the ideal place; otherwise, you could try your local dog park or even hire your doggy daycare centre or local dog-training school. If you're planning to have the party outdoors, don't forget to bring bags for dog waste and have a back-up plan in case of bad weather.

Party menu: Most people enjoy making their own doggy birthday cake, which can be as simple as some dog food moulded into shape, or as fancy as a carefully baked effort complete with icing and decorations. A quick search on the internet will turn up dozens of recipes with dog-friendly ingredients. Peanut butter is a perennial favourite, and bananas or honey are healthy alternatives to sugar.
You can also check out your local pet store or dog bakery. Aside from gourmet biscuits and treats, many companies now also make special cakes just for pet birthdays. Dont forget to always have several bowls of fresh water available, as the dogs can get very thirsty. When preparing food for the humans, try to avoid anything which might be poisonous to dogs, such as chocolate, grapes or onions, or at least keep them well out of reach.
Finally, have some wet wipes or sanitising gel handy for people to easily clean their hands if they want to eat after handling the dogs.

Party games: While the dogs will most likely just run around and amuse themselves, it is a good idea to prepare some party games. You may find that many of the owners enjoy the competition and challenge of teamwork with their pooches. When my Great Dane Honey celebrated her sixth birthday with her friends from training class we played a whole host of games that were not only great fun but tested the dogs obedience skills, too.
These ranged from Musical Sits (when the music stops, dogs must sit before owners can grab a chair) to Doggy Dash (dogs race each other to determine the fastest recall). You can also set up miniature agility courses, have egg-and-spoon races or just let the dogs bob for biscuits in a paddling pool. You could even ask your guests to come in costume and have a contest for best dressed or best lookalike.

Final touches: A goody bag for guests to take home filled with small treats or toys is a great way to end the party. And don't forget to take lots of photos to capture the fun of the special day there is nothing cuter than a picture of dogs in party hats around a birthday cake!
While it may be fun to host a doggy party, don't forget to consider your pets personality. If your dog is a shy, quiet type it may not enjoy having lots of other animals invade its home, or you may simply not want or be able to host a big event. But celebrating with a small private party can be just as wonderful. When Bella the Westie recently turned two, her family marked the occasion with a special dinner where the children helped Bella blow out the birthday candles and everyone enjoyed reminiscing about the little dogs adventures in the past year.
It's a way of acknowledging how important your dog is and everything it brings to the family, says Bellas owner, Isabella Inard. Your dog may not know the meaning of the word birthday, but it will feel the fun, love and excitement that are part of the celebration.
Here are just a few things that can make life with your dog a bit easier - see them now on our
DOGSLife Directory