December 8th, 2014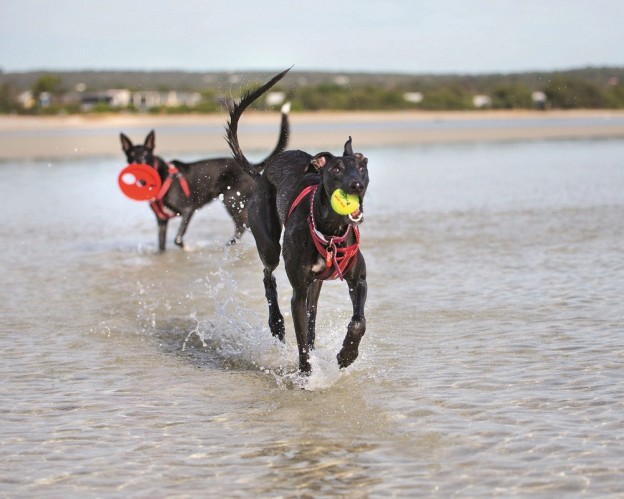 Not just for the long, hot days of a Western Australian summer, this beach side holiday is perfect for the cooler months too, writes Houndstooth Studio's Alex Cearns.
We finally found the perfect time for a long awaited beach break 'Down South' with two of the sweetest travel companions, Pip, our two-year-old Kelpie cross Greyhound, and Pixel, our nine-month-old Greyhound.
'Down South' is the Western Australian vernacular for the entire south-west coastal region stretching from Busselton to Augusta, an enticing mosaic of pristine natural wonders, dazzling beaches, spectacular forests and world-class wineries. This time we were heading to the idyllic area around Yallingup and Dunsborough.
Once we'd packed up the car and safely buckled in our precious pooches, we hit the Kwinana Freeway for a two-and-a-half-hour drive south of Perth. Traffic heading south can be slow on a public holiday, but we left in the morning on a weekday and it was a smooth ride all the way.
Accommodation
We were spoilt for choice for pet-friendly accommodation in the region, and there's something to suit all budgets. We used www.stayz.com.au, www.rent-a-home.com.au and www.beachhouseholidays.com.au and entered 'pet friendly' into the search. If you are thinking of camping or caravanning, the Flinders Bay Caravan Park in Augusta is dog-friendly.
Self catering
There are dozens of café choices at breakfast and lunch time in this region, but many wineries, restaurants and cafés close around 4pm. Pet-friendly restaurants are hard to find for dinner, so we looked for self-contained accommodation with a good kitchen so we could stock up on fresh gourmet produce during the day, and took advantage of our down-time with the dogs at night by eating in and enjoying local wines.
Our destination this time was Injidup Break, a dog-friendly holiday home we found on the Stayz website. It is situated just a short drive away from the most beautiful beaches, some excellent wineries, restaurants and even a day spa.
It was our first time here and we were delighted with our booking. The house is quite new and modern with polished concrete floors, three bedrooms – two with queen-size beds and one with two single beds.
The kitchen was very well-appointed with many additional items that made it easy to prepare meals. Towels were not provided, but sheets and bedding were good quality. Water comes from a tank so it was preferable to conserve where possible, but that's the case all over WA.
The house sat on a peaceful, secluded bush block. Visiting wild kangaroos and birds were common, and one night we saw a white owl watching us from a nearby tree. The yard was unfenced so we kept the fur-kids on their leads for short walks in the surrounding area. Snakes are quite prevalent in Western Australia during summer and the tempting scents and trails would be too hard to resist for our two.
Despite the hot days, the house was cooled each afternoon by a refreshing sea breeze. It had large airy rooms with high ceilings and plenty of light. Every room had screened sliding doors, and all the doors folded open at the back of the house to take advantage of balmy days. The house was warmed by a wood fire so we wouldn't hesitate to return in winter.
The beaches
The glorious dog-friendly beaches around Dunsborough and Yallingup made this one of our favourite trips with our dogs.
Some of our favourite dog-friendly beaches:
Dunsborough Town Beach
Dunsborough's beaches are almost always calm and waveless as they are a part of Geographe Bay and sheltered from the Indian Ocean's south-westerly swells.
The designated dog area on the Dunsborough foreshore lies on Geographe Bay Road between Burt Court and Dunn Bay Road. This gorgeous beach is easy to enjoy at any time of day. During low tide an emerging sand bar is accessible by walking across a short stretch of water.
The large expanse of shallow, crystal clear water reveals schools of small fish darting about above the white sandy seafloor, and you can walk for at least a kilometre on both sides of the sandbar with water up to your knees. Pip and Pixel and their long legs were in heaven here, sprinting off with new found furry friends, playing Frisbee and digging in the sand. Pip's beloved Frisbee is always in her mouth and Pixel often draws attention when she is in full greyhound flight.
Yallingup Dog Beach
You can expect to find a more dramatic coastline in Yallingup – a string of stunningly beautiful white-sand beaches, world-class surf breaks, dramatic granite rock formations, and jagged reefs and sea cliffs. The dog beach is situated at the end of Dawson Street, just after Yallingup town beach. Parking is easy and you know you've arrived when you see the 'Dogs' sign in the car park.
After a short walk down the steps, turn right to find an arch of soft white sand looking out over an impressive surf break. This break is for initiated surfers only, but it's a great place to watch skilled teens and adults do their thing. We could see the main surf was a bit too fierce for our dogs, so we played on the shore and walked about half a kilometre up to the end of the beach, where several rocky coves are protected by a natural reef. Most of these coves are accessible in low tide and are a great place for the dogs to play.
A word of caution
If the surf is up and you're inclined to go further out than a shallow paddle, it's imperative to watch what other swimmers are doing before you go into the water. There is a surf lifesaving station on Yallingup Beach on most days during the high season, but if there are no flags, gauge the strength of the waves to see where the water is pulling and how big the sets are. Even small waves can cover a strong undertow that is dangerous for dogs.
Local knowledge
In addition to the clearly designated dog areas,  it is well worth exploring some of the more secluded, lesser-known beaches where your pets can run free, providing you keep an eye on them. Some are accessible with a car, but because they are hard to find, we recommend you ask a friendly local with a dog in tow to tell you about their favourite spot.
We were there during a hot Western Australian summer, so it made sense to divide our beach visits into early morning and late afternoon. Other than a few fishermen, every beach was almost empty in the early morning and the dogs loved being the first to break the sand with their footprints. Afternoon plays and swims were more social and the other dogs, beach goers, fishermen and surfers were happy to meet our exuberant pair.
Tips
Remember to take your own fresh water and a water bowl for the pups as there are no fresh water sources on the beaches. Also make sure you have a good supply of poo bags with you. We found none at any of the beaches and bins were only provided on the main beaches.
Things to do
Wineries
It seems that every road around Dunsborough leads to a winery or two, and many offer delicious lunches or snacks in an ambient environment. Dogs are generally welcome on lead if there are tables outside, but we always like to check with the staff before we sit down. Here are just a few dog-friendly wineries that we enjoyed.
Happs & Three Hills Winery on Commonage Rd, Dunsborough is one of the oldest wineries in the south west. Offering the largest range of wines and styles in the region, they are famous for their sweet and Italian varieties or you can buy a bottle from their newer range of excellent preservative-free wines. The dogs enjoyed a slow wander around the beautiful gardens and natural bushland. The staff is friendly and there's an excellent pottery shop and small gift gallery.
Further along Commonage Road is the Swooping Magpie Winery, a great place for a relaxed, reasonably priced breakfast or lunch. They offer a great selection of funky branded wines and we couldn't resist buying a couple of bottles to savour after our holiday.
Hay Shed Hill Winery is less than half-an-hour from Dunsborough on Harman's Mill Road, Wilyabrup. The café overlooks the vineyard and it is a charming spot for morning or afternoon tea, breakfast, or lunch. Their coffee suits the sharpest palate and they serve home-baked cakes and sweets, shared plates and legendary pizzas made from local produce. The wines are excellent and served by the glass.
If you can fit in just one more bite or another coffee when you are in this area, it is worth dropping by the 3 Oceans Wine Company Winery & Café on Bussell Highway, Cowaramup. This place is a huge favourite among locals and visitors for breakfast and lunch. There are lots of wines to taste and they serve delicious vegan salads and hot dishes, generous serves of fish and chips, homemade cakes with a selection of gluten free offerings and the excellent local Yahava coffee. Dogs are welcome to play supervised on the grassy areas that are well off the road for safety.
Cafés
By far our favourite thing to do after an energetic morning with the pups is to chill out over a good coffee and breakfast. One of our favourite places straight off the beach in Yallingup is the fun, character-filled Shanna Café on Dawson Drive. Run by a lovely Italian couple, they serve great coffee, authentic pasta and other Italian morsels and treats.
Decorated with interesting items of surf and skate culture, the café is open for breakfast, lunch and dinner in the high season. You can stop by the servery window for coffees on the run, or step into the casual, breezy courtyard where dogs are welcome.
The quickest, cheapest option in Dunsborough is always the bakery, where you can pick up an award-winning savoury or sweet pastry, and a decent, freshly ground coffee to enjoy alfresco on the nearby beach. But as the south west coastal strip is ripe café territory, you don't need to travel far to find a noteworthy establishment. Some cafés are more pet-friendly than others but in general, dogs on leads are welcome in places with outdoor tables.
Some tried and truly good dog-friendly eateries that we highly recommend include:
Samudra
The fantastically innovative Samudra (a Sanskrit word meaning 'ocean') is our number one favourite in Dunsborough. We try to drop by whenever we're within 30 kilometres of the place for organic gluten-free, raw, vegan and vegetarian food and awesome juices and smoothies. A thriving permaculture garden surrounds the lazily ambient café, two yoga studios, an eco-friendly shop and a vegetarian culinary school. Any time of the day is worth a visit, but we particularly love the Samudra brekkie, which comes with avocado, eggplant, mushrooms, roasted tomatoes and spinach on Yallingup sourdough bread, or the banana pancakes… or the scrambled tofu on toast.
Goanna Café and Gallery
Nestled in a bushland setting, the Goanna Café and Gallery on Hayes Rd is a charming laid back concoction of cooking and culture. The menu focuses mainly on tasty vegetarian food with everything made in-house, and unique art and crafts share the walls with jams and pickles.
Artezen Espresso Bar
If you are wandering through Dunsborough town, you can drop by the Artezen Espresso Bar on Naturaliste Terrace any time of day for a quick coffee hit or delicious food. It can get very busy on weekends, but weekdays are more relaxed and you can even recharge your phone at the table.
Yallingup Coffee Company
Despite the name, the Yallingup Coffee Company is located on Naturaliste Terrace in the Dunsborough town centre. No problems if you're coming straight from the beach, this place makes one of the best early morning brews between the capes. The owner takes great care to source coffee beans from different regions around the world and they use their own in-house roasting and blending techniques. They also make a superb hot chocolate and the counter is filled with freshly made cookies and slices. We can recommend the homemade Lemon Pistachio Slice – mouth-watering! You can grab a bag of beans to take home, too.
A few more things to do:
The town and areas surrounding Dunsborough and Yallingup are bursting with beautiful scenery and fun things to do. We love to stock up on plenty of local gourmet foods for sunset picnics on the beach or, on cooler days, set out on a bushwalk either along part of the Cape to Cape Track following the coastline, or meander along one of the Yallingup town walk trails.
There are some great lookout points to watch whales migrating south during September to December.
Drop by the Dunsborough Visitor Centre on Seymour Boulevard in town to chat with the friendly staff who will help out with local maps and dog-friendly ideas.
We cannot wait to return to the area again, next time for a winter getaway!
Emergency details
Dunsborough Veterinary Hospital (08 9755 3931) is located at 5 Clark St, Dunsborough. They also do grooming.
The Wildcare Helpline (08 9474 9055) operates 24 hours a day, seven days a week, diverting to after hours numbers at nights and weekends. They provide immediate assistance for sick, injured or orphaned native animals.
Here are just a few things that can make life with your dog a bit easier - see them now on our
DOGSLife Directory