April 22nd, 2016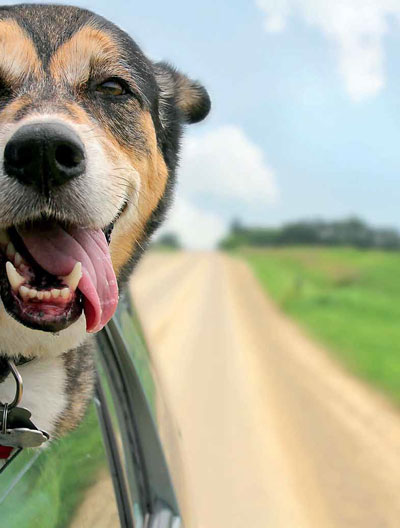 Dogs are such a big part of our family that we want to take them wherever we go, whether it's on holiday or just a fun day out. From dog-friendly parks and camping sites to hotels and events, there's a tail-wagging place for every dog and his owner to enjoy together. A popular place for dog-loving travellers in America is the Dog Bark Park Inn in Idaho, which is a giant building shaped like a Beagle, complete with doggy-themed amenities such as doggy pillows and doggy biscuits on arrival.
But you don't have to travel across the world to have your dog-loving fun. Caroline Zambrano has put together some of the popular places of interest for dog lovers in Australia.
NEW SOUTH WALES

Doggy beach at Roland Reserve, Bayview
www.pittwater.nsw.gov.au
Cafe Bones, Leichhardt (Sydney)
cafebones.com.au
North Coast Holiday Parks, Jimmys Beach, Hawks Nest
northcoastholidayparks.com.au/park/info/jimmys-beach
VICTORIA

Brighton Dog Beach, Brighton
bayside.vic.gov.au/living_in_bayside/brighton_beach_dog_off_leash_areas.htm
Johanna Beach, Great Otway National Park
parkweb.vic.gov.au/explore/parks/great-otway-national-park/things-to-do/johanna-beach2
Cornerstone & Co Cafe, Hampton
facebook.com/Cornerstoneandco
SOUTH AUSTRALIA

O'Sullivan Beach, Onkaparinga
onkaparingacity.com/custom/files/docs/osullivan_beach_precinct.pdf
Thyme Cafe, Adelaide
thymecafe.com.au
Lipson Cove, Eyre Peninsula
tumbybay.sa.gov.au
The Wright Road Dog Friendly Park,Crafers (Adelaide)
ahc.sa.gov.au
NORTHERN TERRITORY
Longreach Water Hole, Elliott

Cafe Central, Darwin
cafecentraldarwin.com.au

Watertank Cafe, Alice Springs
facebook.com/WatertankCafe
QUEENSLAND
Sheoak Shack, Tweed Heads
sheoakshack.com/sheoakshack/Welcome.html
Sunshine Beach, Noosa
noosa.qld.gov.au/recreationalparks#Sunshine%20Beach
Flanagan Reserve, Barney View
lanaganreserve.com.au
Atticus Finch Cafe, Brisbane
facebook.com/atticusfinchcafe
WESTERN AUSTRALIA
Pet Lovers Cafe, Perth
petloverscafe.com.au
Peasholm Beach, Perth
stirling.wa.gov.au/Recreation/Beaches/Pages/Explore-our-coastline.aspx
TASMANIA
Okines Beach, Dodges Ferry
sorell.tas.gov.au/our-municipality/recreation/beaches
Little Beach, Chain of Lagoons
parks.tas.gov.au
The Lansdowne Crescent Cafe, Hobart
facebook.com/Thelansdownecrescentcafe
AUSTRALIAN CAPITAL TERRITORY

Silo Bakery, Canberra
silobakery.com.au
Exhibition Park, Mitchell
exhibitionparkincanberra.com
Curtin Playing Fields Walk, Canberra
canberradogwalks.com.au/curtin-playing-fields-walk
This story was originally published in the March/April 2016 issue of Dogs Life. For more information on these doggy destinations, order your copy online at universalshop.com.au.
Like any good guide, we could only get some of our favourite locations in here. Do you have an awesome dog-friendly place you like to go? Make
sure you let us know by writing in and sharing your thoughts with dogslife@universalmagazines.com.au.
Here are just a few things that can make life with your dog a bit easier - see them now on our
DOGSLife Directory