November 18th, 2013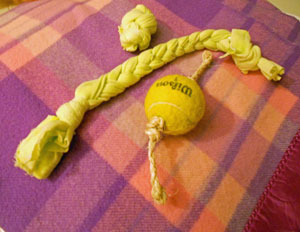 Wenxin Zheng discovers what DIY dog toys you can make out of household items such as rope, T-shirts and tennis balls.
'Indestructible' dog toy
Equipment
Hemp/jute rope
Sweet potato
Instructions
1. Preheat oven to 120°C.
2. Wash potato really well and slice to 1.5cm thickness.
3. Punch with cookie cutter in middle of each slice.
4. Place in oven for 2½ hours, then flip and bake another 2½ hours — should be totally dried out and hard.
5. Allow to cool fully.
6. Make a knot at the end of the hemp rope — braid together if thin.
7. String on two pieces of sweet potato and then make a knot.
8. Add two more and a knot, repeat till at the end of rope.
9. Ready to chew and play!
Rope ball
Equipment
Tennis ball
Hemp/jute rope
Instructions
1. Drill a hole inside a tennis ball through to the other side.
2. Slip rope through and tie knot in each side.
3. Tie knots at ends for grip.
4. Ready for tug-of-war!
One big knot
Equipment
Strip of strong fabric
Instructions
1. Take a long strip of fabric and tie a knot in the middle.
2. Then tie another one around that one, then another one and so forth, until it is a big ball.
3. Cut off excess ends.
4. Ready to toss and chase!
T-shirt dog rope
Equipment
An old T-shirt
Instructions
1. Start by cutting little 6cm wide slits at the base of the T-shirt.
2. After you've cut the slits, rip along the slit and your T-shirt will have strips of fabric for the next step.
3. Gather your T-shirt strips and tie off one end.
4. Divide your strips into thirds and braid them together.
5. Ready for tugging and chasing!
Sweater toys
Equipment
An old sweater
Paper
Pillow stuffing
Squeaker
Needle and thread
Instructions
1. Cut a shape out of a piece of paper — this will be your pattern.
2. Pin the pattern onto your old sweater and cut out two sweater shapes.
3. Pin the sweater shapes together and sew them up leaving one side open.
4. Turn the sweater shape inside out and fill it with pillow stuffing and squeaker for pets.
5. Sew up the shape.
6. Ready to squish and squeak!
Here are just a few things that can make life with your dog a bit easier - see them now on our
DOGSLife Directory