September 16th, 2013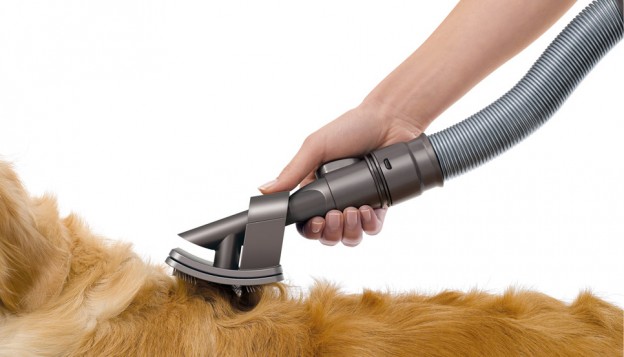 It doesn't matter if your pooch is long-haired, short-haired or hairless, every dog needs to be groomed. Krissy Bradfield finds out what you can do, safely, at home – your very own DIY dog grooming guide.
Gordon the Groodle and Stanley the Toy Poodle don't have to travel far for their weekly grooming sessions. Their owner, Craig Spence, takes care of everything in the comfort of their own home. "It's a great way to bond with your dog. They completely trust me and it is a weird form of expression I guess," says Spence. "Plus it saves us hundreds of dollars per year."
There are a lot of owners, like Spence, who prefer to groom their pets in-house. If you want to give your pet a professional look without the professional price tag, and without compromising the safety of your best friend, there are some things you should know.
Hair facts
The type of coat your dog has will determine how you groom it and what products you use. With 10 common classifications for coat type (from smooth-coated through to corded) and each requiring different care routines, Emma Wale from Dog Groomers Association of Western Australia suggests talking to a professional groomer first to establish the best DIY care plan. "A good groomer will talk the owners through all of their 'at-home' care requirements, give information on the products they require for upkeep, and educate on how often their breed of dog requires professional grooming," she says.
Your dog's coat type determines everything from the brushes and products you use to the frequency of bathing. Get it right and DIY grooming is a breeze; get it wrong and it can have a severe impact on your dog's health.
Bathtime checklist
Dr Joanne Sillince from Pets Australia says that owners should wash their dogs when they need it, but be mindful of dry skin if you're washing a few times a month. She has a few tips for those who choose to wash at home:
• Shampoo twice.
• Make sure you're washing down to the skin.
• Apply a good conditioner.
• Rinse thoroughly – there should be no colour or suds in the water at all.
• Finish off with a towel dry.
• Some double-coated and corded breeds (Husky, Samoyed and Puli) almost always need to be properly dried, otherwise bacteria can breed in their coats.
• You can use a hair dryer on a cool setting provided it's always in motion and at least 25cm away from the dog's skin.
Grooming tips for dogs with long/curly/wavy coats
A dog with a curly or wavy coat ideally needs daily brushing with a good-quality slicker brush and comb. If you're bathing your dog, remove all knots from the coat both before the bath and after drying to prevent matting. Dr Sillince recommends that owners of curly-coated dogs (like Bichons, Poodles or Poodle crosses) get some instruction on brushing and washing technique prior to attempting a wash at home.
Grooming tips for dogs with short coats
Use a de-shedding tool to go over your short-coated dog once a week. If you're bathing your dog you need the right product for your breed, as they all have different requirements. Labradors, for example, have an oily coat and need a stronger shampoo, while Dalmatians need a milder shampoo and conditioner.
Your DIY kit
Dr Sillince suggests the following items for your at-home grooming kit:
• Good-quality slicker brush
• Rubber curry brush for short-coated dogs
• Pin brush as well as a slicker for long-coated breeds
• Quality stainless steel comb with round-ended teeth
• De-shedding tool or coat stripper
• Chamois or microfibre towel
• Detangling spray
• Non-slip mat
• Restraints to hold your dog safely in place
• Canine nail clippers
• Shampoo that is appropriate for your dog's coat and washing frequency.
While owning the tools is a great first step, it's crucial that owners know how to use them. "It's not just about the products. It's the training on how and when to use them that is the key," Sillince says.
How to clip nails
"When clipping nails, it is important to know about the nail itself first," says Emma Wale. "All nails have a quick [blood vessel] inside the nail. This is the part you want to get as close to as possible, without actually cutting it." You should use a good-quality pair of canine clippers and have some styptic powder on hand in case of nicks.
With white/clear nails you will be able to see the point at which the blood vessel ends. For good measure go 1 to 2 mm past this and clip confidently and decisively.
"Black nails are a little harder," says Wale. "Take the hook [hollow end of the nail] off first. I would usually leave black nails at this, and get your groomer to do the rest. If you wish to go a little further, the middle of the nail will contain a darker black circle. Cut off very small sections until you get to a lighter spot in the centre of the nail. This is as far as you can go without cutting the quick." Finish off by filing the sharp nail with an emery board, making sure to hold the nail still.
If your dog is distressed or struggles at any point, stop immediately.
Weird and wonderful
With owners willing to spend anything on their dogs, it's no surprise that there are some pretty extravagant items available for the home groomer.
Regular old slicker brush not cutting it? How about a $250 made-to-order Rhinestone brush? www.bitchnewyork.com
Sick of cleaning up hair after a de-shedding session? This grooming tool sucks the hair away instantly. www.dyson.com
There's nothing like a designer scent to complete a grooming session. A quick spritz of this will have Rover smelling heavenly. us.mungoandmaud.com
And, finally, to make sure your dog is snug and warm, how about wrapping it in its very own microfibre bathrobe. www.bloomingtailsdogboutique.com
A word about de-matting
"De-matting is something that is too dangerous to do at home," says Emma Wale. "When it comes to mats and de-matting, it depends on the area and severity as to whether your groomer will de-mat or clip it out."
Here are just a few things that can make life with your dog a bit easier - see them now on our
DOGSLife Directory