July 21st, 2016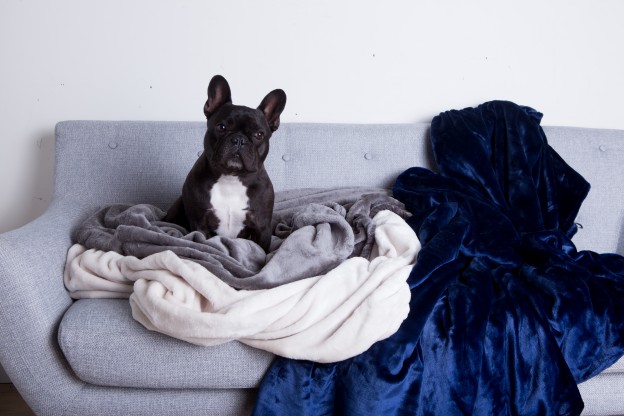 According to a recent poll conducted by online homewares retailer TheHome.com.au, 40 percent of Australian pet owners said their furry friends have destroyed home décor or a piece of furniture.
However, according to the TheHome.com.au's stylist Emma Blomfield, having a naughty pet doesn't have to hold you back from having a beautiful home.
"There are simple yet stylish ways to pet proof your home, including choosing furniture in fabrics and textures that aren't too delicate, opting for pet furniture in colours that match your home and using throw rugs to cover the areas where your furry friends love to sit," she said.
Here are Emma's top tips for a stylist and pet-friendly home:
Choose fabrics and textures that aren't too delicate
Purchasing a sofa when you own a pet is similar to purchasing a couch when you have small children. Think about the durability factor – if you're in love with a light leather colour or a light fabric colour, think again!
Throw rugs are your best friend
If your furry pal has a tendency to hop up onto the sofa try and encourage them to sit on a throw rug instead of the sofa itself. That way you can chuck the throw rug into the wash and keep the couch (relatively) clean!
Colour match the pet props
Pets come with a lot of 'stuff' so try and purchase the most stylish options in colours that suit the colours of your home. For example, my home features a lot of soft neutral tones so the dog's bed is a similar colour and blends in rather nicely.
Get fur-friendly flooring
Opt for floorboards, vinyl or tiles over carpet for the living areas where your pets spend most of their time. These surfaces are a lot easier to keep clean (vacuum, mop or sweep) rather than carpet. You'll also see the hair more easily and you'll be prompted to tidy up more often when it's visible!
Downplay the décor
Keep knickknacks to a minimum. If you like to display trinkets, have them up high and out of the tail swishing radius. Arrange knickknacks on a tray in the middle of your coffee table so they can't be as easily knocked off. 
Ruff rugs
Opt for man-made materials when it comes to floor rugs, these are often more forgiving than natural fibres like cotton and wool that tend to absorb spills. Most man-made materials like acrylic or polypropylene are spill resistant.
Here are just a few things that can make life with your dog a bit easier - see them now on our
DOGSLife Directory