June 15th, 2008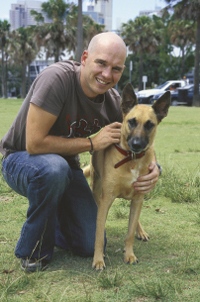 Dave Rabbit speaks to Nadia Crighton about his four-legged best friend, Fish
It is always refreshing to meet celebrities who love their dogs. Its even more refreshing to learn the dog is a much-loved member of the family. For Dave Rabbit, the popular host on hip radio station NOVA 96.9FM Drive Show both of these statements are very true.
Meet Fish, a five-year-old Rhodesian Ridgeback X. Fish is a Ridgeback X, or so it says on her papers, Rabbit tells Dogs Life. Although she doesn't have the ridge down her back, she's the colour of a Ridgeback. We figure shes been crossed with a German Shepherd as you can see it in her face.
Dave has been in the radio business for the past 16 years and is better known to his listeners as Rabbit. He started working for NOVA four years ago and today, thousands of Sydneysiders listen to his top-rating afternoon show as they make their grueling way home from work in the infamous Sydney traffic. But what many don't know about this very popular Sydney voice is that he loves dogs.
We've always had dogs in the family. We used to have a big fat black Labrador called Sam, Rabbit remembers. At the same time I was born I think my parents were a bit disappointed so they got a Labrador! He made it to 13 years old and he loved ice-cream. Rabbits affiliation with dogs didnt stop there. When he moved out of home he became the proud guardian of a Staffy X Labrador, you know, a Labrador that would hang from your sleeve as you walked down the hall!
Finding Fish
The RSPCA is well known for saving animals and fighting for the freedom and rights of our pets. However, this fine organisation can also lay claim to introducing many people to their loving companions. After being abandoned as a young pup, Fish and her siblings ended up in the care of the RSPCA. Until one fine day when Rabbit went in search for his Fish!
We turned up at the RSPCA and looked in the cages. We were trying to decide between two other pups that were running around like nutters, Rabbit recalls. Fish, at the time, was curled up at the back of the cage completely unaware of her siblings hyperactive attempt to get a family.
The lady asked us what we thought about the pup down the back and we were like well, it just sits there like a sad little sap and the lady said, No, no, shes really quite sweet. With that the RSPCA worker walked into the cage and returned holding the small, shy pup. The lady put the puppy in my arms and she peed all over me! I thought, how cute, she was so excited she peed herself! From then on it was love at first sight, or should we say love at first pee!
When it came time to name this new little bundle of fur, Rabbit didnt have to go far to find some inspiration. We got Fish from the RSPCA the day we moved up to Cairns from Griffith, were I had been working for a couple of years, Rabbit tells Dogs Life. There was a guy in Griffith who used to ring up the show quite often and he was a really funny guy; his name was Fish. Actually, his name was Les McRae, but everyone called him Crayfish, so we called him Fish.
Les or Fish became a personality on the show for quite some time, but Rabbit and his team didnt realise that Les was actually suffering from kidney trouble and was hooked up to a dialysis machine. After a few months of knowing him we found out that he was on dialysis and he couldnt go anywhere or do anything; he was at home hooked up to a machine 24hours a day.
Rabbit and his team (not to mention the listeners) loved doing fun things with Les, even organising a surprise breakfast date with the newsreader he had a crush on. When it came time to leave the show, Rabbit called Les to wish him all the best for his future. At the time, Les was also preparing to leave and was heading off on his first trip in years.
The day before I was leaving Griffith, we called him up to wish him a great time and to tell him that I wouldn't see him because we were moving up to Cairns the next day. Then we sadly got a phone call from his mum to tell us that he had died, Rabbit says tearfully. So we named Fish after Fish.
Probably the best thing about this story is that Rabbit and his radio team were able to realise the full impact they'd had on Less life. The doctor had said many times that the reason he was still ticking along was because of his involvement with the show, Rabbit says with a smile.
Fishin with the family
Fish also has a new friend in the family, and no its nothing that's furry or has four legs! In fact, Rabbit and his lovely wife have just become the proud parents of baby Jordan. So how did Fish take to the new family member, especially after being an only dog for so long?
She gets along really well with Jordan, says Rabbit. You can see that Fish still struggles to figure out what Jordan is and she loves to have a go at licking his face when she walks past. But they get on really well. Jordan even goes for rides on Fishs back!
The only hurdle seems to be getting Jordan to understand what Fish is. After all, in years to come, asking your teacher if you can bring your fish in for show and tell, but your fish has four legs and a tail, could make for some interesting thoughts!
It becomes crystal clear after speaking with this popular radio host where his heart is. Sure, he loves his job and has a huge passion for anything to do with music and radio. After all, Rabbit gets to rub shoulders with the hottest people in the music industry. We interview pretty much every celebrity that comes to Australia with something to flog and theyve always got great stories to tell, he boasts. But clearly, behind the fast cars, cool clothes and hip exterior (not to mention friends), Rabbit is a down-to-earth family man who prides himself on his private home life and birth of his son. Not only that, he adores his dog, something that was obvious after seeing Fish and Rabbit interact in person.
Chillin' with Fish
The minute Fish arrived at the interview Rabbit became completely pre-occupied. A medium-sized dog poked her head around the corner from behind a row of cars. Rabbit, hollered FFFFIIIIISSSSSHHHHHYYYYY from across the park. After checking out a few possible left-over snacks in the dirt, Fish caught sight of Rabbit and bolted across the park, tail wagging and ears happily pinned back. This dog is very well loved!
The car harness is a clear indication that even when travelling small distances, Fish's safety and wellbeing are well considered. Rabbit subconsciously gives Fish a reassuring pat and a quick hand brush before setting her up in front of the camera. She sits happily gazing up at her leader, wondering what all the fuss is about and who this silly lady is with the camera. Unaware of her dads celebrity status, this is just another walk in the park for Fish, with the hope of scoring some of dads sandwich.
One thing that struck me about Fish is her gentleness. She is very happy and well socialised, stopping along the way to politely sniff another dogs butt in the hope of a quick play between shots. Rabbit snaps on her lead and she patiently walks alongside him. According to Rabbit, this wasn't always the way, as Fish was well known (like many doggy cousins out there) for pulling her leaders down the path! Now that she is walked consistently every day, the pulling on the lead issue has ceased.
Shes probably the fittest dog in the world! Rabbit exclaims. Shes out and about at five-o-clock every afternoon with all the other dogs and owners down the park. Its almost like a club all the dog owners bring their dogs down and let them off their leads while we stand around and talk. She does that for about an hour every afternoon.
Now, we all think our dogs are special, but what makes Fish so special to Rabbit? Its just her nature, shes practically human, he laughs. Shes one of those dogs who just understands you and is incredibly smart my little sweetie!
Who says a Rabbit and, Fish can't be the best of friends?
At the same time I was born I think my paretnts were a bit disappointed so they got a Labrador! The lady put the puppy in my arms and she peed all over me! I thought, how cute, she was so excited she peed herself!
Here are just a few things that can make life with your dog a bit easier - see them now on our
DOGSLife Directory