July 2nd, 2014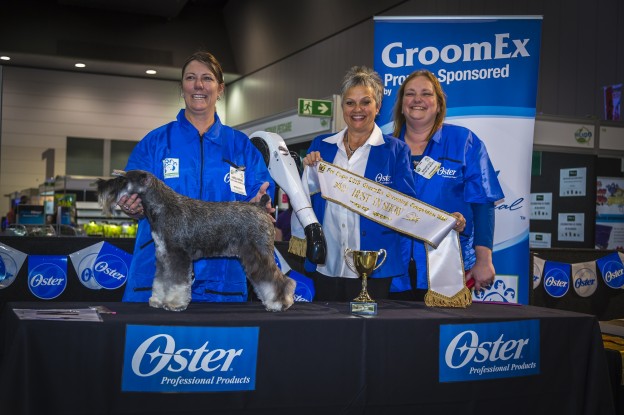 It's not every day you see a Shih Tzu turn into My Little Pony or a Poodle become a colourful Chinese dragon. But that's just the beginning of what is created by Australia's top dog groomers at GroomEx, the crème de la crème of grooming competitions organised annually by the Pet Industry Association of Australia (PIAA), writes Caroline Zambrano.
Last year, GroomEx was held at the PIAA's trade-only Pet Expo at the Melbourne Convention and Exhibition Centre and attracted novice and experienced groomers from across the country. The contest was judged by world-class American groomer and speaker, Judy Hudson, who also delivered workshops on skincare and award-winning styling techniques. Hudson is a national certified master groomer and certifier for the National Dog Groomers Association of America, as well as the ambassador of GroomEx's sponsor Oster Professional Products.
Groomers also had the opportunity to expand their knowledge and business by attending a one-day course about the potential of massage, presented by Dr Sandi Rogers, a qualified medical herbalist, naturopath, reflexognosist, lecturer and massage therapist, who is also the founder and chief executive officer of the National College of Traditional Medicine.
PIAA Grooming Director Karen Swan says every year GroomEx attracts new groomers from around Australia and last year's event was no different, reflecting a strong growth in the industry. "Participating in GroomEx gives groomers a sense of pride and achievement which they take back to their salons," she says. "It also gives them an opportunity to become more artistic. Last year, I was particularly impressed by the beautiful and unusual Asian-inspired 'fur styles' distinguished by the teddy bear-stylised heads and flared legs. This is another up-and-coming unique style of grooming hitting our shores."
Over two days, GroomEx featured ten grooming competitions, including Salon Freestyle, Purebred Scissors, Creative (Open and Master's Level), Nail Art, Asian Inspired, Terrier & More, Gundog, Poodle and the finale — Best in Show. International Certified Master Groomer Vanessa Parsons from the Gold Coast won Best in Show with her Miniature Schnauzer. It's a feat that she can now cross off her bucket list.
"Winning Best in Show at the Pet Expo was overwhelming. It's an accolade I've dreamed of winning and worked really hard to get to this point. I've been preparing for 12 months," says Parsons, who is a Queensland Royal Champion Groomer and owner and breeder of Miniature Schnauzers. It could also be the lucky white socks her daughter picked out for Parsons to wear. It worked for when she took out four categories, including Best in Show, at the Brisbane Ekka's Royal State Champion Dog Grooming Show organised by the PIAA last year.
Victorian groomer Sheridan Meyles won the People's Choice Award as well as the Master's Creative, in which she skilfully transformed a Poodle cross into a Chinese dragon. She had created "a buzz" when she became the Open Creative winner at the 2010 GroomEx by turning the same dog into a Bumblebee. "It's the first time I've entered the Master's Creative, which has very high standards," says Meyles. "I put more pressure on myself to step it up with months of preparation and it has paid off. I'm also thrilled about winning the People's Choice Awards!"
Victorian dog groomer Sarah Lowe wasn't "horsing around" when she took out the Open Creative category by turning a Maltese Shih Tzu cross into a purple, pink and blue My Little Pony. "This is my second time competing in the Open Creative. (At GroomEx 2012) I got second place and came back for the trophy," laughs Lowe. "I just went in thinking I would do my best and I felt this was the best I've done on this dog. She looks really cute."
GroomEx is certainly the cream of the crop and groomers come from around the country to compete. Many groomers agree that it's a great environment for novice groomers to learn from the best. "It's a friendly competition where all groomers really support each other," says Meyles. Also, the work and effort all the groomers put in and the money spent leading up to GroomEx is astronomical, says Parsons.
"Sometimes, when you're grooming you scratch your head and wonder why you're doing it. It's because of the camaraderie and the fun we have with all these great groomers," says Parsons, who also celebrated her 40th birthday at GroomEx with a surprise gourmet cake from her colleagues. "It is also because it's a learning curb each time, as we are given critiques from our knowledgeable judges, which help us for our grooming also."
Swan from the PIAA says GroomEx organisers are continuously looking for change and to try different things when it comes to showcasing the artistic flare and talent of Australian groomers. Perhaps at the next GroomEx the "creative dogs" will actually fly, neigh and breath fire?
For more information about this year's GroomEx, visit piaa.net.au
Pet grooming growing fast in Australia
Grooming is one of the fastest growing sectors of Australia's pet industry, with consumer expenditure on dog grooming at more than $204 million (2009) and number of pet groomers more than doubling over the past decade. The average owner wants the full grooming treatment for their pet, including bathing, blow dry, styling and even coloured nails, says Karen Swan, Grooming Director of the Pet Industry Association of Australia.
"Grooming is becoming more popular because dogs are increasingly being embraced as valued members of the family," Swan says. "Pet owners are also demanding a higher standard and want groomers with formal qualifications and attending professional development, which is great for the industry."
Winners of GroomEx 2013
The Pet Industry Association of Australia is proud of all the competing winners at GroomEx 2013. For a list of winners in each grooming category, visit piaa.net.au
Here are just a few things that can make life with your dog a bit easier - see them now on our
DOGSLife Directory