October 22nd, 2014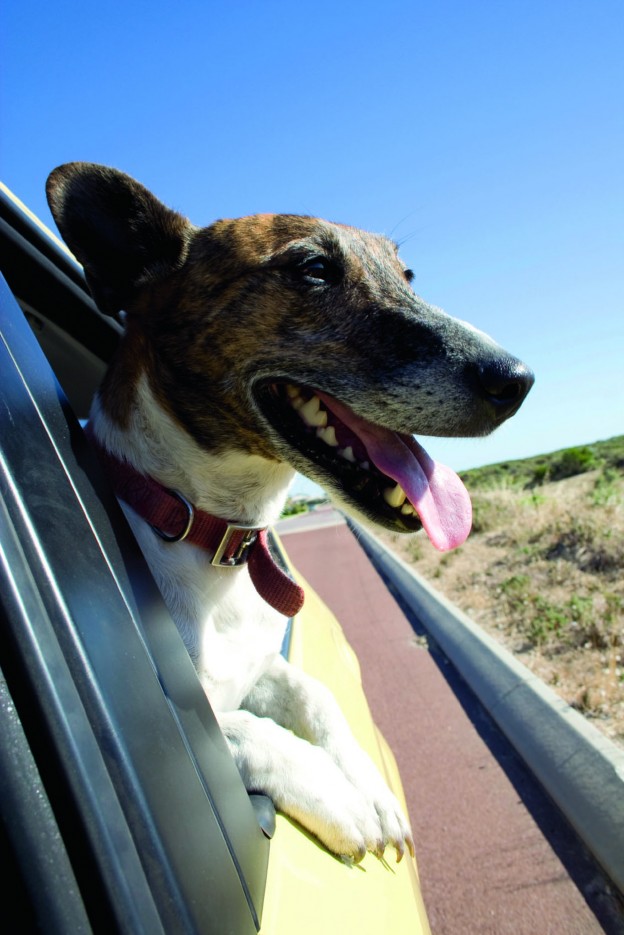 Did you know some cars suit your pet's needs as well as your own? Kylie Baracz finds tips on choosing a dog friendly car.
The car industry makes vehicles to suit our everyday needs, from large families to single drivers. Now, car manufacturers are turning their focus to our pets, ensuring they also have a comfortable and safe ride.
Robert McDonald, NRMA Insurance Head of Research and long-time owner of Border Collies, has helped pick out five features you should look for when it comes to your next car purchase.
Large boot
Even if you have a small dog, a large cargo area can serve a multitude of purposes. As a dog owner, you need to be able to load up the car with items such as a leash, portable water bowl, food and treats, towels, blankets etc, so a large boot can accommodate all these items and more. Another handy feature, if you can get it, is a hands-free liftgate (featured in Ford models) where you just swipe your foot under the sensor and your boot will either open or close without you having to find the keys, or use your hands, as long as you have the keys in your pocket or handbag!
Space
Large cars such as SUVs are perfect for dog owners with bigger dogs such as Labradors, Great Danes and Border Collies. Just a quick jump up (or you can get a ramp for those needing the extra help!) and they are ready for that next adventure. Many large dogs may not fit in the back seat but this can be avoided by making sure they are secure in the cargo area (in hatchback-style cars, not sedans) by clipping their harness into child restraint clips or luggage tie downs. McDonald suggests tethering dogs travelling in the cargo area to the rear of the compartment, so they avoid hitting the back seats in a collision.
Low to the ground
When looking for the perfect dog-friendly car, look for cars that are lower to the ground, especially if you are shopping for a large car such as an SUV or 4WD. Jumping up into the back seat or cargo area of high cars is not recommended for dogs with sore or sensitive joints, however, sometimes they are too heavy to lift into the car. Besides getting a ramp (as mentioned previously), cars such as the Ford Kuga are slightly lower than other large cars, which accommodate these dogs as well as young children.
Hard-wearing upholstery
Finding hard-wearing fabric can be difficult as both cloth and leather have their benefits and challenges. Leather is easier to clean; however, it gets scratched with dogs' claws as they get in and out of the vehicle. Cloth is great when it comes to scratches, yet gets dirty easily and is harder to clean. McDonald suggests protecting your upholstery by using rugs, bedding, towels, or specialised pet mats which can be attached to the back seats. Saves the sandy mess after running around at the beach!
Safety
As you would for children, shop for cars that have great additional safety features. These can include:
• Emergency assistance
• Dynamic stability control with ABS
• Electronic brake assist
• Single stage driver and front passenger airbags and side curtain airbags (front and second row)
• Seat belt minder (front and rear)
• Active city stop (low speed collision mitigation by braking)
• Adaptive cruise control
• Blind spot information system
• Lane keeping aid
• Lane departure warning
• Auto high-beam control
• Driver impairment monitor
Harnesses
A good harness for dogs is essential when travelling in the car. So which one is suitable? McDonald, worried about his dog's safety in the car, decided to test popular dog harnesses in an NRMA Insurance road test.
The test revealed that many pet harnesses on the market are not effective in restraining pets in common low speed collisions.
"Our tests showed that an unrestrained pet sitting on the back seat of a car can hit the dashboard with enough force to cause serious injury, even at a collision speed below 20km/h," says McDonald.
The organisation tested a variety of dog safety harnesses using life size and correctly-weighted dog "dummies" at speeds of up to 35km/h, and of the 25 pet harnesses tested across a range of manufacturers, all but two failed to restrain the "dog" due to the use of weak plastic buckles similar to those used on most backpacks.
The only two harnesses that didn't fail out of the total 25 were the Purina Roadie harness and the Sleepypod Clickit harness. Unlike the other harnesses, the adjusting buckles and webbing stood up to both the 35km/h drop test and in-car low speed crash test of up to 20km/h.
"Most people using the commonly available harnesses are doing so in a genuine attempt to keep their pets safe. However, our testing has unfortunately shown that most harnesses, while effective at restraining pets, are not safety devices and do little to prevent injury in a common low speed crash," says McDonald.
As the Purina Roadie harness is more suited for small to medium dogs, the company is working with the NRMA to expand the range.
"We would like to expand the Roadie range for over 35kg dogs," says McDonald.
**Note: The testing was conducted by dropping weighted harnesses at speeds of up to 35km/h. The in-car testing was conducted using a specially modified crash test car at speeds of up to 20km/h. The tests were completed at the NRMA Insurance Research Centre in Sydney.
Here are just a few things that can make life with your dog a bit easier - see them now on our
DOGSLife Directory