August 16th, 2016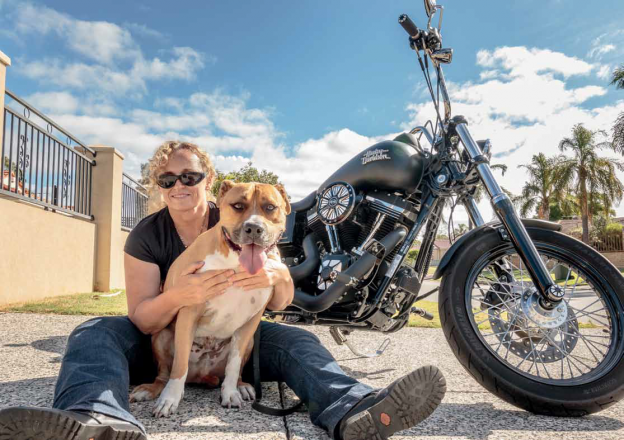 What do motorbikes and rescue dogs have in common? Caroline Zambrano finds out when she meets Western Australia's Bikers on HOGS for DOGS group, who are making a difference for rescue dogs.
If you love Harley-Davidson motorbikes and dogs, then look no further than Bikers on HOGS for DOGS. They are a group of Harley-Davidson motorbike riders in Western Australia who run fundraising events for dog-rescue organisations.
Bikers on HOGS for DOGS is the brainchild of Jen Adams, a personal trainer, photographer and canine welfare advocate in Perth. Jen is a long-time motorcycle enthusiast and connected to the biker community, enjoying riding Harley-Davidson motorbikes along with her partner Darren Duthie. She even named her American Staffordshire Terrier dog Harley after the Harley-Davidson!
Sadly, Harley was attacked several times by other dogs in his younger years and this has made him reactive and mistrustful of other canines. When Jen wanted to foster or adopt another dog, she realised Harley wouldn't be happy so she came up with an idea that would help not just one dog, but many others, and bring the biker community together.
"Most people don't know that bikers are very community-focused people and are always fundraising for various causes," says Jen. "We want to use our passion for riding in a way that can help dog rescue."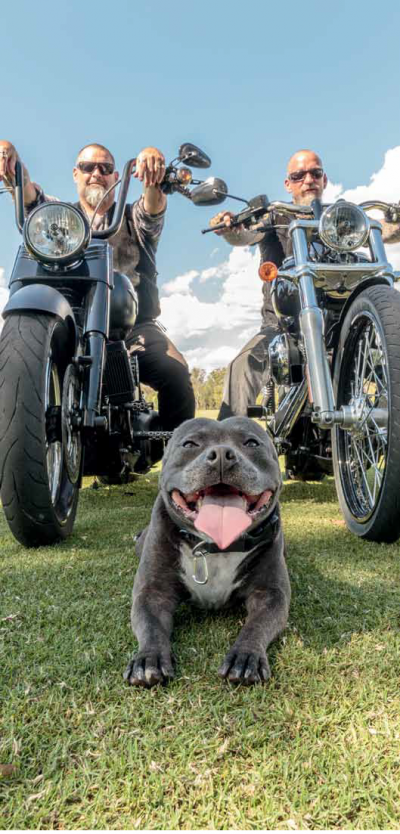 Why is rescuing dogs important?
Members of Bikers on HOGS for DOGS love their Harleys, but love their dogs more and stand up when they see an injustice occurring. A few years ago, Jen led a campaign run by Western Australians Against Breed Specific Legislation (WAABSL) that opposed new amendments to the WA Dog Act 1976, which upgraded the restrictions to American Pitbull Terriers. She and a number of anti-BSL supporters lobbied the WA government to focus more on responsible dog ownership instead of vilifying certain dog breeds. "As the campaign evolved and laws were passed, we were happy to have achieved changes to two amendments," she said.
The campaigning then led Jen to delve deeper into the reasons why dogs were surrendered. "Besides unavoidable circumstances, such as losing your job and moving to a property not allowing dogs, people are failing to train dogs from an early age and once they reach adulthood they become unmanageable and are surrendered to pounds and shelters because it is the easy way out. Backyard breeding is also creating so many issues, with dogs being homed to the wrong people, contributing to surrenders," she explains.
Bikers on HOGS for DOGS events
Bikers on HOGS for DOGS encourage everyone to attend their events and help to raise much-needed funds for dogs in need. "People don't need to have a Harley to participate in the events. They are for everybody, whether they have a motorbike or a car. It's about the dogs," says Jen. For those who cannot attend the events in WA, they can support the group's fundraising efforts by purchasing their 2017 biker and dog-themed calendar.
For further information on events and other fundraising projects, visit facebook.com/Bikersonhogsfordogs or email bikersonhogsfordogs@gmail.com
Want to read more? This story was originally published in DOGS Life issue 138. Purchase the issue or subscribe to the magazine here.
Here are just a few things that can make life with your dog a bit easier - see them now on our
DOGSLife Directory