February 27th, 2015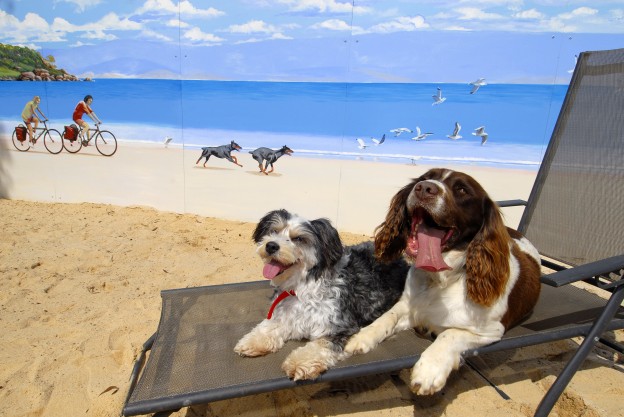 Katie Cincotta sniffs out the best homes away from home for your happy hound.
Lavishing our canine companions with VIP treatment is nothing new. We might think it's been the domain of 21st century pets that has risen to the ranks of family fur kids, but it's been going on for hundreds of years – kings, queens, and high society decreeing that our most precious four-legged friends be afforded first class service.
King Charles II of Spain was one of the greatest exponents of pampered pooch-ism, changing the law to allow his Cavalier King Charles Spaniels privileged access in the kingdom, and in his Royal bedchambers.
Victoria I, Queen of England, was so enamoured of her dog, Dash, she wrote him a beautiful poem upon his passing: "His attachment was without selfishness; His playfulness without malice; His fidelity without deceit."
The rise of luxury pet boarding is offering newfound dedication and devotion to our dogs when they're away from home, creating a new breed of high-end accommodation for hounds.
A far cry from tiny concrete pens and anxious howling mutts behind bars, smart operators have realised there's a demand for five-star stays, places that do so much more than just housing your animal while you're on holiday. These upmarket bastions of hospitality set out to spoil, play, cuddle and protect your furry friend just like you do, getting to know their personalities to help them have a ruddy good time.
The benchmark for boarding has never been higher, with discerning operators keen to allow clients to truly relax on vacation, knowing their pet is being given the full suite of love and attention.
"You want to know that your dog is being cared for to the highest standards. It's about being proactive, it's about customer service, it's about putting the animal first," says Cory Andrews who runs the Dogs Country Club and Kennel Resort in Baxter, Victoria with her husband Paul.
It's the reason this couple renovated their property for over five years to include insulated and soundproofed rooms which keep a comfortable temperature, and reduce the noise to the dogs during thunderstorms or fireworks. The five-star pet hoteliers have created more than 10 types of accommodation for their four-legged guests, elevating canine boarding to more exacting standards.
While the average boarding kennel lets dogs out to run for 10–20 minutes a day, the Dogs Country Club lets its guests run free across its large grassed paddocks for much longer, and sometimes more than once a day, often doing pack play for dogs who get along, with fresh air and frolicking in the great outdoors.
"It's always under supervision and we individually assess the need for exercise, from the geriatric who just wants to potter in a quiet corner, to the active dogs from massive properties who are used to lots of exercise," says Andrews.
Prima donna pooches are suitably put up in the Luxury Paws Penthouse Retreat, which is decked out in glamorous chaise lounges, a suspended 32-inch flat screen TV, automated drinking founds and a large private play yard. For $70 to $110 a night, the penthouse treatment also includes lots of cuddle time with the resident staff – all experienced animal handlers who are aptly named "Doggy Doters".
A more thoughtful approach to pet boarding includes special care for old and sick dogs, and dogs with anxiety issues, diabetes or epilepsy. At the Dogs Country Club, old-timers have their own cabin quarters specially designed to cater for their lack of mobility and senses, the floors lined with custom anti-bacterial turf – Canine Grass – that instantly drains liquid so there's no worry about toileting accidents.
Chart notes about medication, weight and which friends a dog has played with showcase a genuine focus on the animal's health and wellbeing – it's not just about providing shelter and nutrition, but keeping dogs relaxed, happy and stimulated.
"The best holiday a human will have is if their needs are met, and a dog is exactly the same. You can't put an introvert in with an extrovert, a big dog with a little dog, it's just wrong," says Andrews.
Hanrob Pet Hotel's founder Andrew Biggs says after 35 years in the pet boarding industry, he's witnessed firsthand the evolution to five-star stays.
"Boarding kennels were once a place to just house pets safely for when their owners needed to go away. We have evolved based on the changing needs of our customers and have created a 'pet hotel' model where pets can also have a great time on holidays. Our furry guests can enjoy walks along the lakeside, luxury suites, beautiful large play areas, group playtime and even dog training. All of these wonderful unique pet experiences keep our guests entertained whilst in our care."
Biggs says owners with "fur kids" regard them as their children, which has led to the use of technology to help customers stay connected to their family member through Skype video calls and photo updates on Facebook.
"Seeing their pet having a great time and talking to our staff definitely eases the minds of our pet parents. Our Facebook page is used to keep our customers informed on how little Fluffy is going and what he is getting up to on his holiday," says Biggs.
While you're sipping cocktails by the pool, your buddy isn't far behind you, with some pet resorts like Hanrob and Kepala Pet Resort in Diggers Rest equipped with indoor and outdoor pools.
Kepala has designed a solar heated lagoon-style pool to mimic the natural environment with grass, rocks, sand and trees, and has a shallow entry so dogs can wade in.
Hanrob's man-made beach and climbing equipment is so popular, they've had to launch a doggy day spa to go with it. Serious play can get messy, but after your precious pup has been lathered up with aromatherapy shampoo, and given a gentle blow dry, they'll be sparkling clean to be escorted home in a limo.
Because the last thing you'll want to do when you get off the plane, and reunite with your darling dog, is have to stress over muddy, matted fur because Bella's new boyfriend introduced her to "kiss chasey" and the tennis ball.
Here are just a few things that can make life with your dog a bit easier - see them now on our
DOGSLife Directory