February 10th, 2014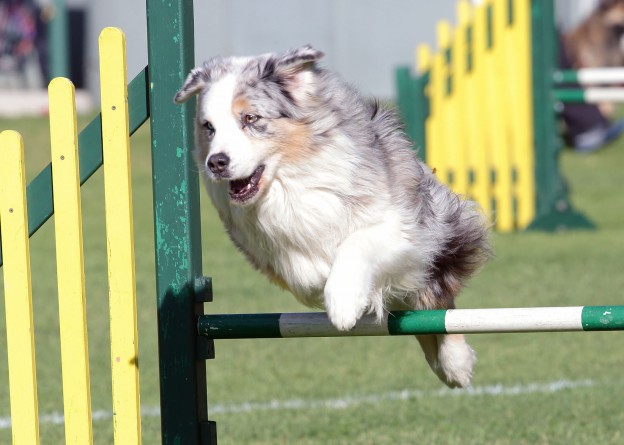 Danielle Chenery is on a mission to hunt down the best dog related courses Australia-wide. From massage to doggy preschool, she talks to those in the know about which courses are a must for any responsible dog owner.
The biggest benefit of undertaking any dog related course is the bond it fosters between owner and dog. Courses give owners insight into the how, what and why of their pooch's minds, and give owners more confidence so they know how to care for their dog in the best possible way.
When it comes to deciding which course is best for you and your canine companion, it's important to narrow down what you are trying to gain from the experience. Owner and operator of Canine Services International, Brad Griggs says, "In the days of YouTube, people think everything will work for them, but there is often very little point in your average dog owner going to certain courses, for example for high-performance sporting dogs. While they will learn things, it is not the best investment for them.
"It's best to look at what the learning outcomes of your chosen course will be – make sure you ask the course provider," he says.
Online as well as face-to-face options are available for many courses and, again, it depends on what you are trying to achieve. "People need to look at exactly what they are after and figure out how it will help them – online might be limiting for learning certain skills," says Griggs.
"With [dog education] being such a flooded marketplace, I think the first place people need to look is at the qualifications and skill sets of the people they are dealing with. Look beyond the marketing.
"Wanting to learn more comes from the right place, but bad information is more problematic than no information at all," warns Griggs.
"But any input from a qualified professional, and seeking information on balanced training techniques and learning how to communicate with your dog is a prudent investment that will pay dividends later," he adds.
After doing some research, the top categories of courses include canine first aid, massage and grooming, and behaviour.
Canine first aid
Many dog owners have been able to save the lives of their beloved pooch thanks to the knowledge they gained from undertaking a first aid or CPR course designed for dogs.
Dr Elise Vogt, veterinarian at Animal Aid says, "Taking a first aid or CPR course for pets is a fantastic idea. It can make a great deal of difference to your pet's recovery process once they arrive at the vet clinic," she says.
Toni Barnes, owner of Paws 4 Effect, agrees that dog first aid courses are essential. Her grooming clinic offers basic first aid classes that run for a whole day. Barnes also includes sessions on the highly contagious parvovirus and the antibodies that cause diseases as well as information on vaccinations and how they work. Based in Sydney's Pittwater area, a tick prone area, her clinic also provides information on tick prevention.
Kim Dean from WA Dog Grooming and Clipping Academy learnt firsthand the value of Dog CPR. Two weeks after she undertook a CPR course, she saved a dog in her salon. "A little Chihuahua coming in for a nail cut was quite traumatised. The dog had been through distress as its owner had died and the new owner was obviously wary to pick him up because the dog was quite snappy.
"I tried to calm him down, and I managed to get his nails cut, all while he was trying to aggressively attack. But the owner ended up stopping the dog's breathing by keeping too tight a grip on his neck.
"The dog collapsed so I had to do mouth to mouth. I just knew it was what I had to do.
"It worked, the dog woke up and we put him on the floor. At first it was like he'd had a couple of brandies but then he started attacking again like nothing had happened!
"That experience taught me everyone needs this training," says Dean.
Massage and grooming
You can learn how to properly groom your dog either through TAFE or through a multitude of private operators. Many dog-grooming salons teach owners the basics of grooming through short courses.
"Caring for your dog's coat should be, at a minimum, a weekly routine. It is important to start grooming your puppy from as young as possible to get them used to being handled and brushed. There is a right and a wrong way to brush a dog, so taking a short course in dog grooming is an excellent way to start," advises Dr Vogt.
Although if you don't have the spare funds, Griggs says that you can ask your groomer for general advice. "For most breeds, grooming is quite straightforward – going to the groomer once and getting advice can be enough to get through," he says.
Courses on dog massage are a little less abundant, but TAFE offers an Animal Massage and Natural Therapies course at Richmond, NSW. There are also courses available at private colleges, but these options can be more expensive.
"Basic courses in dog massage are a wonderful idea," says Griggs. "If your dog doesn't take joy from your touch you need to deal with it. Massage releases oxytocin and can help dogs calm down," he adds.
Barnes says, while her clinic doesn't train owners in massage, they do perform pet therapy. "I love it. It's great for old dogs with arthritis. It gives them more freedom, gets blood circulating, and they love it – they lie on the ground and want more," she tells.
Dr Vogt agrees that learning dog massage is a great idea. "Any activity that encourages positive interaction with your dog is something to be encouraged," she says.
Behaviour
Taking your dog to 'preschool' is a good investment. Barnes, who is a Delta accredited trainer, says it helps dogs become more sociable.
"We run two classes – puppy school and dog pre-school. For puppies, it's the beginning of socialising. We teach them 'sit and come'. Owners learn how to see their puppies play properly and learn about them. It's also an introduction to other dogs and toilet training.
"For adult dogs, it's more about obedience and control – sit, drop, stand, dog coming back, walking on its lead properly, socialisation and how a dog thinks."
Dr Vogt adds, "Learning about your dog's behaviour and body language is an important part of responsible dog ownership. I believe it is something all dog owners should do in order to better understand their dog, how they are feeling and pre-empt what they are likely to do.
"Dogs tell us so much through their body language. Their tail and ear position, type of eye contact and general body posture are all measures of a dog's state of mind, and many dog owners are completely oblivious to these key messages. Failing to recognise these important signals can result in unfortunate and preventable incidents, as well as minor incidents at the park or in the backyard," she concludes.
Helpful links to doggy courses
Check out the following websites for more information:
Pet First Aid Courses
Pet Tech www.pettech.net.au
Doggy and moggy first aid courses www.doggyandmoggy.com.au
Grooming and massage
TAFE NSW www.tafensw.edu.au
Australian Dog Grooming School www.australiandoggroomingschool.com.au
WA Dog Grooming and Clipping Academy www.wadoggrooming.com.au
Behaviour
Spot Puppy Classes and Dog Training www.spotdog.com.au/joomla
Canine Services International www.k9services.com.au
Here are just a few things that can make life with your dog a bit easier - see them now on our
DOGSLife Directory