July 13th, 2016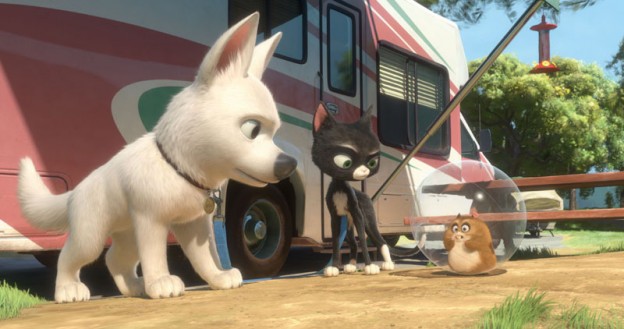 There's nothing like the warmth of a puppy on a cool winter's night!
Cook the popcorn and snuggle up to these doggy flicks with your four-legged snuggle buddy.
Red Dog, 2011
This comedy drama is based on a true story and follows the one of Australia's favourite dogs in his quest to find his long lost owner.
Marley & Me, 2008
Grab the tissues for this one! The Grogans adopt Marley, an adorable yellow Labrador pup. But Marley soon grows up to be a mischievous handful. Still, even while he's destroying the furniture and failing obedience school, he always manages to bring out the best in John, Jenny and their growing family.
Lassie, 2005
Lassie is probably the dog every other dog looks up to if they watched movies. Lassie is pretty much the perfect dog and a classic story.
Beethoven, 1992
Speaking of classic stories, Beethoven  is another must-watch movie for dog lovers. Beethoven is a slobbering St Bernard who becomes the center of attention for a loving family.
Beverly Hills Chihuahua, 2008
Chloe, a pampered Chihuahua from Beverly Hills, gets an unwelcome taste of the real world when she gets lost in a tough part of Mexico.
Eight Below, 2006
The frozen wasteland of Antarctica serves as the background for a tale about the bonds of friendship and loyalty between sled dogs.
Hachi, 2009
A tale of a college professor and the lasting bond he forms with a dog that he finds and rescues on a train platform.
Bolt, 2008
An animated comedy about a canine superstar who believes his powers are real. When Bolt is accidentally shipped from his Hollywood soundstage to the mean streets of New York, he begins his adventure.
Dog Gone, 2008
An American comedy where a courages boy battles jewel thieves to rescue a dog.
Benji, 1974
Benji is the first film in a series of five theatrical features about the golden mixed breed dog. He doesn't need an owner, preferring to roam freely all over his friendly Texas town but when two children are kidnap, Benji springs into action.
Hotel for Dogs, 2009
After moving into a foster home that forbids pets, siblings Andi and Bruce must quickly find a home for their dog, Friday. The resourceful pair find an abandoned hotel, and with the help of Bruce's mechanical skills, turn it into a pooch paradise for Friday and a number of strays.
Here are just a few things that can make life with your dog a bit easier - see them now on our
DOGSLife Directory