July 3rd, 2016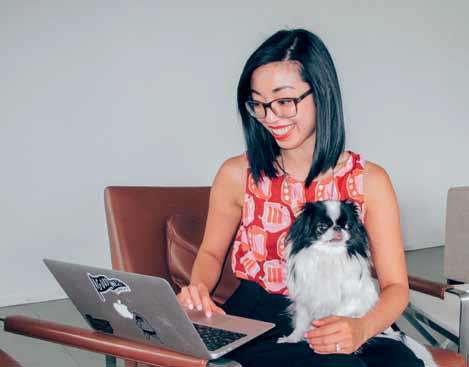 We want them by our side all the time, but just how effective is a pet-friendly workplace? Carrol Baker reports.
Has your office gone to the dogs? Across the country, many pet-friendly workplaces are welcoming four-legged woffas with open paws. And it's easy to see why. Having a pet in the workplace reduces stress levels, improves productivity and has positive effects on workers' physical and mental wellbeing. It can also benefit your dog, with lots of pats and cuddles from colleagues, going for walks during the day, and of course you get to hang out together — which will definitely put a big puppy dog grin on your dog's face. Thinking about taking your dog to work? Here are some reasons why it's a good idea.
Create a feelgood office vibe
It's a great way to improve stress levels in the workplace. Numerous studies have found patting a dog increases levels of the body's own happy hormone, serotonin. Got a stressful meeting coming up or a pressing deadline? Giving a pooch a tummy rub can instil a sense of calm, slowing your breathing and honing your focus.
At Media Giants in Melbourne, resident Labradoodle Fly has been going to work with company director Nick Place for 13 years. "It's really calming having her in the office," says Nick. "We do have a bit of rough and tumble from time to time, but she's got a good understanding of the workplace — 'ok, now he's at his computer so that means it's work time' — but if we were at the park she'd go nuts and be up for a big play."
Improved physical health
Boosting the health of office employees makes good business sense, better health means less employee absenteeism and an improved bottom line. Having a dog at work means you need to exercise it. Rosa Nguyen from Vinomofo says before they had an office dog, she was a notorious "sitter". "I was slave to my Gmail and one of many employees who ate salads in front of their monitor because I was 'so busy'.  Now it's all changed and I always look forward to my doggy walks three or four times a day," she says.
Want more benefits for having a pet-friendly workplace? Get Dogs Life issue 137 for the complete article.
Here are just a few things that can make life with your dog a bit easier - see them now on our
DOGSLife Directory