January 28th, 2009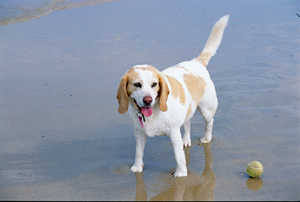 A family trip to the beach isn't complete without your four-legged friend. Laura Greaves has the lowdown on the country's best pooch-friendly stretches of sand and surf.
Its a sunny Sunday afternoon at Ocean Beach, a pristine strip of sand at Umina on the New South Wales Central Coast. The joyful barking of some 40 rapturous dogs at play fills the balmy air. The canines dart in and out of the shallows, chase well-chewed tennis balls across the wet sand and furtively mark bits of flotsam as their territory.While the dogs bask in the simple pleasure of being in the great outdoors, their owners catch up on local news and gossip, and a colourful local man strolls along the sand with a macaw perched on each shoulder.
This is a dog-friendly beach at its best: a stretch of seashore that is not only a safe space for off-leash exercise, but also a genuine community hub. Dog beaches are not only good for the dogs, but for the owners and local community, says Dr Joanne Sillince, managing director of pet owners advocacy group, Pets Australia.
Beach exercise is very good for dogs because soft sand is yielding, so they develop good muscle. Dogs that are allowed to socialise freely are also safer dogs because they get taught dog law by the other dogs. Its unwritten but immutable, says Sillince.
Swimming against the tide
But while dogs undoubtedly enhance the social capital of a community and even its real-estate values pet-friendly Strata Title properties can fetch up to $50,000 more than units that wont allow animals beaches like Ocean Beach are few and far between.
Some states are more progressive than others in terms of allowing four-legged family members access to beaches, but most coastal councils either heavily regulate this access or ban dogs from beaches altogether.
Make a difference
So what can dog owners do to help open up our beaches to mans best friend? Get proactive, says Sillince. Stand up and be counted. You have to write to the council with a polite request for a specific area [to be made dog-friendly]. Outline the value of it and the importance of social capital, she says.
And don't stop at your local council state governments also have a role to play. The NSW State Government recently passed a law allowing dogs to dine alfresco with their owners at cafes; beach access could be the next issue on the agenda.
It probably is time for state governments to look at [creating] laws to recognise the social capital that pets provide and start building it into communities, Sillince says.
To find out if there is a dog friendly beach in your neck of the woods check out page 34 in Dogs Life 105 …
Here are just a few things that can make life with your dog a bit easier - see them now on our
DOGSLife Directory