September 26th, 2013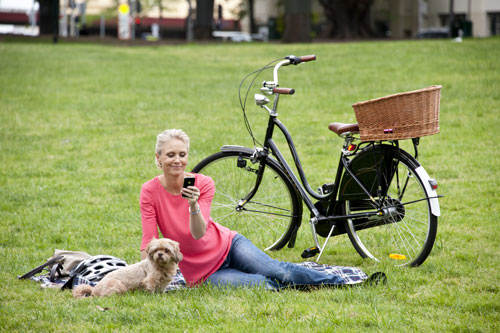 TV presenter Livinia Nixon chats with Kylie Baracz about her love for Labs, the bond her young son has with their dog, Sam, and her work as an ambassador for the "Choose Tap" campaign, an app for dog lovers.
Well-loved presenter and new mum Livinia Nixon has been gracing the small screen for over 16 years. Starring on popular shows Hey Hey It's Saturday, Temptation and Getaway, the TV veteran is now turning her attention to the environment, encouraging Australians and their pets to drink more tap water.
Ambassador for the Yarra Valley Water "Choose Tap" campaign, Nixon asks pet owners and their pooches to take advantage of the thousands of drinking water fountains, water refill stations and dog water bowls situated around Melbourne by downloading the Choose Tap smartphone application.
"As a mum, I'm always out walking with my son Henry or playing in the park," Nixon says. "To me, it makes sense to drink Melbourne's beautiful tap water rather than paying exorbitant prices for bottled water, which is more expensive per litre than petrol."
The new app, available on iTunes and Android, helps users find their nearest public drinking fountain or dog water bowl from over 1000 locations. Users can quickly add or modify information about the quality of the fountains and bowls, as well as report any faults. The app currently covers Yarra Valley Water's service district, including the utility's new water refill stations, but will soon expand to cover the whole of Melbourne.
"Being a mum, I've learnt the hard way that you need to be organised. The app helps me by highlighting where in Melbourne you can refill your water bottle with the city's best drop so you'll never be caught short," Nixon says.
When she's not campaigning, Nixon enjoys spending time with her family. After welcoming her son into the world in 2010, Nixon has witnessed the developing bond between her son and the family's 13 year-old Labrador cross, Sam.
"It's wonderful to see the relationship between my three-year-old son and Sam. Henry inflicts a lot of love onto Sam but in true Labrador style, Sam tolerates the hugs and piggy-back rides with much grace," she says.
Being an owner of Labradors all her life, Nixon has a soft spot for the friendly and loveable breed.
"We've always had Labradors in our family, complete with all the typical Labrador traits. Our dog, Gina, used to cruise down to the local school and eat her way through the kids' school lunches in their bags. Needless to say, with 25 hungry school kids, we received a few stern phone calls from the school principal," she says.
Along with Henry and Sam, Nixon spends a lot of time playing at the park and going for walks. The new mum believes it is very beneficial for children to grow up with animals as it encourages animal awareness and promotes exercise.
"We spend a lot of time at the park with Henry, so Sam comes along of course. He's quite happy to be tied up outside the playground and I always give him an off-lead walk so he can be free for a while," Nixon says. "I think dogs add a lovely, calming dimension to a family and encourage more exercise. It's also important that children are familiar with dogs and yet aware enough to be careful around them."
For more information on the Choose Tap smartphone app, visit www.yvw.com.au.
Here are just a few things that can make life with your dog a bit easier - see them now on our
DOGSLife Directory