August 23rd, 2013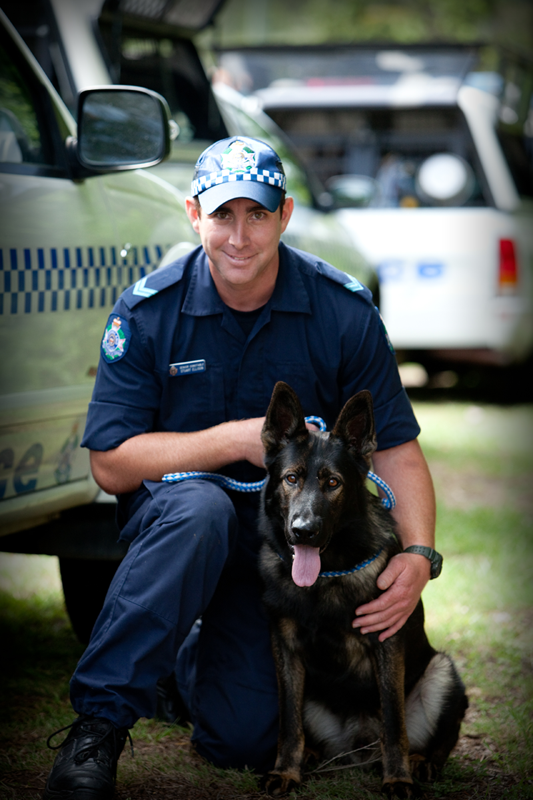 Human beings aren't the only species with action-packed jobs. Tim Falk finds out what it's like to be a real-life action hero dog.
Police dogs
Meet Edge, a four-and-a-half year old pooch who has a job with a difference. While most dogs Edge's age spend their days chasing balls, going for walks and lazing in the sun, Edge spends his days fighting crime and keeping Queensland's streets safe.
As a general purpose dog in the Queensland Police Service Dog Squad, Edge is on the front line of law enforcement in the sunshine state. "Edge and I have been working together for nearly three years," says his handler, senior constable Stuart Ellison. "Dogs and new handlers are paired together just prior to starting [the training] course, however experienced handlers who need to replace their working dogs will get a new pup from around the eight-week old mark and start working with him before the formal course starts."
There are 62 general purpose dogs in the Dog Squad, and handlers and dogs spend many hours together training, working and living to help them form a strong bond. "Training starts almost immediately with lots of environmental exposure to new surroundings, noises etc. Then from around six months begins the very basics of tracking," senior constable Ellison says.
General purpose dogs are trained to perform a wide range of functions that include obedience and agility exercises to help build partnership skills between handler and dog. This is very important because, when in the line of duty, handlers need to be able to maintain control over their dogs at all times.
General purpose dogs are usually German Shepherds, but the dog squad is also home to Labradors trained for arson, explosive and drug detection, plus two Belgian Shepherds that perform operational duties.
Dogs like Edge are called into action in all sorts of situations, such as tracking to find offenders and missing people if they are moving on foot. Putting his amazing sense of smell to good use, Edge can search buildings, enclosed areas and bushland, as well as track down recently discarded evidence. Other duties of a general purpose dog include assisting with the control of crowds that may threaten the safety of the general public.
"Most working days will involve training, including building searches and training tracks, plus any jobs that we attend. This can range from robberies to missing people," senior constable Ellison says. "We also get some obedience and some specific exercises for police work that combines obedience and bite work, so we can pass our assessments which we complete twice yearly.
"Edge enjoys tracking the most out of all his duties as a police dog. He is very calm, happy and enjoys hanging out with me and the blokes from work," senior constable Ellison says.
And Queensland's criminal element know that if they step out of line, dogs like Edge will be on hand to help them understand that crime doesn't pay.
Dog squad
Head to www.police.qld.gov.au/aboutus/facilities/dogsquad/ for more info about the Queensland Police Service Dog Squad.
Detector dogs
When you think of people who have careers dealing with explosives, Keanu Reeves' character of Jack from the movie Speed is the first person who springs to mind. But, for an elite team of Australian dogs and their handlers, the dangerous job of explosives detection is exactly what they do every day.
Kris Kotsopoulos is the managing director of Detector Dogs Australia, a company that trains dogs in the art of explosives and narcotics detection as well as security. Dogs Life spoke to Kotsopoulos to find out what it takes to become an explosives detection dog.
While Labradors and German Shepherds are perhaps the two breeds most commonly associated with this sort of work, Kotsopoulos says any breed of dog can become an explosives detection dog. "We use breeds of dogs that demonstrate the necessary instinct of intense prey drive, which is the natural ability to chase and grab items like balls and toys. This high drive behaviour is what we look for when selecting a candidate for training to become a reliable detection dog," he says.
As this instinct is genetically based and can be tested in puppies very early in their development, pups can be selected for training as early as eight weeks of age. "We also need them to be self-assured, environmentally sound and sociable with people and animals," Kotsopoulos says.
It takes a lot of hard work to train a detector dog but, in principle, training is done by ensuring the dog is fanatical about retrieving balls and then learns to find his ball anywhere it is hidden. "Once he is able to do that, we associate the balls with the odour we want the dog to find. He then links in his mind that whenever he finds that odour, he gets to play with the ball," Kotsopoulos says.
"We then teach him to sit when he finds the odour and that, in turn, gets the ball which the handler makes appear above his head when he sits and is staring at the odour source."
The need for the dog to sit when he detects the odour is very important. As you can imagine, if a dog tracks down the scent of explosives the last thing you want him to do is start pawing at his find or getting excited.
"K-9 teams must continually develop their skill levels by adhering to a well-designed training and maintenance regimen that will enable them to meet the realistic challenge of teaming," Kotsopoulos says. "Handlers and trainers need to educate themselves beyond traditional 'dog' knowledge. To be effective, they need to be familiar with concepts such as terrorist assault structure and suspicious behaviour patterns."
Each dog is carefully matched with the right handler, in terms of both character and capability, so that the dog and handler will be able to form a lasting relationship and work together under all sorts of conditions. And once a dog has undergone all the training and passes Detector Dogs Australia's stringent requirements, he is ready to go to work.
On the job, detector dogs are called into action for any client that has a potential security threat, which usually means critical infrastructure and government departments. "We screen many international celebrities' stages and dressing rooms before they go on stage, and one of our clients is the Melbourne Port Authority," Kotsopoulos says.
"Conventional deployment application of the detection K-9 within Australia's shores is generally based on area clearance, evidence location, and response to calls. The K-9 is utilised in close proximity to the handler and the methods are basically the same for law enforcement or a military application."
And these talented dogs and their handlers pack plenty in to the average working day. "An average day starts at 6am with routine rest stops as required throughout the shift. Our K-9 teams are fit for duty and recover quickly during rest periods," Kotsopoulos says.
"Detector Dogs Australia K-9 search teams have no limitations to what, where and when they search. They will search vehicles, bags, buses, trucks, and anything else that they can get their noses on.
"All they do every day is hunt for their ball so that they can play with it. I wish I had a job that was that enthralling."
Watch this
To find out more about what it takes to be a detector dog, check out this video: www.youtube.com/watch?v=C-PC1wUUxBg&list=UUajghoWLZ6zylKw9g_WdwKw&index=11&feature=plpp_video
Detector Dogs Australia
www.detectordogs.com.au
Here are just a few things that can make life with your dog a bit easier - see them now on our
DOGSLife Directory