March 10th, 2015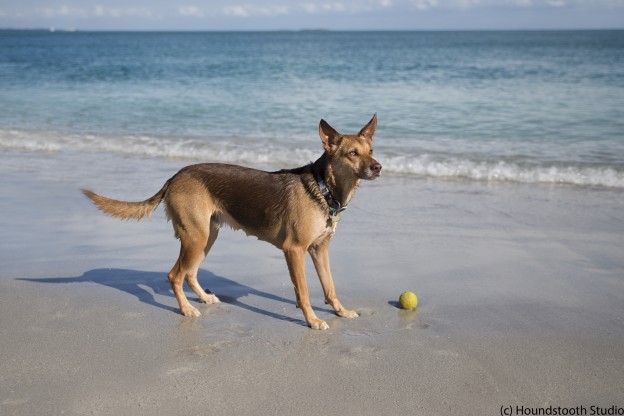 Along with Vegemite, koalas and the great Outback, Australia is renowned globally for its stunning beaches. But while us humans can freely enjoy all that our beaches have to offer, our furry friends aren't always allowed. Ben Nour discovers the dog-friendly beaches close to you.
With a coastline length of over 35,000 kilometres, Australia features literally hundreds of beaches — many of which have become famous internationally as unparalleled in their cleanliness, beauty and atmosphere.
A trip to the beach is as quintessentially Australian as a meat pie or a game of cricket, but unfortunately for dog owners pets are barred from the majority of beaches. This, however, is not the case at dog-friendly beaches, which may be closer to your home than you'd think. Here is a list of dog-friendly beaches where, on or off-leash, you can enjoy sand and surf with "man's best friend".
NSW
Silver Beach, Kurnell
Fronting Botany Bay is the stretch of sand known as Silver Beach, on which dogs are allowed off-leash 24 hours a day, all week, between the third and fourth jetty.
As well as offering stunning views of the bay and city, a coffee shop across the street ensures you are well refreshed before or after your beach adventure with the dog.
Getting there: Silver Beach runs alongside Prince Charles Parade, with the third and fourth jetty positioned off the western end of the beach. Toilets and parking are available on Prince Charles Parade.
Clontarf Reserve, Clontarf
With its children's playground, BBQ grills, table seating and abundance of sand and water, Clontarf Reserve is a popular spot for families. Dogs are allowed on-leash between the hours of 10am and 6pm on weekends, school holidays and public holidays.
Getting there: Clontarf Reserve is located off Sandy Bay Rd.
Greenhills Beach, Cronulla
Greenhills Beach is not nearly as populated as nearby Cronulla and Wanda Beaches – which means more water and sand for you and your dog. Unlike the popular tourist beaches, an afternoon or early morning play on Greenhills Beach is easy, with dogs allowed off-leash between the hours of 4pm to 10am daily.
Getting there: Greenhills Beach is technically a part of Wanda Beach, beginning north of dune track 5 of Wanda Nature Reserve. The nearest parking can be found on Bate Bay Rd.
Yarranabbe Park, Darling Point
While technically not a beach, Yarranabbe Park permits dogs off-leash at all times and features stunning views of the city and the Sydney Harbour Bridge – making it too good to pass up on this list.
Getting there: Yarranabbe Park can be found off New Beach Rd, on which parking is available also.
Sirius Cove, Mosman
Sirius Cove is one of Sydney's most popular dog beaches and with good reason – unleashed dogs are permitted on the beach and in the water all day Monday to Friday and prior to 9am and after 4pm on weekends and public holidays.
Getting there: Sirius Cove is located off Curlew Camp Rd, with parking also available on Sirius Cove Rd.
VIC
Sandridge Beach, Melbourne
Sandridge Beach, a mere 10-minute drive from the heart of Melbourne, permits dogs off-leash at all times between the groyne (jetty-like rock formation)opposite Barak Rd and the groyne opposite Cumberland Rd. Sandridge also features BBQ areas, a playground, and a great view of Port Philip Bay.
Getting there: Sandridge Beach is located off Beach Street.
Brighton Beach, Brighton
The colourful bathing boxes that line Brighton Beach are perhaps the most memorable feature of the iconic beach, but equally noteworthy is that dogs are allowed off-leash on Brighton Beach more than half the year, between 1 April and 31 October.
Getting there: Brighton Beach is located off Beach Rd, with its leash-free zone situated between Foreshore Reserve and the rock groyne opposite New Street.
QLD
Palm Beach, Gold Coast
Straddling both sides of the Gold Coast Highway is Palm Beach, which is both the name of the suburb and the beach. While dogs are not allowed leash-free the whole length of the beach, there is a 3km off-leash stretch of sand at the southern end of the beach.
Getting there: The off-leash zone begins south of lifeguard tower 13 and finishes at the end of the beach (obvious by the rock groyne).
Coolum Beach, Sunshine Coast
A 20-minute drive from the main urban area of the Sunshine Coast, the town of Coolum Beach features a 1km stretch of beach that allows dogs off-leash all year around. A popular day trip destination, the town has a range of pet-friendly accommodation.
Getting there: The dog-friendly zone begins at the northern end of Coolum Beach Holiday Park and extends up to Stumers Creek beach access 67 to 72.
WA
North Floreat Beach, City Beach
One of Perth's less populated beaches, North Floreat Beach is an on-leash dog zone all year round.
Getting there: Running alongside the West Coast Highway, North Floreat Beach begins at the stormwater drain opposite Oban Rd and extends to the start of Scarborough Beach to the north.
Dog Beach, Hillarys
As the name implies, this is a beach dedicated purely to our canine companions. Dogs are allowed off-leash after midday Monday to Saturday and all day Sunday.
Getting there: Dog Beach is situated off Whitfords Avenue, near the intersection of Whitfords and Flinders Avenue.
TAS
Tyndall Beach, Bonnet Hill
A 15-minute car ride from Hobart, Tyndall Beach is one stop on the popular dogs on-leash Alum Cliffs Walk. Tyndall Beach itself is an off-leash area and there are dog refuse bins and bags on-site.
Getting there: After parking on Balmoral Rd or Osborne Esplanade, cross the footbridge and turn right onto the stretch of sand – you'll find yourself on Tyndall Beach!
SA
Henley Beach, Henley Beach
During daylight savings, dogs are allowed on-leash between 10am and 8pm, and outside of which (usually the end of March through to the start of October) dogs are allowed off-leash at all times.
Getting there: Henley Beach can be found at the intersection of Henley Beach Rd and the Esplanade.
DOUBLE-CHECK!
Each council has different rules applying to allowing dogs on beaches, so be sure to pay attention to any signs – they will serve as a reminder of the guidelines that apply to each beach regarding dogs!
Do you have a favourite local dog beach? Let us know! Email us at dogslife@universalmagazines.com.au
Here are just a few things that can make life with your dog a bit easier - see them now on our
DOGSLife Directory