August 11th, 2014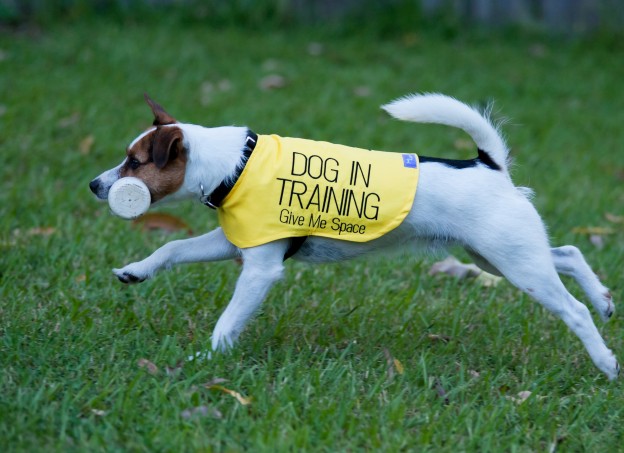 Thanks to a clever campaign, helping shy and injured dogs is easier than ever, writes Kylie Baracz
Shy, injured and unpredictable dogs used to be undetectable to the everyday dog owner — but not any more. Thanks to a campaign known as the Yellow Dog Project, owners with these dogs can now warn other owners to give their dogs space by tying a yellow ribbon on their dog's leash.
The project, started out of necessity, was brought here to Australia by dog trainer Pat Robards after staying at the Legacy Dog Training Camp in the US.
"I was in the United States in 1999 staying with Terry Ryan while attending one of her Legacy Dog Training Camps. At her camps, Terry used a yellow bandanna on the dog's collar to indicate shy dogs so that the other trainers at the camp could give these dogs a little extra space," she says.
Robards thought this idea would be perfect for her shy dog, so she decided to take the idea back home. Apart from several dog clubs and a few people who had experienced the problem, the idea wasn't widely accepted at the time.
Over subsequent years, the bandanna changed to a yellow ribbon as it was cheaper and easier for people to source and the ribbon could be used either on the collar or tied to the lead to be more obvious.
In 2012, a group in Sweden heard about the yellow ribbon and its significance so they wrote to a dog training club in Tamworth which was using "give me space" yellow ribbons. The Swedish group adopted the idea and started a worldwide campaign to promote the campaign.
What types of dogs wear a yellow ribbon?
The YellowDog Australia Project suggests a wide range of reasons behind why a dog might need to wear a yellow ribbon, leash, vest, bandanna or any yellow item attached to a leash, collar or harness.
Robards says, "It is to communicate that the dog 'needs some space' and 'please do not approach this dog with your dog'. Also it signals to others to maintain a distance or allow time for this dog with his/her person to move out of the way.
"Wearing the yellow indicator does not mean these dogs are 'bad', rather that they do better with space for a whole variety of reasons that may not be related to their temperament or approachability in itself."
Robards says many dogs have been so traumatised that they will never be 100 per cent after what has happened to them and may need a "back off" sign.
"They should still be allowed to go on walks, but perhaps not so much in a public setting," she says. "I think the real issue here is the fact that too many people have no idea what it means to be polite or kind, not to mention to know how to approach a dog in a way that is proper, providing a good opportunity for a positive social interaction in the first place."
Some of the reasons behind why a dog might be participating in the Yellow Ribbon project are:
• Illness or recovering from surgery
• Deaf or blind
• Newly adopted
• Leash reactivity
• Injuries or painful physical conditions like arthritis
• Intolerance of other animals
• Fearful of unfamiliar people
• Fearful of unfamiliar or rowdy dogs
• Ageing and elderly
• Learning self control around other dogs
• Shyness of people
Robards says whatever the reason, it is always good to give an oncoming dog and their family space, but please note: the Australian Project is not suitable for dogs with a bite history.
"If your dog has behavioural or aggression problems, it is recommended that you should contact a qualified ethical force-free dog trainer or your veterinarian for assessment and referral to a veterinary behaviourist if appropriate," says Robards.
YellowDog Australia
YellowDog Australia is not a commercial enterprise and is run entirely voluntarily. They currently have some 24 volunteer representatives around Australia and are always looking for more. These reps help publicise the project by communicating with veterinarians, dog clubs, papers, councils, and TV and radio stations in their local area and distribute YellowDog informational posters.
Most recently the project has been adopted by Greencross Vets, with YellowDog posters being displayed in their surgeries. Retail boutique Beau Pets are also manufacturing a yellow lead and collar with "Give Me Space" embroidered onto them.
"We need to educate dog owners and the general public about the use of the yellow ribbon because many people are still unaware of its significance. It means owners of dogs who use a yellow lead or ribbon have a responsibility to speak up for their charges and not to expect others to know what it means. It will most likely take some time to catch on, but with yellow ribbon dog owners speaking up, hopefully in the future, the sight of yellow on a dog may motivate others to ask questions and it will become more widely recognised!" says Robards.
Help the project
If you are interested in helping the YellowDog Project or would like to become a representative, please contact Pat Robards via probards@ozemail.com.au or visit the website www.yellowdog-australia.k9events.com
Make sure your furry friend is always looked after at our
DOGSLife Directory