December 7th, 2016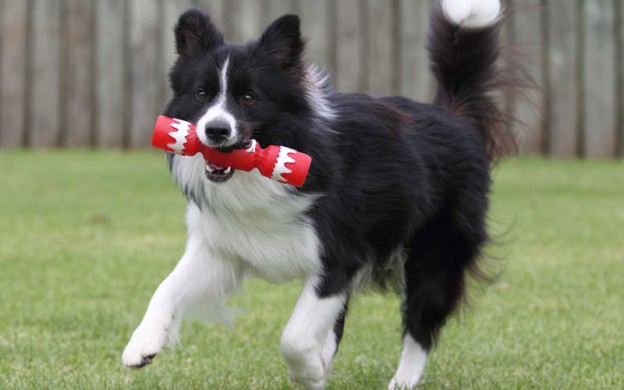 The holiday season is once again creeping up on us, and while it's a time of celebration for many, it's also often a time during which a lot of us are feeling under-prepared. Chances are you'll want to get the whole family involved with the festive spirit, and that includes your pooch.
To help alleviate some of the planning stress, we've compiled a list of activities you can involve your dog in.
Opening gifts
Ask any kid under ten their favourite part of the holiday season and "presents!" will almost invariably be the answer. Dogs are a lot like kids so why not invite them to join in? They'll enjoy smelling all the new smells and moving the discarded wrapping paper around, just make sure they don't make too much of a mess with it. If your dog is an always outdoor pup, then maybe it's not possible for you to bring them inside, but there's no reason you can't bring a few gifts out to their domain and give them some attention.
Holiday light walk/drive
People make such an effort each year putting up Christmas lights and decorations for a month or so, and then pulling them down again, we sort of owe it to them to actually go out and see the work they've put in. If you've lived in the same area for a while, chances are you already know where the hot spots are, and usually there will be at least a few good ones within walking distance. A walk among lights is a great chance to get your dog out and about, as well as enjoying the holiday spirit with them.
A word of advice would be to avoid going on Christmas Eve or Christmas night as there is a greater risk of fireworks being set off on those nights, which might spook your dog. If you live far away from any decorated houses, then consider driving closer to a more spectacular location, then getting out and having a wander around together there.
Have an outdoor lunch or dinner
If you're having family over for a special meal, have it outside instead. Your dog will appreciate the attention it receives from all the guests, just make sure hand sanitiser is readily available. When the food is served, make sure all the guests know the rules are regarding feeding your dog from the table (if there are any), otherwise those puppy dog eyes will be working a treat.
Set up a doggy pool
If the whole family is celebrating the holiday by swimming in the pool together, but your dog isn't much of a swimmer, set up a smaller, inflatable pool alongside the main one to allow your pooch a chance to escape the heat and have a splash with its family. Of course, not everybody has a pool, so consider doing it the old-fashioned way: set up some sprinklers and run around on the grass. Just make sure all the grass is completely washed off everyone's feet (including your four-legged friend's) before anyone comes inside!
Give them a little something extra
Whether in the form of a gift, or just a bit more food, spoil your dog today. Maybe a new toy would make them happy, or perhaps an edible treat of some kind? Sure, your dog won't understand why they're being given a present, but they definitely will appreciate it! Those are just a few ideas, but the truth is you can involve your dog in almost any activity you choose. So long as they get plenty of pats and attention, your dog is gonna love this holiday season.
Here are just a few things that can make life with your dog a bit easier - see them now on our
DOGSLife Directory